Elite recruit, recruiter Richard LeCounte III continues to keep Georgia foremost on his mind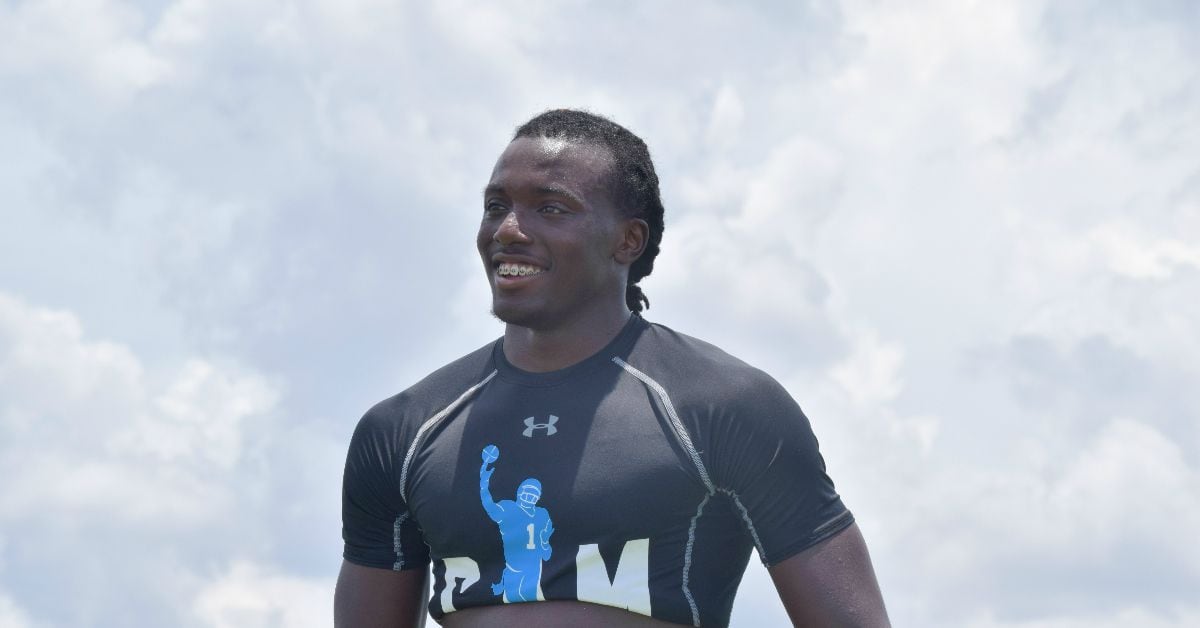 BRADENTON, Fla. — Richard LeCounte III was the first prospect to commit to Kirby Smart at Georgia. He's also the top-rated recruit among the 11 talents currently committed to UGA in the Class of 2017.
Does any recruit in the nation work harder urging prospects to join him than the nation's No. 37 overall prospect and second-best safety? Many recruits have told DawgNation the staff should just go ahead and give the man some khakis, a visor and a red polo shirt considering how hard he works for Georgia every day.
"Richard just seems to have Georgia on his mind all the time," his mother Erika LeCounte said this weekend. "He's always thinking about Georgia."
There's a certain symmetry to all of that.
If the next story assignment was to list the recruits who are the most deeply committed to Georgia, it would be a tall order coming up with a top five. It would be just as hard to rank anyone higher than LeCounte on that list.
So chew on all those above paragraphs for a bit when learning that LeCounte will still enjoy his recruiting process and take his official visits. He reeled off a few programs that he will go see, but at the same time had difficulty counting up those five visits.
His answers to the official visit question seemed to indicate he'd like to go to Georgia twice and count those as two visits.  He named Alabama, Ohio State and Clemson as his likely official visits. That was logical. Those were the programs on his mind the most before he settled on Georgia.
"I am going to take my officials and go out and look a little bit," LeCounte said. "That could never hurt."
Bear in mind he might be looking for one of the reasons why he played for the Cam Newton black team at the IMG 7-on-7 Nationals over the weekend in Florida. He liked playing for Newton's team and the interaction among those players. But he also had an ulterior motive: Making sure to hang around 4-star receiver Jeremiah Holloman.
Was that his bonus secret mission down at IMG?
"Yeah," LeCounte said with a nod and a laugh.
Holloman kept his thoughts short on the matter, but the wideout later sent out a tweet that signified the two were enjoying competing on the same team.
LeCounte had one of the better junior seasons around. He's a candidate to make his fourth straight Georgia all-state team this fall, and he should clear that career goal easily. That would be a rare feat in Georgia high school football history, but he's an improved player.
"I am playing at a better weight and a heavier weight," LeCounte III said. "I feel better about handling my weight. I feel good about playing at this weight for the upcoming season."
He said he was recently measured at 6-foot and 189 pounds — about 15 pounds heavier than last season.
Several UGA commits have told DawgNation that the program has a range of two to nine silent commitments at this time.
"I can't keep count," LeCounte said. "Not right now. We are up there, though."
He also named four specific undecided recruits that he'll continue pursuing until they are fully committed to Georgia.
"Jeremiah Holloman definitely," LeCounte said. "(DeAngelo) D-Lo Gibbs, Jamyest (Williams) and then Jacoby (Stevens) are the ones I won't stop on until they come to Athens."
LeCounte doesn't hard-sell anything, but keeps it like he already knows all the answers. One of LeCounte's favorite lines is "so when are you going come home to Georgia" when discussing where his talented peers will eventually sign.
"That's my finishing touch right there on that when we get in that conversation," LeCounte said.
He also shared his view on how Georgia's 11 public commitments stack up so far.
"I think we are really special and talented," LeCounte said. "Man, that offensive line is really coming together and is very talented. Special really. We need to go ahead now and lock this linebacker group up that is going on the board for us and we will finish with our secondary. We can focus on that right now because our offense is very strong so far."
LeCounte advised others to sit back and watch it all unfold.
"It is going to be something," he said. "It is going to be great. It is something to look forward to the rest of this class and heading into the next class."
He won't be able to wear his high school number immediately at Georgia. Freshman Mecole Hardman, Jr., has claimed his No. 4, and the two will likely play on the same side of the ball. That digit is special to LeCounte and he wears it in tribute to a dear family member.
That means he might not wear it until Hardman has finished his UGA career.
"I can wear No. 99 at Georgia and you can bet that I will still ball," LeCounte said. "Just like that. Naw, man I am just playing. That don't really matter as long as I am there."
Jeff Sentell covers UGA football and UGA recruiting for AJC.com and The Atlanta Journal-Constitution. Follow him on Twitter for the latest on who's on their way to play Between the Hedges. Unless otherwise indicated, player rankings and ratings are from the 247Sports Composite. 
Next
UGA commitment Matt Landers feels the program is poised to 'win some …