Flip chance or no chance? 5-star Michigan pledge Christopher Hinton gives those odds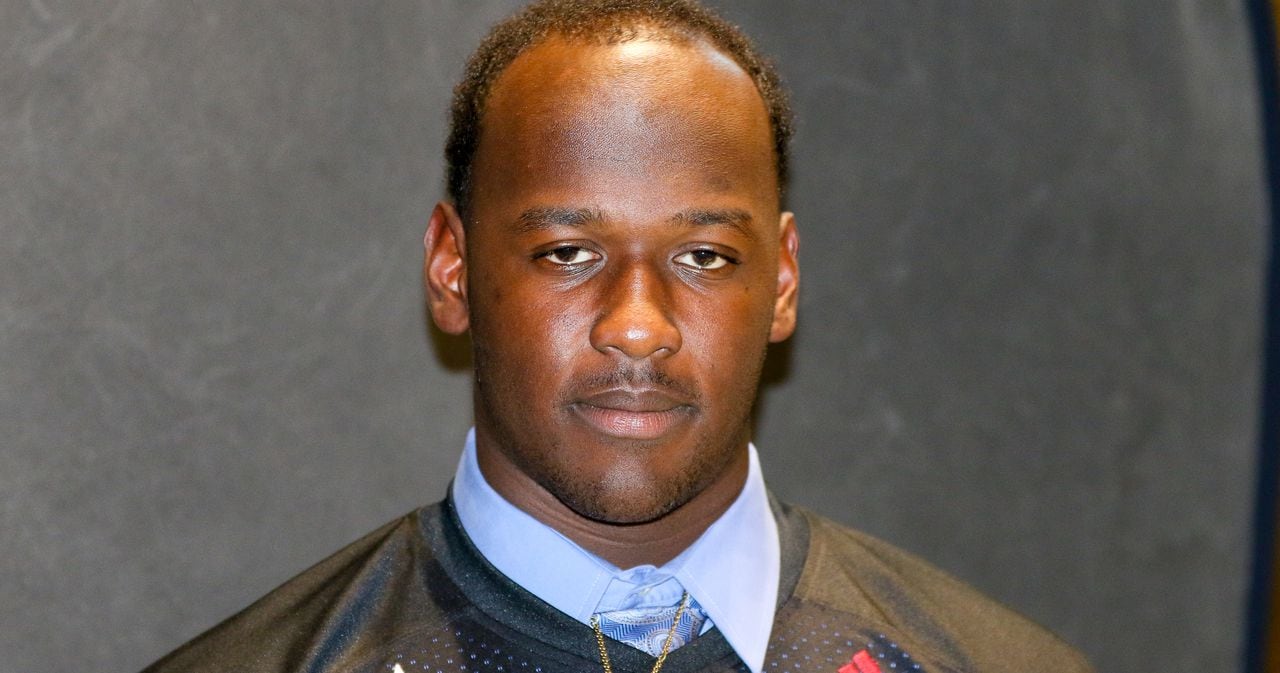 Want to attack every day with the latest UGA football recruiting info? That's what the Intel brings at least four days a week. This play sheet offers up a report on the chances for UGA with 5-star Michigan commitment Christopher Hinton out of Greater Atlanta Christian. 
Christopher Hinton just impresses. It might be the way he chooses his words.
Or maybe it is just that easy smile. That blends in with the way he ties his tie and shakes a hand.
It could be the necklace that falls around his neck near that tie. Neatly.
If that's not it, it is the way his ginormous hands swallow other good-sized paws in their own right.
Those things seem more old-fashioned. But they also seem like Hinton.
When the interview is over, the oldest of the two 5-star Hinton brothers at Greater Atlanta Christian leaves a distinct impression.
It is more than where he is going to school. Or where he is not going to flip to.
He admires fellows All-Everything Georgians like Kyle Hamiton (Notre Dame via Marist) and Harry Miller (Ohio State-bound after Buford) for all the things they do besides ball all day.
"I like surrounding myself with people like that," Hinton said. "Guys who are just really smart. Harry Miller and his background [with mission work] in Nicaragua and stuff. I just like to be surrounded by dudes like that."
The 5-star strong-side DE can destroy blocks and play up and down the defensive line.
Yet he leaves an impression that his life will not revolve around that. It is a rare quality when talking to the next big thing all the time.
The son of a near-miss NFL Hall of Famer is the nation's No. 24 overall prospect on the 247Sports Composite ratings.
He's also an All-American. Hinton didn't pull out his own speech on his phone like Hamilton.
He didn't seem ready for prime time with a polished turn at the podium like Miller.
Hinton just seems more than ready for college in his own way. It feels like a cross between Hamilton and Miller. Not quite Ohio State. Not quite Notre Dame. A little of both.
That just sounds like a Michigan man. Just maybe one with a pair of feet that look like aircraft carriers.
Can anyone flip 5-star Michigan pledge Christopher Hinton?
Kirby Smart came to see both Hinton and his 5-star brother, Myles, recently at a Greater Atlanta Christian game.
It is part of a "slow but steady" regiment of constant check-in recruiting by Smart here.
"He stays in my ear but he is not talking to me every day," Christopher Hinton said. "He's definitely trying to keep that connection with me. I get it. I understand it and I do respect that."
Smart is an ace recruiter. But the feeling here is I'm not sure any school can budge Hinton.
Bad Michigan season? Maybe even one that shows Jim Harbaugh the door, you say?
Hinton rounds off those hypotheticals far beyond the decimal point in his calculations.
The NCAA might not even be able to dissuade him from being a Wolverine.
"If something crazy were to happen today my next two or three choices would be Clemson, Stanford and Georgia," Hinton said.
The future Ross School of Business major even defined what "tragic" would look like.
"I'm saying like the NCAA bans Michigan from playing in the postseason or playing football for like the next 10 years," he said. "That's what it would take."
That's making it pretty clear. Crystal.
Christopher Hinton recently took in a visit to UGA for the Vanderbilt game. How did that go? The Bulldogs even had 5-stars Dominick Blaylock and Nolan Smith showing him around Sanford Stadium.
"It was really fun," Hinton said. "Obviously hanging out with my boys I have been doing the circuit with. Growing up with Dom and just being there with my family and my brother."
When he continued, he made it seem more like the visit to UGA was for Myles. Myles Hinton ranks as the nation's No. 1 OT prospect in the class of 2020, too.
"It was a regular trip," Christopher Hinton said.
He doesn't plan any more officials aside from the one to Michigan later this season. It doesn't even sound like there may be any more unofficials. That trip to UGA earlier this month might be the last time he steps foot on another campus as a prospect until he signs in December.
"Yes, sir," Hinton said.
He will not enroll early.
It seems clear that Christopher Hinton is bound for Ann Arbor. If he's not, then he's ready to pursue an acting career after ball and business school in the Big Ten.
He is that convincing.
"Honestly I guess [my Michigan commitment] has something to do with the coaches but it is really just the people there," Hinton said. "The people there are just my kind of folks. I love the people there at Michigan. I just vibe with the Michigan people. The kids from our class are really like-minded and the Ross School of Business is one of the top business schools in the country."
"I just don't see anywhere else that can top Michigan."
Remember Rambo? Another name from the past 
Remember Derick Hunter? Well, he tells me that UGA has still not let up with recruiting him ever since he committed to FSU back on June 20.
He stays in regular contact with UGA defensive line coach Tray Scott. Hunter said that UGA will get one of his official visits and that his current plan is to take that one for the UMass game on Nov. 17.
Hunter has already taken an official visit to Texas A&M. He also has taken an interest in both Penn State and Virginia. It is definitely not certain if he will remain in this class for the Seminoles.
The 6-foot-4, 280-pounder from Dunbar High in South Florida ranks as the nation's No. 21 strong-side DE prospect for the 2019 cycle on the 247Sports composite ratings.
Miss any Intel? The DawgNation recruiting archive will get you up to speed just as fast as former Georgia All-American LB Roquan Smith found the ball after the snap.
UGA News