Elite tackle prospect Tate Ratledge had a block straight out of Hollywood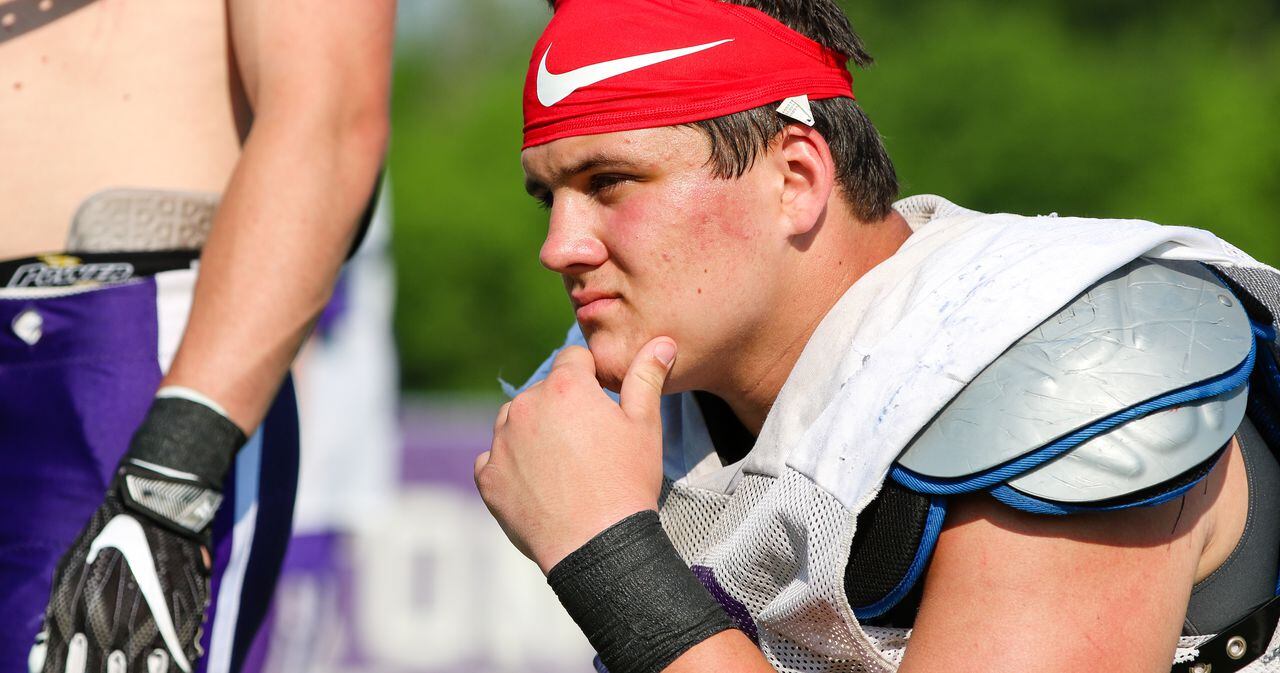 Want to attack every day with the latest Georgia football recruiting info? That's what the Intel will bring at least five days a week. The play sheet today calls for an introduction to elite 2020 tackle prospect Tate Ratledge. 
ROME, Ga. — It is going to take a minute or two to sift through a few stories to figure out the one I like best about Tate Ratledge.
The 6-foot-6, 295-pound rising junior is called "Meathead" by his family and Darlington High teammates. His mother is an educator, the sort that teaches Advanced Placement classes, and she stays on him about his grades.
Ratledge placed seventh at the state track meet for Class 1A private in the shot put (47 feet, 4.5 inches) and then hauled back across town to get to spring practice. He arrived on campus and then bobbed from practice field to locker room and back to the practice field in about 11 minutes.
Those practice reps were another chance to get better. They were not excused because of the state track meet.
His high school curriculum at Darlington is stout. He said he spends up to an average of two hours each night on his homework.
But there are a few other things that stick out to more than the fact he grew up a Tennessee fan.
It sounds like Alabama, Georgia and Tennessee will be in the thick of his decision until the very end. But that doesn't stand out right now.
His father, Dean, played a few seasons in the NFL at linebacker. His father has a favorite school (Think: Rocky Top) but will allow Tate to make up his own mind.
Dean Ratledge is just about the only grown man in his family who didn't have pockets high enough to register above the 6-foot, 6-inch mark.
Tate is already at 6-6 but his physicians tell him his growth plates are still open. He could wind up around 6-8 when he's done growing. That would line up with two of his father's cousins, each just 3-4 inches shy of 7 feet.
"He's been the runt," Tate Ratledge said of his father's relatively slight size on the family tree.
(Recruiting 101: Recruit offensive linemen with fathers who played in the NFL who are 6-4 and are still called the "runt" of their families.)
The young man can also bend at that size and weight. Very good size. Very flexible. Still young. The word remarkable fits the Ratledge scouting profile when it comes to that.
Balanced. Powerful. Quick. Those terms also belong.
"A 6-foot-6 kid that is at age 15 that can get parallel and keep his heels on the ground and jump up in pretty impressive," Darlington coach Tommy Atha said. "He's a 295-pound athlete right now. He can kick a football and shoot a good 3-pointer and is a definite left tackle. He's that blindside guy."
Ratledge is also that "Blind Side" guy for me from now on. That's because of his "The Blind Side" block last season.
That time Tate Ratledge blocked a guy practically to Alabama
The game was against rival Trion.
"But honestly, I go out and play every week like that's our main rival," Ratledge said.
Ratledge said the block took place on the left hash. It might have been the first time that night his man didn't cut him.
The 4-star prospect put an effort out there on film that wound up being flagged for unnecessary roughness.
That didn't stop Alabama line coach Brent Key from spamming the rewind button when he saw the clip.
"Coach Key just thought it was the funniest thing," Ratledge said.
His coach provides the proper context.
"I never got a ruling on this," Atha said. "We're playing a team up here on this field. The ball is on the visitor side hash. OK? He is the right tackle. That puts him almost to the numbers. We run off tackle his way and he takes the defensive tackle to the sidelines, through the visiting team, off the sidelines and plants him on the track."
UGA News
Next
UGA recruiting: State track meets, spring practices part of prime...