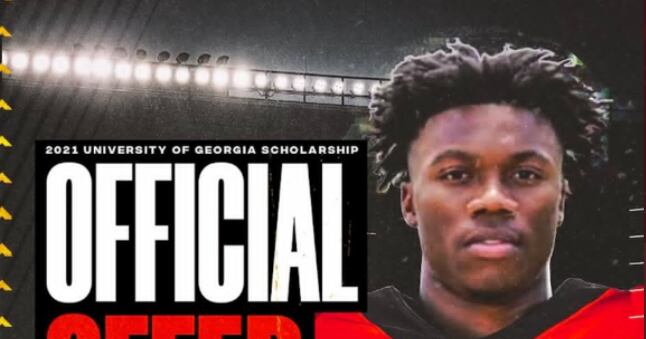 Javon Bullard: Does he project as Georgia's next great 3-star gem at DB?
Want to attack every day with the latest UGA football recruiting info? That's what the Intel brings. This entry will cover the bases on the recruiting rankings for recent Georgia DB commit Javon Bullard and whether or not they are a true reflection of his ability. 
Javon Bullard committed to Georgia on Monday night. The senior DB at Baldwin High in Milledgeville came to that decision just three days prior to that.
He's about a half-inch to three-quarters of an inch above the 6-foot-mark on the height chart. His weight will fluctuate right now between 178 and 183 pounds.
When he made his choice public on Monday night, he became the 13th public commitment for the Bulldogs. He ranks as a 3-star recruit for both his pure 247Sports rating and his combined ranking on the 247Sports Composite scale. That will slot him as the nation's No. 58 CB prospect and as the nation's No. 719 overall prospect for 2021.
The pure 247Sports rating has him as the nation's No. 73 overall prospect at cornerback. The evaluation here is that he's most likely to be a safety or a nickel/slot cornerback on Saturdays in the SEC for Georgia.
But those rankings do slot him as the lowest-ranked member of the 2021 class in Athens. Check out his junior highlight film below. Bullard can be found making plays on both sides of the ball.
He is also featured as a real weapon in the return game, too.
Javon Bullard: What his coach had to say
Baldwin High coach Jesse Hicks is aware of how the ranking services see Bullard. That doesn't stop him from heaping uncommon praise on a young man who has already graduated from high school.
"I think he is a Sunday guy as a player," Hicks said. "But after that, I think he is a major Division 1 head football coach because he is so smart and intelligent when it comes to the game. His understanding of the game is through the roof. There are not many things he lacks. I think his understanding and the way he relates to the game are his biggest attributes."
Bullard is actually working on his associate's degree at Baldwin High School this fall. He carries an approximate 3.7 grade-point average and has scored 1350 on his SAT.
Those elements will be a part of the complete scouting profile. There's also a play on his tape where he recovers a fumble in a crowd and has his legs taken out from under him on his attempt at a return. He still made a play out of that.
Bullard managed to prop his body up on the way to the ground and steady himself. He returned that take away another 60 yards downfield through heavy traffic before being forced out of bounds. He also took over the Cairo game in the state playoffs last season.
Hicks regards him as one of those high school players that will come once every five-to-10 years. That's even at the best programs.
"The sky is the limit for him," Hicks said. "I don't think he has even tapped into his full potential yet."
Hicks has been coaching for 25 combined years at the high school and college level. He feels the natural position for Bullard is also at free safety. That's because of his vast knowledge and understanding of the game.
"He pretty much runs the gamut," Hicks said. "He's what you want in a teammate. He's what you want in a son. He's what you want as a student-athlete. He's what you want in a person. He's one of those guys that I think I would let date, my daughter. He's one of those types of kids."
He also shared a specific opinion about how many stars Bullard has.
"It shocks me sometimes when I read these prognosticators," Hicks said. "They say all these things about the stars. He's a three-star and this guy is a four-star and this other guy is a five-star. Javon is considered a three-star by a lot of publications and a four-star in a few others. But man when you see what this kid can do with all of his knowledge of the game and his ball skills and his great ability to play the game, he is definitely a five-star in my book."
Hicks gave Bullard the No. 1 jersey his freshman year. He took a good look at him and gave it to him while the team was handing out shoulder pads. That number always comes with the reputation of being one of the very best players on any team. Scrubs don't rock that number.
It is an even greater testament to Bullard's ability that he was given the chance to wear that number for Baldwin when he was a freshman.
What does Javon Bullard think about all those rankings?
Bullard loves watching Micahel Irvin and Deion Sanders on the NFL Network. He's a big fan of all the many debates between Skip Bayless and Shannon Sharpe.
He wants to go into sports broadcasting after his playing career wraps after hopefully 10-15 more years in the game. To do that, he realizes he must pursue a journalism degree at UGA.
"I love seeing those big names talk about great players and how they are doing," he said. "That's always been one of my hobbies sitting down and watching them. I love to write and I love being around the game of football so that just kind of makes sense for me."
The first thing to note about his ranking here is a player from Middle Georgia isn't going to be evaluated as much as in the Atlanta Metro area. They have to travel to elite regional and national events to be seen.
During this pandemic, he looks like one of those players who needed more exposure at the elite 7-on-7 events and prospect showcase camps. That's when he could really show off his ability and future potential. But he never got the chance.
He carries a pretty mature outlook on his 3-star ranking.
"Honestly man I used to be a ranking guy," Bullard said. "As I grew, I grew out of that. I just play ball, man. It really doesn't matter to me. I'm not going to let somebody who isn't around me every day or who doesn't see my work justify me by giving me a star or verify what I can do by giving me another star and a star on my resume."
It actually empowers him.
"I guess you could say that I put it on my shoulder like a chip," he said. "I do kind of feel like I am as you could say underrated but now it just like it adds more fuel to the fire. That will now just give me even more reason to go out there and do more of the great things that I am about to do."
A player needs to have a certain amount of passion to play the game at the highest level. Watch his film. When one does that, they will notice he certainly he has that.
"I do this for my family and what they have provided to me and what they have meant to me," Bullard said. "But I also do this for really my city. I come from a place where kids like me really don't make it out. I have got to lead by an example and I feel like I am doing that."
Did you know the weekly DawgNation.com "Before the Hedges" program is now available as an Apple podcast? Click to check it out and download it. 
Javon Bullard: A couple of other sources weigh in here
Want a real indicator about what Bullard can do on a football field? A real big point to consider here is that even though he lives in Middle Georgia, he has found a way to come up to Atlanta to train with Justin Miller.
Miller is former All-American at Clemson who played six years in the NFL after getting drafted by the New York Jets. He is considered to be one of the finest DB trainers in the Southeast, if not the country. The former Pro Bowler has worked with a long client list of major Power 5 signees and high school All-Americans.
Bullard also played for the elite national 7-on-7 team Hustle, Inc. before the global pandemic shortened that late winner and early spring ritual across the country. Hustle, Inc. has put 29 high school All-Americans on the field during the six years of their organization.
Miller also coaches for Hustle, Inc. as well. He had Bullard on the field for that squad.
Where does he see Bullard fitting in on Saturdays for Georgia?
"I think he has the twitch to be a good nickel DB," Miller said. "Not sure how he'll hold up outside because he's not a six-foot-plus [in height]. He runs pretty well but I could see him moving to the safety [spot] and being highly successful."
Burke County coach Eric Parker also weighed in on Bullard. That program is a perennial playoff team that won the Class AAA state championship in 2011. Burke County is south of Augusta and faces Baldwin in region play every season.
Parker considered him to be both a good player and a good athlete.
"He played cornerback and wide receiver against us," Parker said. "Pretty doggone good at both. He can run."
Can Bullard run like Stokes? No, he does not have that 10.39 speed in the 100 meters. There are maybe two to three football players every recruiting cycle that have that level of elite speed.
But Georgia's forte under Kirby Smart has been defensive backs. It is a safe conclusion that if Georgia wants him for the back end of its defense, then Bullard can be very special, too.
"The school is getting a kid whose head on straight," Bullard said. "Who keeps the main thing the main thing and keeps the main goal the main goal. Who knows you can't be great without work. Who wants to win and who is a winner. Winners are going to win no matter what it takes. They are getting a winner, man, and a hard-working player."
SENTELL'S INTEL
(the recent reads on DawgNation.com)
Next
Georgia LB Nakobe Dean: '2020 defense hasn't done anything'