Maason Smith: The 9 things you need to know now about the 5-star DT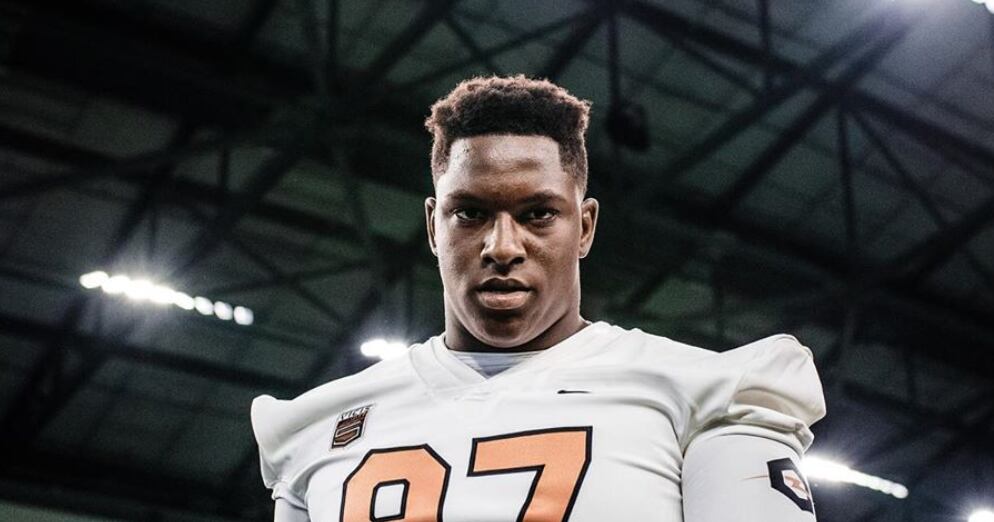 Want to attack every day with the latest UGA football recruiting info? That's what the Intel brings. This entry dives into a few early pearls from a fascinating long-ranging interview with 5-star DT Maason Smith. Smith is simply the best defensive tackle prospect in the country for 2021. 
His family and inner circle will call him "Tooka." That's the nickname Maason Smith's father gave him back in the day.
What that means, he still does not know.
Smith also only recently learned the origin of his uncommon first name a year ago. That extra "a" added to the common spelling of his first name was put there to introduce a little flair to his birth certificate. It was necessary because his mother had a friend who was having a child at the same time he was on the way.
That young fella was going to be named Mason, too.
"My Dad said you could name him Mason but it couldn't be like that so my Mom added the extra a," Maason Smith said. "That's how that happened."
Needless to say, the 6-foot-5.5, 302-pounder has not had much trouble standing out ever since.
Smith had a wide-ranging interview with DawgNation about a great many things, including his feelings on his eventual decision. There was so much ground to cover that DawgNation will split it into a few pieces to cover all the material.
That's needed because it is vital to understand the way Smith looks at a lot of things first. Those are the moving parts that will also frame his college decision. Take that quick story about his first name. That extra "a" shows he was born to go about things his own way.
There's a lot more here that goes into shaping this young man's story aside from a 5-star ranking and how he feels about his top schools.
Stephen A. Smith? What about Maason C. Smith?
Smith is an excellent communicator. From the perspective of a reporter who will conduct at least 400 interviews a year, the time spent with Smith sticks out in any calendar year. Or multiple years. He's just that sharp of a communicator. The agile defender offers up a keen way of telling stories about his life and simply just speaking his mind.
He's very comfortable in his own skin. That's likely why he no longer wants to pursue his M.B.A. in college.
"That's kind of what everybody goes for and I kind of wanted to be different," Smith said.
That's true with his intended college major. His new career goal, aside from playing in the NFL, is to work in sports broadcasting.
"A bunch of coaches I speak with have been telling me just with me talking that I could definitely do something like sports networking and working on ESPN talking and stuff like that," he said. "Like an analyst."
The schools on his radar that are home to a powerhouse communications program, like the one at UGA, will enhance their chances of signing him.
The way he speaks and the inflection patterns he will remind a reporter of the interview reps he conducted with NFL first-round pick Derrick Brown in 2015. That former 5-star went on from Lanier High in Georgia to play for Auburn.
When Gus Malzhan told Smith that talking to him was like talking to Brown, he wasn't recruiting him. Malzhan nailed it. That was pretty evident. When asked to name a player that he thinks his game resembles the most, Smith also brought up Brown.
Smith told DawgNation that his cumulative grade-point average for his first three years of high school currently sits at a 3.714. There's a lot to appreciate here aside from his No. 19 overall ranking on the 247Sports Composite for the Class of 2021.
BREAKING: Get ready for an improved Maason Smith
What have we done with our quarantine time? Did anyone learn a new language? A new skill? Redecorate multiple rooms? Did we try a new hobby?
Smith put on the "Quarantine 15" and then some. But then he promptly lost it with a Keto diet about two months ago. He told DawgNation that he was up to 343 pounds on May 5. That was at the end of his quarantine time.
The new slim-and-trim 2020 model Smith is down to a precise 302.6 pounds. The hardest part was cutting out the bread, he says.
"I took a trip with some of the boys to Baton Rouge this weekend," he said of that good time. "This weekend was the first time I ate bread in two months."
Smith weighed 325 at the start of his junior season and consistently shed weight over the fall. He was all the way down to 298 pounds. It will allow for a lot of position versatility in college.
"Alabama wants me to play the '5' tech," Smith said. "Georgia and LSU and basically all of the schools want me to play the '5' and the '3' and most of them want to start me outside at the '5' but I think I will be more effective at the '3' because tackles are a lot more athletic than guards usually."
Next
Buffalo GM: How Jake Fromm made Bills roster; similar to Georgia …