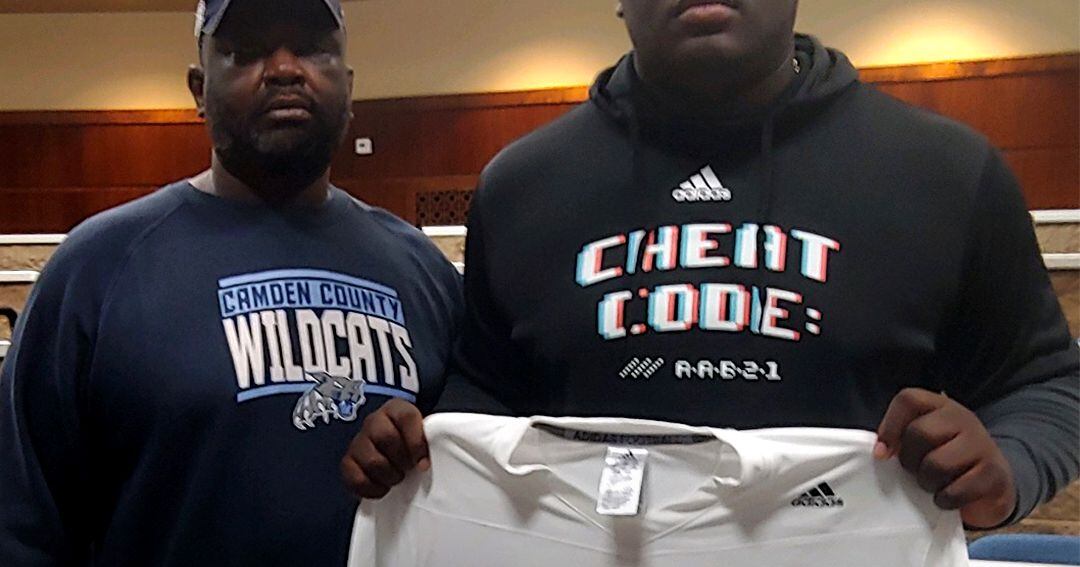 Micah Morris: All-American shares his passion for UGA and hopes for upcoming Amarius Mims decision
Morris, he of the almost 4.8 grade-point average, made his silent commitment to Georgia back in August of 2019. The future criminal justice did not waiver on that commitment in the transition from Sam Pittman to Matt Luke.
The term "unwavering" is a great way to describe the commitment of the 6-foot-6, 325-pound Camden County senior towards Kirby Smart's program. Morris ranks as the nation's No. 9 OT and the No. 57 overall recruit for this cycle on the 247Sports Composite ratings.
What has it been like with other schools recruiting him since the dead period? He stops even the hint of any late drama there with him. Cold.
"I'm only talking to the University of Georgia," Morris said.
Why is that? Not much has changed since his silent commitment day except the swap from Pittman and Luke. That same vibe extends out from his public commitment day back on April 8.
"For me, it is the love that I have there," Morris said. "It is the feeling that I have there. It is the feeling that I don't have at any other place that I have been to. Don't get me wrong. They are all great places. But when you know something is right, you know."
"When you have that feeling every time you go there, you know what time it is. You know that is the place for you. And the University of Georgia is the place for me."
Did you know the weekly DawgNation.com "Before the Hedges" program is now available as an Apple podcast? Click to check it out and download it. 
A big Georgia-first attitude has developed for Micah Morris
Morris ranks as the nation's No. 9 OT prospect for the 2021 cycle. He currently sits only behind 5-star QB Brock Vandagriff as the second-highest rated public commitment on the board for 2021.
Bleckley County 5-star OT Amarius Mims is the nation's No. 2 OT recruit and the No. 6 overall prospect (247Sports Composite) for this class.
He has a couple of thoughts on Mims and what the 6-foot-8 tackle would add to the class.
"Mims and I go way back," Morris said. "Mims and [Terrence Ferguson] and I have all been boys for like at least three years now. We've all been the top offensive lineman in Georgia for our class. So we've all known each other at camps and on visits. We always speak and laugh and always have a great time together."
"But as far as him coming to Georgia we definitely want and need Mims at the University of Georgia. I've expressed that to him multiple times. With him on one side and me at the other, what more do you want? What more do you need? I just try to lay out the plan for us on the offensive line we could be running everything. Running the show. We could be so great together."
How happy will be if Mims says Georgia at 3:30 PM tomorrow at Bleckley County High School?
"I would be ecstatic," Mims said. "I wouldn't know what to do."
Mims could come in and be a threat to him for quickly earn playing time or a starter's spot at the tackle position and yet he's clearly not.
There is a good reason for that. Luke has helped to sell him on the aspect of playing all across the offensive line. That's one thing.
He said he speaks to Luke about two times per week. With all of that, he can't help but notice what fellow Coastal South Georgia OT Warren McClendon is doing right now starting as a redshirt freshman at right tackle. McClendon used to host him on visits and they are of like mind and spirit.
But he also notices what Jamaree Salyer has been doing this fall. Salyer was a 5-star at guard. He even ranked as the nation's No. 1 guard in the 2018 class. But Salyer arrived at Georgia and saw a pair of NFL first-round draft picks and a Week 1 rookie NFL stater impeding his path to grabbing a lot of big reps.
He's finally anchored down as a starting fixture on the line at left tackle in his third season at UGA.
Morris has a plan for how he will approach his time in Athens. It will sound very pro-team and very pro-Georgia.
"My plan is going to be the same," he said. "It was the same plan I had as a ninth-grader in high school. Come in and work. Try to outwork everybody that is there. I feel like if I outwork everybody I will get on the field. I can't really worry about positions. At the end of the day, I have to be able to play all five positions."
"Whether it is snapping the ball or whether it is at right guard or right tackle or left guard or left tackle I will just have to go out there and ball. I have to know what everybody is doing if I want to be a true player and a true offensive lineman and not just an offensive tackle. Not just an offensive guard or an offensive tackle. But to be a true offensive lineman, I need to know everything. That's what I will be working towards. Trying to be the best at every position on the line."
"Where ever I can fit in to help the team at, that's where I will be."
How Micah Morris boosted his game for 2020
Morris has made a lot of gains for his senior year. He's playing basically both ways for Camden County. He will line up on the defensive line and almost all special teams on scrimmage downs.
The only times he will sub out is for obvious passing situations on third downs. He said it means he's on the field for about 70 to 80 percent of the defensive snaps now.
To be prepared for that, he's amped up his conditioning efforts. He's had late nights with both the bench press (and his 450-plus max) and the treadmill. Especially the treadmill. When the bigs for Camden County run, he's determined to finish first in every group.
"I have to if I want to lead our group of offensive and defensive linemen," he said.
He does just that. Camden will do sprints from one sideline to the other in two sets. Then take a 30-second break. His Wildcats will repeat that for five sets total.
"It has definitely gotten my stamina way better which is one of those things I have to work on," he said. "You have to dig deep to go both ways and push through. It builds your stamina at the end and that's why I love it."
He said it has amped up his 326-pound gas tank of wind from about a 7-gallon model to a 15-gallon sort. He's moved a wee bit closer to a Tesla than an M1-Abrams tank these days.
His senior year is more of a polished season. He's not longer worried about his hand placement or rolling his hips or his leverage.
"Just a change in mindset," Morris said. 'It is more not worrying about how I am going to do it and just going out and doing it."
Morris feels blessed and thankful he did a lot of early legwork and discovery among his top schools. He was ready to make his decision halfway through his junior year. He doesn't know what it would be like for a current senior who didn't see a lot of their top schools during their sophomore and junior years.
"That's one of the lucky things I had," he said. "I was being recruited so early and I was able to take so many visits so early that I've been to all these schools. I've been to a G-Day. I've experienced one of the craziest games ever with the Notre Dame game. I've experienced those red lights going through the stadium. I've felt that feeling. That's what I fell in love with about Georgia."
All-American Bowl: What Micah Morris is thankful for 
The tough part for all of these All-American virtual ceremonies in the pandemic would be the loss of the recognition moments for each of these young men in front of their families and school community.
This honor means a great deal to Morris.
"Whenever I was five or six years old and watching this game for the first time, I knew I wanted to be an All-American in this game," Morris said. "I had no idea back then on how I was going to be one. I didn't know too much about it but it was the awesome stadium, the flashy lights, the nice jerseys and the hard-hitting players out there. That's what I wanted to be."
"The older I got, I started to see Derrick Henry. He's from Yulee in Florida. Yulee is like 15 minutes from us because we are at the bottom of Georgia. He was the first person well close to me, well close to my area,  that I knew was up there as an All-American. I knew I could really make it, too. I could really turn dreams into reality. That dream came with a lot of hard work, early mornings and dedication to that dream but it really paid off."
When he was in middle school, he had no idea he was going to wind up an All-American offensive tackle. He was playing a lot at defensive end and tight end back then. His jersey would be super loose.
"Then from ninth grade to now to become one of the top offensive linemen in the country what more could you ask for," Mims said.
The way things used to be, he would have gotten a chance to thank the person who has meant the most to him hawking down his dream. That would be his father. His real first name is Oscar, but everyone calls him Mario Morris.
"I made it from a tight end to an All-American tackle because of just one thing," Morris said. "That was working. That was all of those early mornings. Those 5 a.m. wakeups and going down to the track. Getting in a couple of miles. Waiting for the weight room to open up at 6 a.m. so we could go in and get a lift in. Then going to the stadium to get some steps and some more cardio in. Then going to be blocking sleds that were left and punching and kick sliding. I was even working defensive end moves then because I didn't know what I was going to be but I was working."
"Then just ending it with sprints. That was on Saturdays and Sundays. Back then coming home from school. Straight to curls. Straight to bench press. Sit-ups. Just trying to get my body ready for high school. There were no days off for me. I was always working because of that work ethic always instilled in me by my father."
His father has always said the same thing to him: There is no traffic at 6 a.m. in the morning. 
"It was always the extra work with my Dad. He understood that the extra we were working at school but he knew before I knew that it was the extra. It was what you were doing that everybody else wasn't doing which was going to separate you on that field as a player. While they were sleeping, you were working."
He gave his son that go-out-and-get-what-you-want-out-of-life mindset at a very young age. According to Morris, it was the best gift he could ever give him.
RELATED: Why the future criminal justice major Micah Morris will be successful at UGA
SENTELL'S INTEL
(the recent reads on DawgNation.com)
Next
Nick Saban on Georgia football: 'Probably maybe the best defensive …