Next Generation: The harrowing night UGA freshman DeAngelo Gibbs felt a 'brush with death'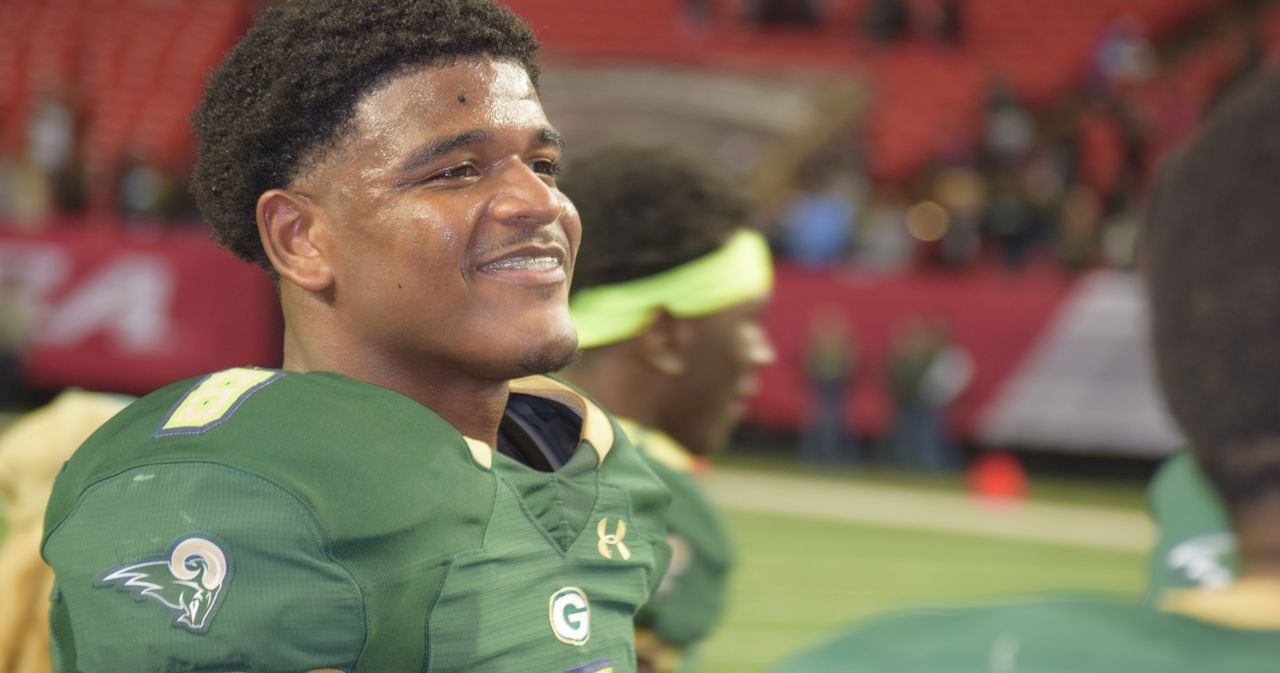 DeAngelo Gibbs has been at Georgia for about 14 days now. When he committed on New Year's Day at the Under Armour All-American Game, he did so with very little theatrics.
"I will take my talents to the University of Georgia," Gibbs said on ESPN. "Go Dawgs."
His family was so happy they were barking when he said that. So was DawgNation.
Gibbs will be right at the top of every legitimate list of Georgia's most important recruits this cycle.
"We are pleased and blessed he is able to play in our home state," Karen Gibbs said right after her son chose Georgia.
Blessed. It is fitting that his mother used that word.
That is a natural all-encompassing term to his "Next Generation" story.
The nation's No. 3 safety was fortunate to grow up under uncles Dale Carter and Jake Reed. Those two combined to play 25-plus NFL seasons.
He's been an NFL ball boy and met both Cris Carter and Randy Moss.
Gibbs got his first major college offer from Baylor when he was 13 years old. That was when he was in middle school. He's been rated as a 5-star and among the nation's Top 5 players at three different positions (athlete, cornerback and safety) during his recruiting journey.  
The 6-foot-2, 206-pound Gibbs was named to Nike's prestigious "The Opening" prospect camp as a junior and a senior. He was named an All-American and then was part of a state championship season at Grayson this season. 
He's blessed up. That's the vogue term for having more than one's share of good fortune. But most of those moments are well-chronicled.
This narrative heads down the stretch of his life last March 26 where he lost control of his 2007 Chevrolet Impala.
"I really could have lost my life," Gibbs said.
"I don't think anybody really knows how close that was," his father Deon Gibbs said. "It was a blessing he was able to walk away from that."
The heralded Georgia freshman walked away. For a little bit. Then he collapsed.
"It was the scariest night of my life and my wife's life," his father said. "Somehow and someway man God just saw our son through all of that."
"The pictures don't do it justice"
Gibbs said he was going "way too fast" and it had just stopped raining. If you want to know exactly what happened, he said the "after" pictures of his car do not do it justice.
His mother went to see the car once. She could not bring herself to ever look at it again. 
"You have to see the car in person," Gibbs said. "You know how they say the roads are the slickest right after it stops raining. It had rained for like two seconds it seemed like and then it stopped."
His father believes that accident took place about 10 minutes after Gibbs left. It wasn't too much later than 9 p.m. that night. If that.
Gibbs proceeded around a curve. At that same time, he hit a bump. Then his car started sliding.
"The next thing you know my car was in the air," Gibbs said. "It wasn't in the air, but it felt like it. My car was off the ground. It only felt like it was in the air. I was gliding and had no traction. I didn't even want to step on that brake when I was gliding because I thought I would tumble on over."
His mind stayed on one thing.
"Dang," Gibbs said. "I was thinking this might just be my last ride."
His father sells cars for a living. They have kept his crushed vehicle on the lot as a reminder of the blessing that has allowed him to experience so many others.
"He slid probably 50 yards sideways and hit an embankment and slid into a tree," Deon Gibbs said. "The engine was pushed into the front seat of the car. The bowtie (that) it left on the car you can walk up into it about two feet. Everything was shattered on the car."
As it happened, Gibbs said he wasn't scared. He was just waiting to hit something. Gibbs knew he had to come to a stop to see how bad it was going to be.
"I went into the woods flying pretty fast," Gibbs said. "Then I don't know what happened. I blacked out."
When the skid stopped
He woke up in his car and had no idea where he was.
Gibbs kicked the door open to get out.
"It was pitch black outside when I got out," Gibbs said. "I couldn't tell how bad the car was busted up. It was so black out the only thing you could see was the moon. That's how surreal that scene looked to me."
Coal black, he said. He'll never forget that. Gibbs said he could not place where he was on a drive he took every day.
The nation's No. 41 overall prospect then went back to his car to find his phone. It was all cracked up but somehow stuck in the window.
The car had pretty much buckled down and swallowed his phone in buckled steel and crumpled glass.
"If you see the car you will be like how did he make it," Gibbs said. "So I grabbed my phone and called my Mom."
He told her about the accident, but couldn't specify a location.
"I told her I didn't know where I was but she knows where I am because I take the same route home every day," Gibbs said. "I told her I was on that route I always take home, but I didn't know where I was."
Karen Gibbs told him to call 911.
"I don't even remember that call or the conversation," Gibbs said. "All I remember was blacking out again."
He slumped back into this car.
The next thing he knew his parents were there. Did the ambulance get there first? He had no idea on the scene.
"They helped me out of the car and into the ambulance," Gibbs said. "And I blacked out in the ambulance again."
The search for DeAngelo
Deon Gibbs and his son always had a debate about which was the shortest route to school. That created some doubt when they set about finding him after he called to tell them about his accident.
Did they follow Dad's choice? Or did they follow the path DeAngelo always felt was the logical trip? 
"I got to the end of the road and said 'Lord take us to where we need to go' and we went the route DeAngelo would normally go," Deon Gibbs said.
It was pitch black and out in the county.
Deon Gibbs rolled his car window down as they went down the road.
That was when they got to maybe 100 yards from where he would eventually find his son.
His wife was in a panic. That was normally the role Deon would play. Not this time.
"We rode out there and I was looking on the side of the road and I didn't see a thing," Deon Gibbs said. "We kept riding on past where he could be but then I heard a horn blaring. That was from his car and it was to my left. I just knew it was him. I didn't see anything, but I just heard a horn from a place that I knew that I should never hear a horn coming from out there at night."
His son was in the woods. He knew it and told his wife that.
"When I said that, my wife just went ballistic with worry," Deon Gibbs said.  
Karen Gibbs had been calling her son, but she kept losing him. The first calls that DeAngelo made to his mother came while he was still pinned in his car. He would eventually kick his side door open and wiggle out.
When his father finally got out of their car, he took off in search of that blaring car horn in the woods. Ask him about it today. He's not sure he would have ever found his son if not for that relentless horn.
He told his wife to say in the car. Gibbs had no idea what to expect.
"I start walking toward that car and could vaguely see what looked like to be tail lights," Deon Gibbs said. "By that time, DeAngelo was back on the phone with his mother. He heard him talking as he came out of the wood line."
"DeAngelo," his father called out? "Is that you?"
Gibbs said "Yes, Dad" and walked over and handed his father his cracked-up cell phone. His son was bleeding and in considerable pain. Deon noticed that right away. 
They plopped Gibbs in the back seat of their car. The plan was to take him to an emergency room, but when they got back on the phone with 911 a recommendation followed to stay there.
The emergency medical personnel arrived within 2-3 minutes.
When they arrived, the head nurse set forth to see the car. Deon Gibbs never saw it. He only went as far as he had to in those woods to collect his son.
"When the head nurse got there and saw the car she said we could not take him to the emergency room," Gibb said. "He had to go to a trauma center because he had a serious accident."
"People can believe what they want to believe"
It was an hour later before the family was able to hold a significant conversation with their son. He kept going in and out because of the severe concussion he suffered.
Their son normally does not shed tears. He did this time.
"He just said 'Dad, I thought I was going to die tonight' to me," Deon Gibbs said.
The only thing he remembered from his skid off the road was a memory of his beloved grandmother.
That's his wife's mother and the mother of his two uncles (Dale Carter and Jake Reed) who played so many years in the NFL.
She's known as "Ma Pat." Patricia Mitchell would not let them take their kids to a day-care center. "Ma Pat" basically raised all of Deon and Karen's children.
She passed away in 2011. Deon Gibbs said his son brought up their "Ma Pat" after he asked why he didn't hit his brakes.
"He told me the only thing he remembered was his granny," Deon Gibbs said. "He said 'My granny was running behind me and she grabbed me before this car hit anything."
Those words brought on significant emotion.
"For us, we knew that it was then angels keeping him here for a reason," Deon Gibbs said. "When he said that, it gave us confirmation that 'Ma Pat' was still in the mix and making sure our babies were still being taken care of."
Gibbs told his father that his granny was running behind him and she caught him before he hit another car.
"People can believe what they want to believe but I am telling you that my wife and I think that all of this was divine intervention that our son was able to go through all that and come out of it the way he did," Deon Gibbs said. 
At the hospital
Gibbs remembers the hospital stay in flashes. There's a scene when they slashed all of his clothes off.
"I had a severe concussion," Gibbs said. "I had messed up my knees and I had to get stitches in my lip. My lip has kind of like hanging out."
His All-American teammate Jamyest Williams was in the room when Gibbs shared that story. 
"Man, I never really knew it was all that bad," Williams said. "It was that bad, man?"
That was intentional.
"I never really expressed it with anybody," Gibbs said.
Gibbs said the paramedics saw the skid and where the car ended up. They told him they thought the worst when they arrived on the scene after that 911 call.
That told him that's usually what happens when they can still hear the car horn blaring.
"They said then that usually means to them it is fatal," Gibbs said. "Or just a severe injury. They said I should be lucky I only had a couple of knee scrapes and a lip bruised plus a severe concussion and that was it."
Did his airbag cause the concussion? Gibbs still doesn't know that answer.
He did have his seatbelt on. But when he came to, it was very loose.
That's part of the reason why Gibbs now goes "55 miles per hour and below" at all times.
"It is a blessing man," Deon Gibbs said.
Changed man
Those that knew Gibbs after the event found there was something new to him heading into his final high school season.  
Was this the newfound maturity of a senior year?  It seemed like it.
That made sense because Gibbs seemed different. Fewer smiles. More business. Extra focus.
That seemed like it. It appeared that the move to Grayson for a state championship run and the weight of figuring out which one of college football's superpowers he was going to join had done that.
But none of those reasons make sense after hearing about that accident.
"It just gave me a second chance and a go at life," Gibbs said. "I guess you could say it was a rebirth for me, but it was more about a renewal of something I could be. I was something in life, but this showed me that I could become something better. It showed me I needed to become something better after having lived through that. It changed me, man. No doubt about that. For the better."
He said he felt "a brush with death" on that ride.
"When I woke up that next day and there was something else then that means something to me," Gibbs. "That to me was a guy holding a gun to my head and just not pulling the trigger."
His father saw that.
"I think he realized at an early age that he can die," Deon Gibbs said. "I think he learned that he is not immortal and that life is real. Then I wanted him to know through all of that how a lot of given to all of us and it can all be taken away in one instance."
Commitment Day
When Gibbs chose Georgia, he said it felt like the best fit and the perfect opportunity. He said it felt like the start of something great.
He described what is taking place this recruiting year for UGA as the start of a legacy.
"I'm ready to accomplish so many goals," Gibbs said that day. "I'm excited. I know the coaching staff is excited. My family is excited. I'm overwhelmed right now and I'm so happy about the decision I just made. I've had it in the back of my head for at least a week now."
But then he paused all the adrenaline that ran through those words.
"That car accident made me realize just how life is precious," he said. "Life can take many turns and twists but you never stay down and always get back up. I'm honestly not even fully recovered from that car accident."
He ticked off that concussion. He mentioned some pains in his back.
Gibbs produced an epic reel of senior highlights despite not feeling like he was fully back from that accident.
His father felt he played his senior year at no more than 90 percent of his ability because of those injuries.
"That's all more than fixable," Gibbs said. "I'm better through all of that. Why? Because I have rehabilitated my mind more so than my body. I'm just ready and prepared to get it all started."
His next ride? That's bringing championships and titles to Georgia.
— SEC Country staff writer Zach Abolverdi contributed to this report. 
Next
How does Kirby Smart compare to Nick Saban on the recruiting trail?