State's No. 1 prospect DeAngelo Gibbs on UGA: 'I love them a lot'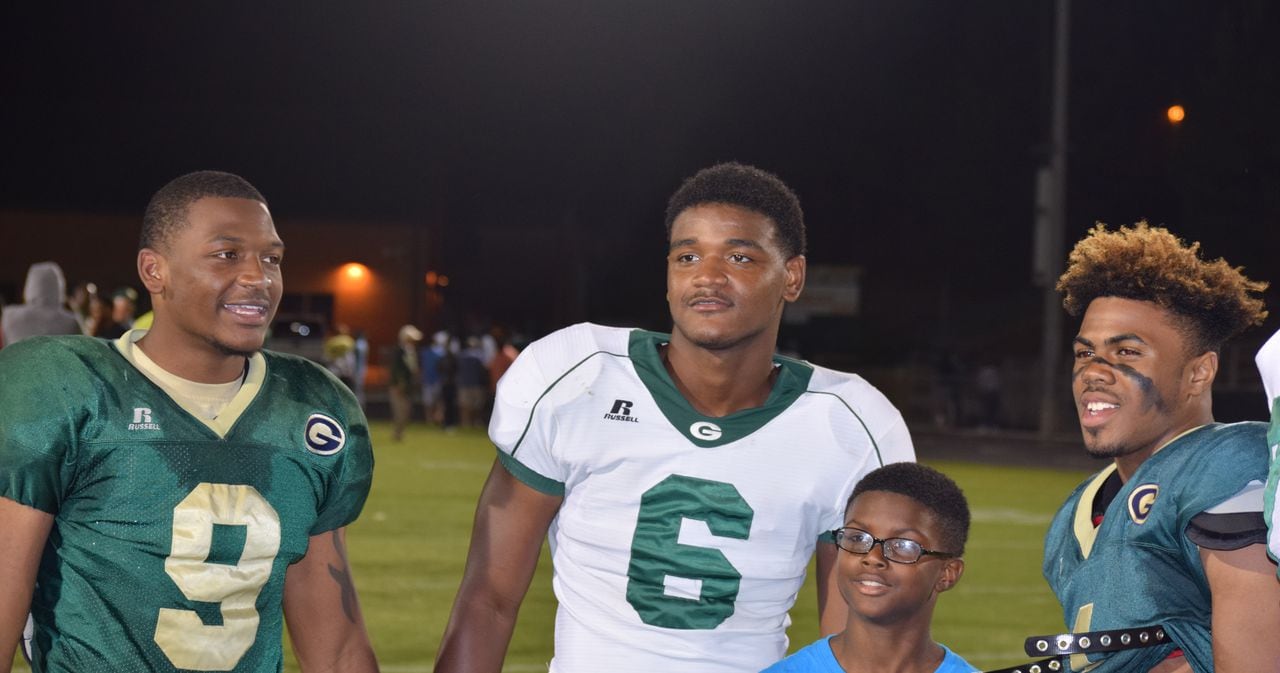 LOGANVILLE, Ga. — DeAngelo Gibbs had a different spring practice than most.
The state of Georgia's top prospect for the Class of 2017 missed all but two days of spring practice because he suffered a concussion in an off-the-field car accident. The 6-foot-2, 200-pounder just got cleared on Monday, but was able to suit up the green of his new team at Grayson High School for the spring game on Thursday night.
The five-star cornerback made a couple of plays. Caught at least one ball. Logged some time at cornerback.
The nation's No. 11 overall prospect still flashed a lot of talent on the field. The rust didn't bother him one bit.
"I went out there clueless and like a baby's first step," Gibbs said. "Like a baby trying to walk. I'm still trying to walk with the plays here and get it adjusted. "
What he is not clueless about is just how much UGA is after him. He said that the Bulldogs still recruit him as hard as any school, but Tennessee is right there with its SEC East rival.
He plans to see "as many schools as possible" this summer.
The rising senior hears from both coach Kirby Smart and defensive coordinator Mel Tucker. He said he has established certain times to speak with Smart and Tucker during a typical week.
That relationship is strong. How does he feel about UGA right now?
"I love them," Gibbs said. "A lot. You know it is home for me. Like right backdoor. They are on me hard. They are on me harder because they know there is a deadline."
Gibbs, who rates as the nation's No. 2 cornerback for this year's class, will enroll early. He graduates in December and will join one lucky team in January.
"They are going to make every day constantly hitting me on the phone and (direct-messaging) me and texting me. They are on me. I like that."
He said that Georgia considers him as a multi-positional athlete. He could be a top-flight receiver at UGA or a primary cornerback. It seems like he would rather play cornerback, but might feel more comfortable initially at receiver.
He should start out at safety for Grayson and at receiver. If a top matchup is required with an elite receiver, then look for him to come down and match up at cornerback. He wore No. 6 on Thursday night, but look for him to be in his customary No. 8 this fall. 
Gibbs didn't handle being sidelined all spring practice all that well.
"I wanted to just like cry every day," Gibbs said. "I was more than mad. Upset. Angry with myself. I wanted to be out there bad."
He said the recruiting pressure is ramping up. UGA and Tennessee are after him hard, but other schools like LSU and Ole Miss are also trying to reach out to him just as much as those SEC East rivals.
"It is kind of hard to think of which schools are really on me the hardest," Gibbs said. "That's why I tell people it is like a big tiebreak. That is why I tell people this decision is going to be really stressful and tougher than what people think. Just pick a school because of this or that. All these schools are on me really hard. .. I wish I knew. It would make things so much simpler. I wish I had a dream school growing school. It would make this easier, but unfortuantely I don't. That's why I have to go through this whole process. "
Nigel Warrior, his cousin, signed with Tennessee back in February. He tells him to "come on" to Knoxville. That's the same thing his best friend and Grayson teammate Breon Dixon says, too. Dixon is already committed to UGA for the Class of 2017.
Jeff Sentell covers UGA football and UGA recruiting for AJC.com and The Atlanta Journal-Constitution. Follow him on Twitter for the latest on who's on their way to play Between the Hedges. Unless otherwise indicated, player rankings and ratings are from the 247Sports Composite. 
Next
Kirby Smart's new recruiting chore: Reeling in a 4-star RB from his …