Tate Ratledge: Kirby Smart and Matt Luke drop in to check on a priority O-line target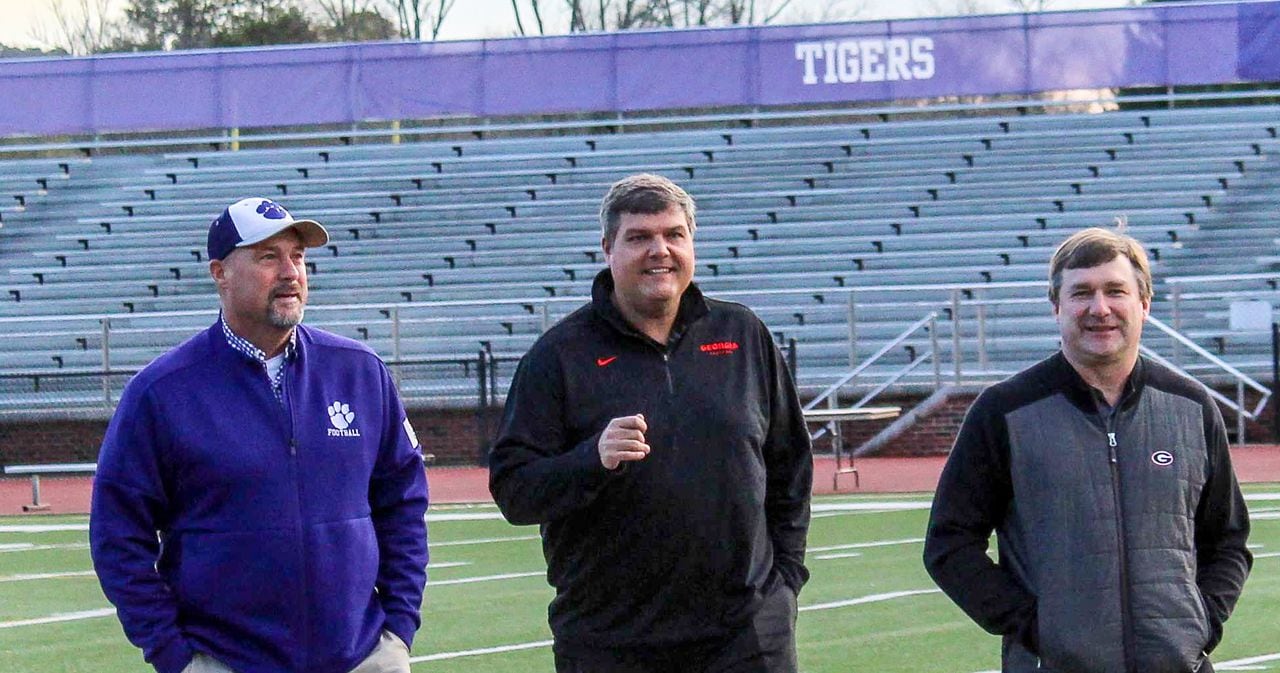 Tate Ratledge got to meet the new offensive line coach at the University of Georgia on Wednesday.
The impressive young man from Darlington School has been nothing but a steadfast commitment to Georgia. The Sam Pittman to Arkansas transition has been something to monitor.
It wasn't the only stop for Luke checking in on Ratledge on Wednesday.
The first meeting between Matt Luke and Tate Ratledge
Atha said Georgia has been the only school that has been by Darlington this week to check on Ratledge. A sampling of his thoughts from the visit will follow below:
"When you get an SEC head coach and his offensive line coach here and especially when it is from your home state, it is always an exciting time for us."
"I really enjoyed meeting Coach Luke. That's the first time I have ever met him and obviously his reputation speaks for itself. He's been doing this very successfully for a long time."
"He's an easy guy to talk to. He's got a ton of stories and a lot of background stuff to talk about. He relates to the room very well and he's a dynamic guy." 
"I thought [that first meeting with Ratledge] went very well. I thought the conversation went well. I thought obviously they had a lot to talk about. You are talking to a new offensive line coach at the school where the kid is committed to playing and a guy that is excited about a young man and a young man that is excited about playing football at the highest level."
"Then of course, if you know anything about Tate's background and the way he was brought up and Coach Luke's experience and his demeanor then they have a lot of common interests besides football. I thought the conversation went well."
 "I think [Luke'] reputation is tremendous. I think he's very well-respected in the coaching world and I think players certainly know who he is. I was only around him for a brief period of time but in that amount of time he was a very dynamic personality and the conversation goes well with him. It was a very positive experience for everybody that was there today."
"I have truly respected how Tate and his father and his family for how they have handled this entire process. I've said before if you pull up Tate's Twitter feed you are not going to see a lot of self-promotion. You're not going to see an 'I'm blessed to receive my bazillionth offer' and what you see from Tate is just humility and some things he is interested in. I think Tate is keeping it between him and his family. I know nothing has given me the impression that he is any less excited about the Georgia Bulldogs. That's really about as far as I know."
"Kirby was very excited. I think Kirby is very excited about his hire. I think he knows he has made a very good hire. I think he was very eager to get Coach Luke over here to introduce him to Tate and to introduce him to [his father] Dean. I don't think there isn't any question about that. When coach Pittman resigned to go take that job, I think one of the things coach Smart made very apparent was he had a guy and that he wanted to get that guy in place very quickly and did just that. I think that's the guy he wanted."
"Of course Kirby was excited but I guess Kirby is always excited. If you have been around Kirby enough you know that. I've never seen that guy when he wasn't full of energy. Same ol' Kirby today and he was certainly excited to be here at Darlington today."
UGA News