Why Elijah Holyfield hates orange and why he'll be amped to play Georgia Tech every year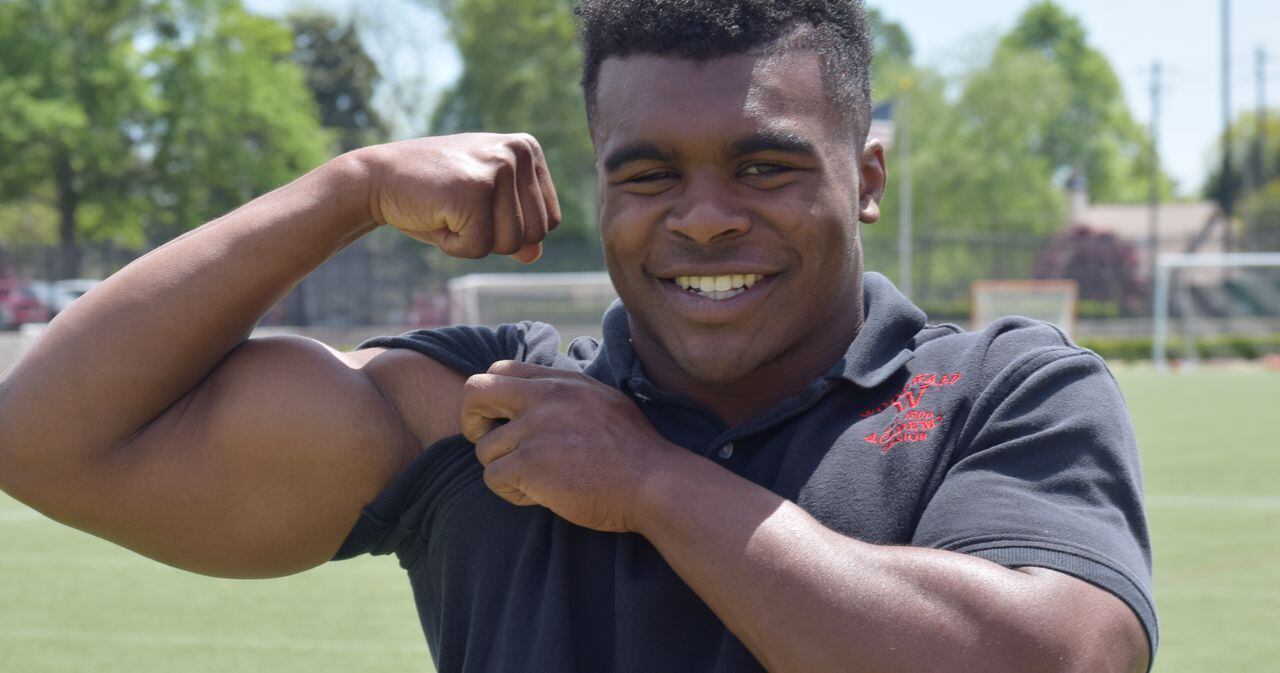 Elijah Holyfield will be ready.
DawgNation sat down with Holyfield this spring and looked back at his recruiting journey in another edition of our Recruiting Recap series. He's set to report to Georgia next month at a fighting-for-carries weight of 213 pounds. He's hoping to wear No. 13.
"That's my mom's birthday and my sister's birthday," Holyfield said. "Like my Dad always used to say that it is a misunderstood number. Kind of the same way people just misunderstand me. That's a misunderstood number, too."
He had a different recruiting process behind the scenes than most perceived. Holyfield paraded the Bulldogs at his commitment ceremony last September but had been keeping a secret. He'd been silently committed to Georgia since July 18.
When he did that, it shocked former running backs coach Thomas Brown.
"He was so shocked he almost flipped out of his seat," Holyfield said. "The only thing I said is I'd like to silent commit and if he'd accept it the only thing I'd ask is if he let me wait and announce it in front of my school. He was like that's fine and they were more than fine with that."
He went to Dawg Night ready to commit. That came to him on his way home from an unofficial visit to Alabama. He just knew. That culminated a process in which Holyfield felt Auburn's Gus Malzahn was the hardest coach to say no to and why no matter how hard Florida or Tennessee tried, they were not getting him.
"Just something about that color," Holyfield said. "I could never see myself in that orange. That's just not my thing."
Why will he be amped up to play the Gators? Who was his favorite recruiter? What was his reaction when his father Evander Holyfield (the only four-time heavyweight boxing champion in history) said he'd rather see him at Notre Dame? Did a Georgia Tech coach say something wrong that the program might regret every November?
What does everyone get wrong about him? Well, let's start with that.
DN: What is something that's out there that's not true or maybe irks you a little bit?
EH: That I am slow. I think I'm pretty fast. I don't remember the last time I've been caught from behind. I've played hurt and at less than 100 percent a lot in high school, but I've never been caught. This past year I had turf foe. Sophomore year I had fractured my foot. My junior year was my only healthy year.
DN: You didn't commit to coaches. Was it more of a commitment to a team, a program and a university than anything else? How big was the incoming class in your decision?
EH: That's true. I knew some of those guys and once I took my official and even my unofficial visits I was like, these are my guys. That's who I want to play with and we wanted to play together at Georgia. I think (former UGA assistant) coach Bryan McClendon put it to me like this and it stuck. He said 'Don't ever sign somewhere else and then play Georgia and find yourself wishing you were playing for them. Don't ever be sitting at home watching a game and see Georgia and find yourself rooting for them.' That stuck with me and I thought about what he said there a lot. At the end when schools kept reaching back out I just kept coming back to the fact I couldn't imagine myself playing anywhere but Georgia.
DN: Your father told me once your family went to a lot of Georgia games. Do you think you've been in Sanford Stadium more than any other signee?
EH: Probably so. I've been to a whole lot of Georgia games. Been going to Athens ever since I can remember. We were Georgia Bulldog fans.
DN: Which SEC school are you looking forward to playing the most?
EH: Oh, that's Florida. Definitely. I don't like Florida guys that much. They kind of have an attitude about them. Every time we go to any 7-on-7 camp or anything like that, it is always me and a Florida guy that end up just not seeing eye-to-eye on the field.
DN: Was your commitment ever in doubt?
EH: Not too much. Somebody told me pretty fast after Mark Richt got fired Kirby (Smart) was going to get the job. Coach (Thomas) Brown was still there for a time and he informed me as much as he could. If Coach Brown would have left at first I think Georgia would have been more up in the air, but the way things worked out I still had Coach Brown to talk to so I wasn't left hanging. If he had left, then there might have been more trouble for Georgia. He was recruiting me until the day he went to Miami.
DN: Who came in second?
EH: Auburn. … If Georgia and Auburn were running the 40-yard dash for me, then Auburn was at the 39 when Georgia finished first. They were neck-and-neck. I had a good relationship with coach (Gus) Malzahn and my parents really really liked him and (Auburn offensive coordinator) coach (Rhett) Lashlee. They kept recruiting me after I committed and when coach Richt got fired, they were the first school I heard from.
DN: Where were Alabama and Ohio State then in that 40-yard dash?
EH: They were pretty close, too. Maybe on the 37 or 38-yard line. There was some interesting stuff that happened with Alabama at the end.
DN: Wait a second. I can't let that go. What was going on with Alabama?
EH: They were trying to come over and recruit me late. It was pretty crazy. They were trying to come over late and Coach Smart didn't like that now. Alabama was close in the end, but I just really couldn't see myself there either.
DN: That didn't get out. Why?
EH: I wasn't into any of this recruiting stuff for attention with these schools. I was just looking for a place to play football where I felt like I had the best chance to succeed at.
DN: Your father made a few headlines when he was quoted that he'd rather see you at Notre Dame than Georgia. What's the real message there in your mind?
EH: He just wanted me to go to an elite academic school. I knew where he was coming from. He was one of those guys who got taken advantage of a lot athletically with his body in that area of his life. He wanted to make sure my education was at the forefront. He wanted something different for me. I understood what he was trying to say, but it wasn't he didn't like Georgia. It was just he liked Notre Dame more for me. … He just felt at Notre Dame there would be fewer distractions and there would be more people and peers around me that would elevate me in that academic area.
DN: The plan is for Georgia to sign at least two more big-timers at running back in 2017. How do you feel about that?
EH: I have signed to play for Georgia. To play with all I got. That's none of my business what Georgia does after signing me. What they do now is what is in the best interest of our team. They can get whoever they want. I feel competition is key. I don't want to be in a running back room with bums. I want to be in there with some really good backs because I'm coming in ready to work. All the guys in there better come in ready to work. That's the Georgia way.  
DN: What do you think is your biggest strength as a running back?
EH: Just a hard-working attitude. No matter how tough things get or how hard I get hit, I'm going to get up and give you all I got. Next play. It is like when you are running sprints. I'm not going to be that guy who just runs hard on the last one. I'll be the guy who runs hard every single time. Every single run for Georgia will be with everything I got.
DN: The Holyfield name is a brand. The family business is being able to dish out and take extreme amounts of damage. Do you bring that to the football field?
EH: Oh, you mean getting hit? Definitely. I like getting hit. Sometimes I don't feel like I've started playing yet until I get hit. Another thing people get wrong with me is a lot of times I get kind of weird before the games and stop talking. I can't get hyped. Only every once in awhile can I get hype. I don't actually get hyped up until I get hit or the other guys actually say something to kind of trigger me and set me off. A lot of people make that mistake when we play.
DN: Which coach was the hardest to say no to?
EH: Definitely coach Gus Malzahn at Auburn. He was just so genuine. ( Auburn assistant) coach (Tim) Horton and (Auburn offensive coordinator) Rhett Lashlee just had a real genuine feel to them. They expressed they wanted me bad and they had another back in Malik Miller but they told me they needed another one. They never got one so I felt they were also the most desperate school that wanted me, too.
DN: How do you feel about the new staff at Georgia? They weren't really the guys who sold you on Georgia.
EH: I love the new staff. Honestly. I think I like it a little bit more than the staff that was with Coach Richt. I mean I love coach Richt and all due respect goes out to that great man and then coach Thomas Brown and all that. But I would say the new Georgia staff is a complete staff. The defensive guys as well. It is just a different feel. Coach Smart is such an up-tempo guy. At first, I didn't know how much I'd like him. His coaching style is so in your face and I didn't really know how I felt about that at first. But he's always in your face in a positive way. He's never putting you down and leaving you there. He's building you up and all he is trying to do is help you improve. I love coach Jim Chaney. He's a funny dude. I like coach Sam Pittman and coach (Dell) McGee a whole lot, too. It is just a good feel. Even the defensive coaches are fun to be around, too.
DN: Is there a back you emulate? Or do you think of your game as a clean canvas and do your own thing?
EH: Definitely LaDainian Tomlinson. As a young child, I looked up to LaDainian Tomlinson. I've always watched him. We are kind of a similar stature. I feel like he always didn't have one really really good thing that was his best skill. He was good at everything. He could catch. He could run well outside and inside. He had a knack for scoring touchdowns around the end zone. Like on the 1-yard and 2-yard line you see a lot of guys get stuffed. He never did. He was a touchdown machine. I try to be like that, too.
DN: Was there a school that left a bad taste in your mouth in how they recruited you?
EH: I wouldn't say bad taste, but there was a school that rubbed me the wrong way. That was (Georgia) Tech. One of their coaches who was recruiting us said something that got to me. I think it was in my junior year. Their coach's comment to one of my coaches was something like 'If I go there I won't be a third-down back. If I go anywhere else I will be a third-down back.'  He said something to that extent and I kind of heard about that. I was like, 'What the?' and 'For real?' so when I heard that I was like I am definitely not going to Georgia Tech. That was the only thing anybody ever said that rubbed me the wrong way.
DN: Was there a coach you really connected with?
EH: My favorite recruiter by far was (Tennessee running backs coach Robert) Gillespie. That's my guy right there. I feel like when I committed somewhere and how most coaches will then un-follow you (on Twitter) and forget you. But I feel like if I saw him on the street then we would have a good conversation regardless. I really enjoyed talking to him and he was just that cool of a guy. Most of the time we talked it was about a lot more stuff than recruiting.
DN: But how much did you really consider Tennessee?
EH: I liked them. They were in my top 5. But I couldn't really see myself going to Tennessee. I couldn't see myself in the orange. He was cool. All the coaches up there were cool, but I could just never see myself in that orange.
DN: What do you need to get better at?
EH: I would say the weakest part of my game is definitely catching the ball out of the backfield. It is a timing thing. Once I get a rhythm with it, I catch it pretty well. But if I don't work at it for a long time it can be challenging. From my sophomore to junior year, I worked at it and improved a lot. I caught a lot of balls my junior year. But once I got hurt my senior year, I took my focus off it. I was out for six weeks and that took my rhythm away. I put my focus on getting my foot better and felt at the end of my senior season I wasn't as good at catching the ball out of the backfield as I was earlier that season. Because I had that much time away from it.
I call it the weakest part of my game now, but I feel like in the future you will definitely see me stick with it and make it a lot stronger.
DN: Which college program would have had a better shot if they tried a different approach?
EH: Definitely Ole Miss. They offered when I was younger, but never really showed much interest. LSU was one of the schools that didn't really offer me. I would've been very interested in LSU. Florida also recruited me but that was kind of weird and I was never going there anyway. You know how I feel about Florida guys.
DN: Do you have any regrets?
EH: Even though I put it on myself I look back and now know I didn't visit some of the other schools I always wanted to visit. I won't call them regrets, but things I wish I could've done differently. I didn't visit Oregon. I always wanted to visit there. (Southern Cal) was another school. I didn't get back to Ohio State one more time during my senior year. But you know what, it is all good. Those are things I wish I could've handled better. Not regrets.
DN: Did you look for a school which sets you up for life after football?
EH: Well, when I am 40 I hope to be retired from a long career. There aren't too many 40-year-olds in the NFL. I hope I will be living life and have a big family by then. I want to own restaurants if my career allows me the ability to do that. I want to buy franchises first and then come up with a restaurant of my own. My own concept. I still want to do something with football then, but I'm not sure just yet. My dad has a soul food restaurant. Maybe I'd like to open up a good soul food restaurant like that.
DN: What will you study at Georgia?
EH: I want to major in both business and economics.
DN: Poof. I've put you in charge of the NCAA's rules for a day. Which holes are you hitting hard in that rulebook?
EH: I think the dumbest one was the fact you could (direct message) coaches back and forth all you want but you couldn't send them text messages. (That has since been changed.) I also think allowing prospects to take officials in the spring of your junior year would help. A lot of guys don't want to have to drag their decisions all the way through the senior year. But then you want to take your official visits to other schools but you don't want to do it when you are committed. I'm also behind the thought that the schools should also pay for your parents to come along on your official visit.
But the more I think about it, I really think the official visits should happen in the spring of the junior year. I found out the bulk of where I was going to go in my junior year after football season. I think that's the most important time of your recruiting. That's when you narrow it down the most and when you get to see the most places. Because you don't want to spend your senior season thinking about anything else other than your team. That was important to me and it is also important to a lot of guys.
Unless otherwise indicated, player rankings and ratings are from the 247Sports Composite.
Jeff Sentell covers UGA football and UGA recruiting for AJC.com and The Atlanta Journal-Constitution. Follow him on Twitter for the latest on who's on their way to play Between the Hedges.
Next
Watch: DawgNation signing day Q&A with new RB Brian Herrien