Signee 101: Get to know 3-star Georgia OT Owen Condon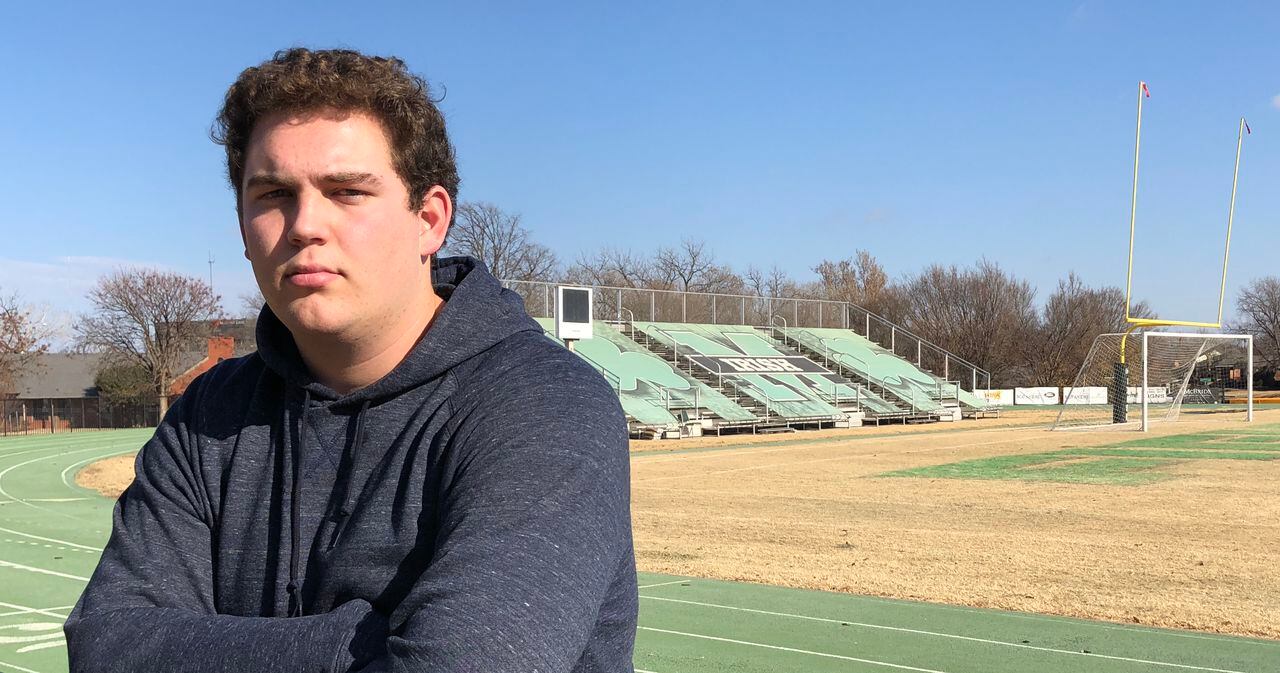 OKLAHOMA CITY — Everybody knows the game within the game of recruiting. If a prospect is a big offensive lineman and he's listed at, say, 6-foot-6, 330 pounds, in reality he's really 6-4 or 6-3½ and probably weighs closer to 300. The same myth is often perpetuated at the college level as well.
The truth usually doesn't come out unless and until a player, if he's so fortunate, makes it to the NFL combine or some other workout with professional scouts. Remarkably, players seem to shrink and that 4.3-second, 40-yard dash everybody always talked about drops to a 4.49.
This is one of the reasons Georgia likes Owen Condon so much. He might not command as many stars as some other offensive line prospects, but the size listed beside his name ― 6-foot-7, 303 pounds ― is accurate.
"He's a legitimate 6-7," said Justin Jones, his coach at Bishop McGuiness Catholic High School. "And he has some room to grow, too."
Well, that's not entirely true.
"Actually, I'm legitimately 6-6 and three-quarters," Condon said in a recent interview at his high school. "Well, a little over that, just a shade under 6-7. That's something Georgia really liked."
They also like Condon's honesty.
Indeed, objective No. 1 for Georgia coach Kirby Smart and offensive line coach Sam Pittman as soon as they arrived in Athens was to make sure the Bulldogs got bigger on the lines of scrimmage, particularly on offense. That's why they came forth with an offer for Condon almost immediately upon meeting him.
Condon and his family happened by UGA last spring on a tour of southern schools. Condon's mother is a UGA graduate, and Condon himself was born in Atlanta's Northside Hospital, so getting a close look at the Bulldogs was a high priority for them.
Turns out getting a look at Condon made him a high priority for Georgia.
"They were, like, 'Based on your length and your frame, we think you can develop into an amazing player here,'" Condon said of his first in-person meeting with the UGA staff. "We believe that about you and we're going to offer."
Condon didn't commit on the spot, but he left Athens knowing in his heart that he probably would. He finally did upon his return later that summer.
Georgia's gain was Oklahoma's loss. The home state Sooners "slow-played" Condon like they do a lot of local prospects. But Condon wasn't willing to wait. And with a 3.9 GPA, high test scores and an ambition to major in finance in college, he said he knew the Bulldogs checked all the boxes.
One of those boxes included "championship contender." That Georgia will meet Oklahoma in the College Football Playoff is, for Condon, an especially "cool coincidence."
But there are no split loyalties here. Condon signed a national letter of intent with the Bulldogs at a ceremony at his school Wednesday morning.
What to know about 3-star lineman Owen Condon
Height: 6-foot-6¾
Weight: 303 pounds
Rating: 3-star
Rankings: No. 476 in the nation, No. 37 offensive tackle, No. 8 in Oklahoma, according to the 247Sports composite.
Committed since: June 10, 2017
Why that date: It was Condon's second visit to UGA and he wanted to go ahead and lock up what he felt was the best of seven Power 5 offers, including those from Oklahoma State, Arkansas, Florida and Vanderbilt.
Enroll early: No. His private high school does not allow it.
Did you know: Condon's height comes quite naturally. His father, Bill, is 6-foot-8 and played basketball at Birmingham Southern. His uncle, Tom Condon, played football at Florida. His sister, Ella, is 6-2 and stars in volleyball. His mom and youngest brother are 5-9 and 5-10, respectively.
Bet you didn't know: Condon always has been a standout basketball player and has played on the varsity team since his ninth-grade year at Bishop McGuinness, which is a perennial powerhouse in the sport. But Condon is unable to play this season as he is rehabilitating a knee injury that he sustained in the first game of the football season. It was a meniscus tear and required surgery 11 weeks ago. He's expected to be fully recovered soon.
Next
Georgia making out great in weird and wild early signing period for …