Another upset of Auburn would salvage season for Georgia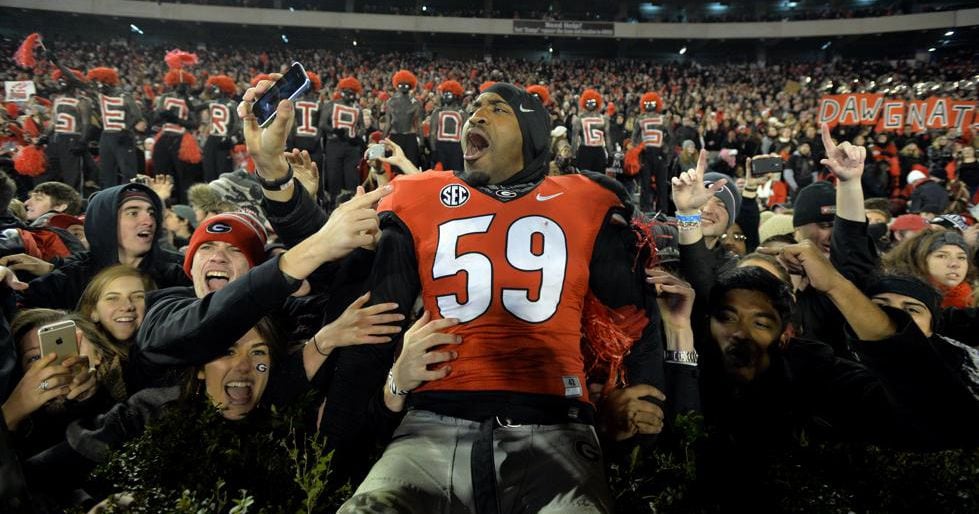 ATHENS — It's not beyond the realm of possibility. In this series such things have happened with regularity. We're talking here of Georgia being able to knock off a heavily-favored Auburn team on Saturday. In fact, there are some nice symmetrical examples of the Bulldogs doing just that.
Georgia (5-4, 3-4 SEC) is a big underdog to the No. 8-ranked Tigers (7-2, 5-1) Saturday. Auburn's favored by 10 points, give or take a half-point in either direction, per lines coming out of Las Vegas. The Bulldogs haven't been that big of a "dog" to Auburn since 2006 when they went over to The Plains to face the fifth-ranked Tigers at Jordan-Hare Stadium.
There were some similarities that November day as well. The Bulldogs were in the midst of a transition year under a high-profile freshman quarterback by the name of Matthew Stafford. To date, Stafford hadn't really distinguished himself much and was coming off a poor performance in a tough road loss to Kentucky. But suddenly everything clicked. Bolstered by Tra Battles three interceptions, Stafford had the first of many strong performances for the Bulldogs with 219 yards passing and a touchdown and scored himself on a nine-yard run in a resounding 37-15 Georgia victory.
Ten years before that, in 1996, a heavily-favored Auburn team that was ranked 20th fell to an unranked and struggling Georgia team that was 3-5 and reeling coming off another lopsided loss to Florida. But Mike Bobo and Robert Edwards rallied the Bulldogs from behind and lifted Georgia to a 56-49 victory in the first overtime game in SEC history. It took four OTs, in fact, to decide it after Bobo's TD pass to Corey Allen with a second left sent the game into extra periods.
Of course, all that is history and doesn't have any direct bearing on Saturday's game between the hedges. But it serves to illustrate the general mentality of either side in what is known as — and is — the Deep South's Oldest Rivalry. The ledger is dotted on either side with victories from the team presumably with nothing for which to play. You don't battle to a near deadlock of 56-55-8 in a 124-year-old series without some upsets being logged along the way.
And in this year's particular case, Georgia has some strengths to match Auburn's and some momentum and motivation to boot. The Bulldogs have a young up-and-comer at quarterback again in Jacob Eason, who apparently lives for the opportunity to score late victories. Coming off such a road win over Kentucky last Saturday, the Bulldogs are looking to rewrite the narrative on this rebuilding season and knock off some major rivals along the way. They're kind of confident for a team hovering at a game over .500.
Informed of the big betting line against them, Georgia tailback Sony Michel bristled. "I don't know how much (money) they'll make off of it because we're going to come out to play for this game," he said.
The facts are, Auburn is playing for a lot, too. The Tigers are in position to upset the whole apple cart not just in the SEC but slo for the College Football Playoff. Picked to finish sixth in the SEC West, the Tigers instead could play for the SEC Championship if they win here and then pulls off a major upset at Alabama in two weeks.
Auburn has gotten in this position with a resurrected, run-oriented offense and one of the finest defensive lines in the land. There are some issues there. Running back Kamryn Pettway, the SEC's leading rusher at 1,106 yards, pulled up lame in the middle of yet another long run last Saturday against Vanderbilt. Coach Gus Malzahn has been vague about Pettway's status and availability, other than to say he was going to try to practice late in the week and "wouldn't be surprised" if he played. Regardless, Auburn still has a stable of good runners, and an excellent offensive line, quarterback and receivers as well.
But Georgia counters with an underappreciated defensive line and a salty defense of its own. The Bulldogs are actually just one-tenth of a yard from being tied with LSU for second in the SEC against the rush at 118.2 yards per game. Georgia is banged up in the line, as everybody is this time of year, but deep enough to still provide formidable resistance to the Tigers' primary mode of advancement. But with Sean White settled in at the quarterback position, Auburn can also throw the ball a little. Passes account for 200 of their 500 yards per game.
Bottom line, it's the best team Georgia has played all season, and will be still after the year is over. The Bulldogs, playing at home for the first time in a month and only the fourth time all year, will have to play their best game of  the season to have any hope of winning.
"It's one of best," Smart said not of the opponent, but of the rivalry. "I mean, it's one of greatest rivalries in college football, when you talk about Georgia and Auburn. I think historically it's been very balanced. I mean, there's some similarities in the two stadiums, similarities in the programs. I mean, you look at Coach Dooley, Coach Dye, where they came from, there's a tie that bonds. It's an interesting rivalry. It's always heated. It never ends because it goes on recruiting trail. Both schools recruit the same area primarily.
"I mean, it's an interesting deal. They've got a great program and I certainly think we do too. So it makes for great college football."
And the Bulldogs hope this one makes for another great memory.
UGA News