Big-moment breakdowns undo Dogs' good 'D'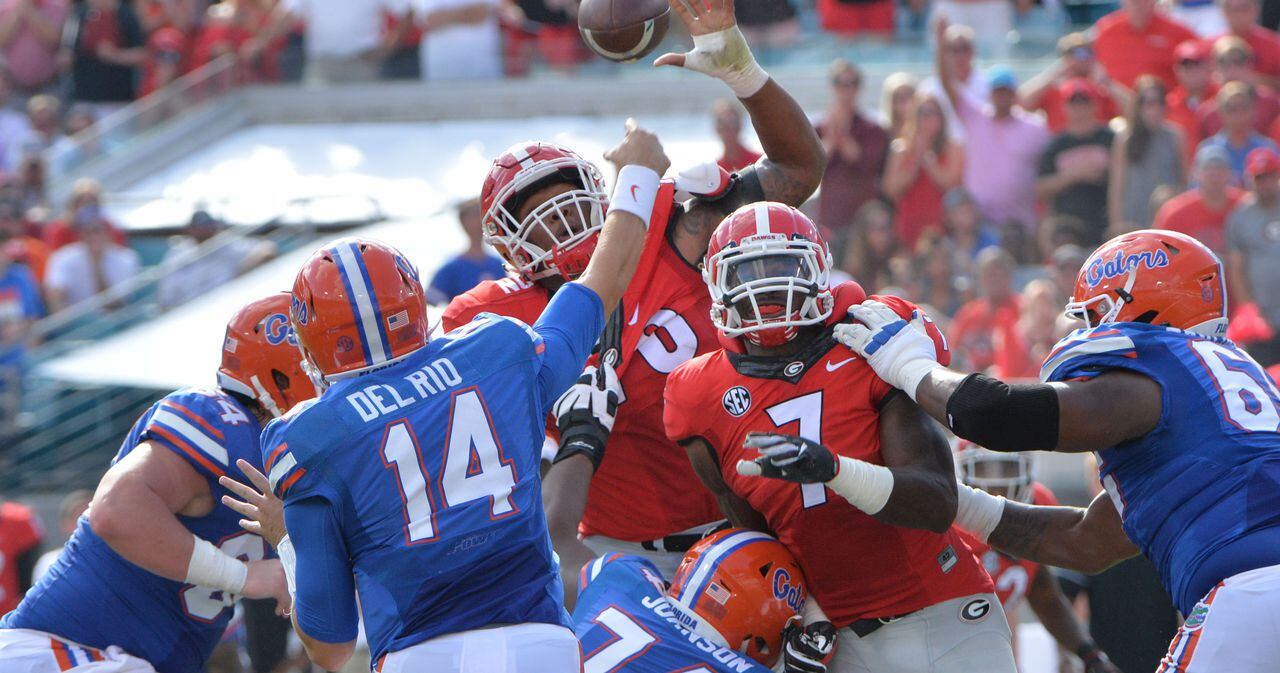 JACKSONVILLE, Fla. — It's not like Florida bowled over Georgia. It's not like the Bulldogs were paper mache and the Gators were a wet machete. But when it comes to the big moments, Georgia's defense is not winning enough of them.
Florida's offense managed only 231 total yards Saturday. But the stat that matters is what it did against Georgia when it got in the red zone. The Gators were 3-of-4 on touchdown chances and 1-of-2 on field goals.
They were also 50 percent on third-down conversions (9-of-18), including a couple on third-and-10s, one in the first half and one in the second.
Those numbers were still burning a hole in Kirby Smart's forehead well after the 24-10 loss to the Gators was in the books.
"That's disappointing when you get them in 3rd-and-10 and they convert them," Smart said during his postgame remarks. "They did it once in the first half and once in the second-half. We should be better than that defensively. But the kids fought, and they continue to fight."
On third-and-10 at the Georgia 47 in the fourth quarter, quarterback Luke Del Rio hit Lamical Perine with a screen pass for a 10-yard gain on a drive that eventually led to a field goal.
In the first quarter the Gators got 13 yards on a 3rd-and-10. While the drive didn't lead to a score, it kept the Bulldogs pinned on field position when they eventually took over at their own 4. Florida would score on its subsequent possession.
"We've got to go until the whistle blows and I think that's what we could've done better on today," senior defensive back Maurice Smith said.
But it's giving up the points when opponents reach the red zone that's represents the greatest regression for the Bulldogs' defense this season. They led the SEC a year ago in that statistic. They're last in the SEC this year.
"It's really just a lack of knowing your assignment, lining up in the right spots and knowing your adjustments," Smith said. "We've just got to capitalize when we're in those situations. We've got to do a better job in the red area. Those field goals add up, too, but you've got to keep those points off the board."
The defensive highlight came on Florida's first possession when Dominick Sanders intercepted Del Rio and returned it 31 yards to set up Georgia for its first score. It was Sanders' 11th career interception and second this season. Sanders would later leave the game with an injury to the MCL in his knee.
But while averaging only about 20 yards per possession, Florida had the ball 37 minutes in the game and finished with 20 first downs.
"You tell them to stop them on third down," Smart said. "You tell them, 'get a turnover.' You tell them to do what you have to do to win. And we didn't do that."
UGA News
Next
Georgia injury updates: Sanders, Ridley, Hawkins-Muckle