BREAKING: Reserve QB Stetson Bennett IV has decided on his football future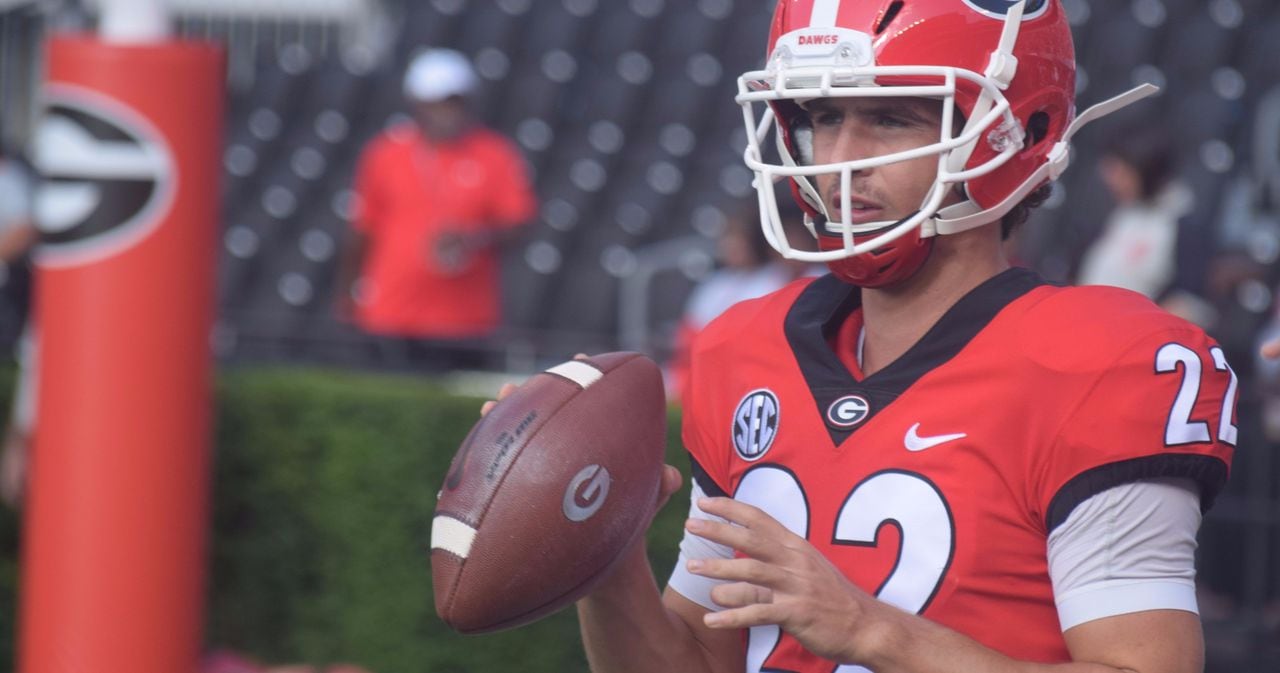 The "Mailman" has decided where he will deliver spirals this fall.
Preferred walk-on Stetson Bennett IV, the No. 3 quarterback on the Georgia depth chart, will head to junior college. He will then look to parlay that experience into another opportunity in major college football.
Bennett said Saturday evening that the choice to move on from his dream school was the toughest of his life. He tells a story of his first game vividly. Bennett was wrapped up in blankets in the nosebleed section of Sanford Stadium.
He might have been a year old. If that.
Jake Fromm led UGA to the SEC title and the brink of the national championship last fall during his freshman year at UGA. Justin Fields, the nation's No. 1 dual-threat QB in 2018, enrolled at UGA in January. Bennett slots in behind both.
His departure creates a precarious situation for the Bulldogs, given that Fromm and Fields are the team's only scholarship quarterbacks.
"Those guys, first of all, are unbelievable guys," he said. "Just great human beings. There are also great ballplayers. I just thought that it would be extremely tough for me being a walk-on to beat them both out."
That made UGA arguably the toughest QB depth chart to crack in the SEC, if not the nation.
"The dream is to play," Bennett said. "It was cool being at Georgia. I loved sharing those moments at Georgia last year but the dream is to play. It just wasn't the same growing up as a boy who wanted to play at Georgia if you are not out there. That's the thing. It was cool. I would love to be the starting quarterback at the University of Georgia. But just being there and being on the team, that's not good enough for me."
"I'm going to go play somewhere," Bennett said. "I think that's evolved to more of the dream than just being somewhere at a place because you grew up loving it. I think now the dream is to go play and go win championships somewhere. That's what I feel like. I am going to go chase that dream now."
The former Pierce County star has been a popular storyline for Georgia fans. Defensive coordinator Mel Tucker gave him a ringing endorsement during postseason practices. Tucker called him "a beast" to contain running the scout team.
Roquan Smith and countless others said the same thing. It harkens back to a conversation DawgNation had with Richard LeCounte III when he was set to enroll at UGA.
He wanted the Bulldogs to add Bennett to the team as a preferred walk-on. LeCounte even lobbied Kirby Smart about that.
The "Mailman" just seems to pick up that level of respect wherever he goes. The former 2-star recruit had full-ride offers with Middle Tennessee and Southern Miss. He scored a 30 on his ACT, and there was also the option to play at Mercer and in the Ivy League.
A very difficult decision for Stetson Bennett IV
Bennett comes from a family of Georgia graduates. He said he probably can count up to about hundred times he's seen the Bulldogs play.
When he talks about the Bulldogs, he still uses the word "us." That probably will never change.
"I think so, because there is no bad blood," he said. "Even when I told Coach Smart that I was looking to go before I made my mind up per se, he would give me advice on what JUCO to go to. Not specific schools. But what to look for in the team. He wanted to make sure that program had all their eggs lined up in the right row and was going to look out for me and support me. … I think I will always say 'us' even if I ever get an opportunity to play Georgia, then I might call that new team 'us' as well. Just the bond I have there with the university. It will always be there. I think it will always be there. I'll always cheer for the Georgia Bulldogs. I think that 'we' thing with Georgia and I will probably stick."
He was grateful for Smart's advice.
"It was really nice," Bennett said. "That just showed me more of what I already knew about Coach Smart. That showed me even if I wasn't going to be here that he still cares about me and whatever I'm going to turn out to be."
Bennett said the opportunity to go on scholarship was discussed. But he never really felt that offer was fully on the table. That's because a scholarship really wasn't what he was looking for.
"To me, it was more about the playing time," he said. "I told Coach Smart that up front. It was more about playing time here than a scholarship. That is what became of that."
He will have three years to play three seasons after he completes the requirements for a two-year degree with his new school.
"The goal is to go to a big school after that," he said. "That's obviously the goal for every player. Go play for as big of a school as you think you can."
The short-term plan at the junior college level 
Bennett is a talented improvisational player. He's 6-foot tall and very fast. He can run the 40-yard dash in the 4.5-to-4.6-second range.
The Bulldogs he faced in practice last fall know he seems even quicker than that in pads. He has a short list of junior college options in mind.
"I'm thinking somewhere in Mississippi," he said. "I am going to take some visits out there, or I already have visited them. I'm thinking it might be Jones Community College or Gulf Coast Community College."
He said he informed Smart of his decision a couple of days ago.
"When I told him, he wished me the best luck and said if I ever need anything, to call him and he'll help me out," Bennett said.
The former Pierce County star will still be in Athens for a short time. He's rehabbing a shoulder after offseason surgery. He was grateful that the UGA staff extended that courtesy.
The success he had leading the scout team against UGA's championship-caliber defense last fall convinced him he was good enough to start somewhere in major college football.
There was one practice session last year where he went 30 for 34 against Georgia's first-team defense. He was especially efficient in the red zone in that session.
DawgNation was told that Smart even singled him out after practice that day.
"The reason I came to Georgia in the first place is that I believed I was good enough to play," he said. "Then just going every day out there with the scout team and having all my scout team brothers with me. We'd go out there and we beat them sometimes. They were obviously one of the top defenses in the nation last year. That instilled confidence in me and I just feel like players need to play."
Next
Georgia football player arrested on felony charge