Current redshirts should be allowed to play in bowl games
Welcome to your one-stop shop for all the relevant UGA football news and takes every Monday through Friday. In today's edition, we look at an idea to make non-playoff bowl games a little more exciting and worth the trouble. What do you want?
https://www.youtube.com/watch?v=2Dec9Jb_Ac4
Let the kids play
With the advent of the College Football Playoff came a diminishment of all the other bowl games. The en vogue term for them has become "glorified scrimmage," which isn't an inaccurate description. Gone are the days when bowls were necessary if you wanted to get a look away from your region. Every team is on TV these days, so who cares that you get to see TCU play. I could've watched the Horned Frogs 12 times this season, if were inclined to do so, and I can still find full film of those contests if I wanted.
There are some positives to bowl games, of course. Bragging rights are on the line, and the game helps teams improve, to an extent. But there's one thing that can be done to make the games a little more important to the teams and maybe a little more important to the fans: Let players currently being redshirted play.
In my mind, there are no downsides to this. Freshman players who have never seen any game action get a chance to test themselves in a game situation without any consequence.  Coaches get a chance to watch this and plan accordingly for spring practice and beyond. It would be invaluable for an offensive lineman such as Ben Cleveland to get some snaps to see what he's made, and for offensive line coach Sam Pittman to watch and figure out the things they need to work on going forward.
This wouldn't have much of an effect on UGA this season. There are only a handful of players being redshirted, most notably, to me, Cleveland and fellow offensive lineman Solomon Kindley. It's not super exciting to see a couple offensive linemen play for the first time, but it does have the potential to provide excitement. Next year, for instance, there is a chance a skill player such as RB D'Andre Swift or WR Matt Landers, to name a few, is redshirted. With Nick Chubb and Sony Michel both on their way out at that point, it would be great to see what the Bulldogs have in store for the future.
There are no doubt some flaws with this idea, most notably the CFP. I do think an exception would have to be made for teams in the playoff. Those teams are competing for the championship of that season, so they should have to dance with who brought them. But everyone else, as cliched as it is, are playing glorified scrimmages. We might as well let those teams get as much out of them as possible.
A quick word on Toneil Carter
Former UGA RB commit Toneil Carter has committed to Texas. His scholarship was pulled by the Georgia staff when the unexpected decisions from four juniors to return for their senior seasons skewed the numbers for this class.
It's a really crappy thing considering how dedicated Carter seemed to be to UGA and the fact that he was set to enroll in only a few weeks. But it's an understandable move by UGA's staff if it is trying to make the best team possible. Luckily for Carter, he's a blue-chip prospect and was able to find another school quickly. There isn't anything more to say about this other than, "Good luck."
When you're on the naughty list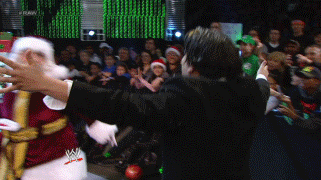 ICYMI
Good dog
If you have the means to give your dog a ball pit, do so immediately.
Life is too short, buy your dog a ball pit pic.twitter.com/NWa40OFvYl

— TmarTn (@TmarTn) December 18, 2016