Former Bulldog Jermaine Wiggins still bullish on Patriots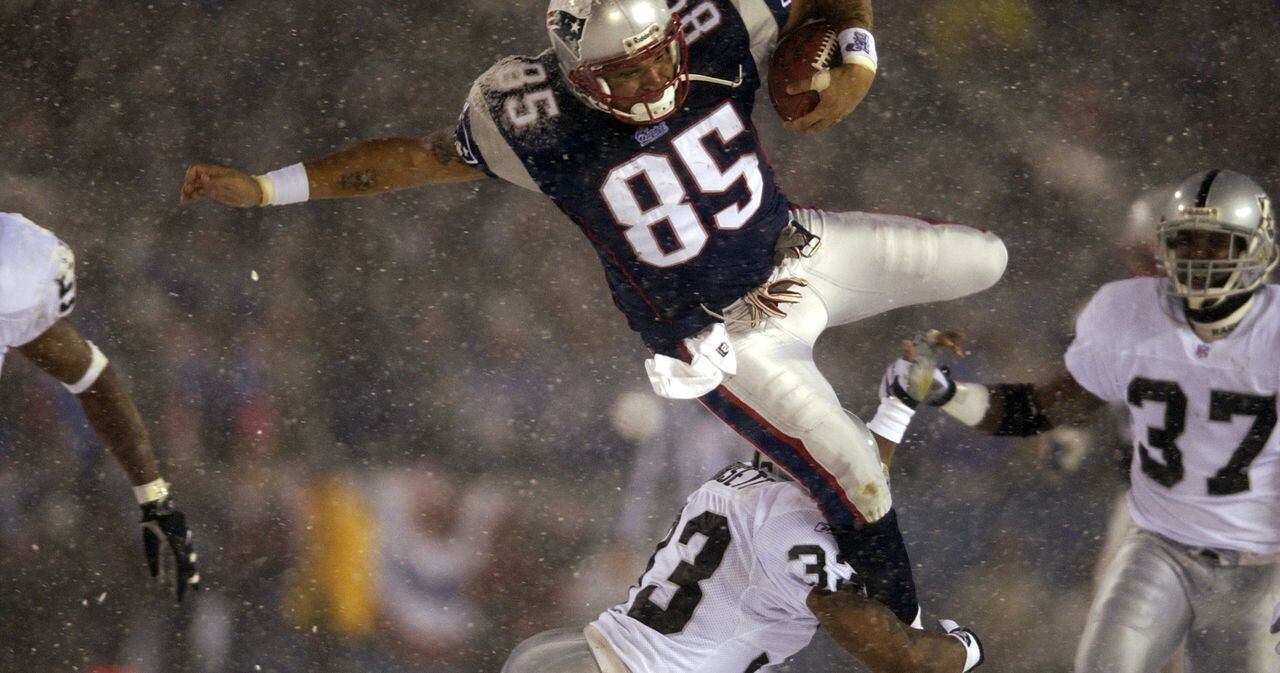 Jermaine Wiggins won a Super Bowl ring 15 years ago today with the New England Patriots.
His quarterback that evening was Tom Brady.
The 39-year-old Brady will start his record seventh Super Bowl Sunday.
Wiggins, a tight end with the Georgia Bulldogs in 1997-98, remains amazed at Brady's longevity, but has a simple explanation for it.
"He's said he'll play until he's no longer any good. But that going to be a while," Wiggins told DawgNation from Houston Thursday before attacking a cheeseburger. "That's his preparation. He's always been prepared at highest level. That's why he's still able to do what he does. His competitive nature, his football IQ and all that he puts into in to it. That's why he's the greatest QB ever."
Wiggins hosts a morning drive radio show in Boston and is a regular football analyst on NESN (which also broadcasts Red Sox and Bruins games). He's in Houston to both cover the Super Bowl and squeeze in some fun.
He likes the Patriots by "seven to 10 points" Sunday, thanks mainly due to Brady, Belichick and weaknesses in Atlanta's Red Zone defense. "Atlanta's offense is explosive. They can score," he added. Wiggins was a member of the Carolina Panthers when they lost to New England in Super Bowl XXXVIII.
A native of East Boston, Wiggins arrived at UGA in 1997 along with coach Jim Donnan from Marshall University. In his two seasons at Georgia, the Bulldogs beat Florida once and won a pair of bowl games.
"Winning those bowl games, that was my highlight – after the friendships I made," he said. "For a kid like me, to come from a place like East Boston to be playing at the highest levels of college football in the SEC. It was great."
And if anyone wants an early tip for Georgia's National Signing Day Class of 2021, look no further than Jermaine Wiggins, Jr. Wiggins' 14-year-old son plays tight end, wide receiver, and linebacker. He is already 6-foot-2 and wears a size 13 shoe.
"He's going to be bigger than me. And he'll be a better player than his father," Wiggins said.
The younger Wiggins and his dad made a visit to Athens this past summer. "He's big into football. I told him 'this is where you want to play.' I want to give him the experience of the best football in the country. I always keep an eye on my team."
The Patriots have a pair of former Bulldogs make their Super Bowl debut Sunday against the Falcons. Center David Andrews and wide receiver Malcolm Mitchell have both earned their spots in Brady's metaphorical "Circle of Trust."
Wiggins' advice to his fellow Bulldogs: "Treat it like any other game. (Bill) Belichick will tell them 'don't get lost in the hoopla and the dog-and-pony show.' Prepare like it's any regular season game, like you have all year long."
Recently, Georgia coach Kirby Smart spoke to DawgNation's Seth Emerson about what Smart learned during a visit a New England while he was an assistant at Alabama.
Smart's takeaway lesson from Belichick during that trip: "Do your job."
Wiggins agrees. "That was it. 'Do your job.' With Bill it was simple. 'Do what I ask you to do and be the best at what I ask you do to.' The guy next to you was counting on you. And you were counting on him.'"
Boston is known – among other things – as the "Athens of America." For Wiggins, any culture shock after he arrived from East Boston to Athens, Ga., was mitigated by the task at hand.
"I was focused on football. It was just about going down there and taking opportunity to play. If you believe in yourself and believe in your skill set, those are the biggest things. I was impressed with the facilities and the magnitude of SEC football but not overwhelmed by it. I didn't let bright lights get to me."
There were new and different dining opportunities, however. "Southern cooking. I had never had it until I got there. I missed my pizza, but make up for it with Southern cooking."
UGA News
Next
Towers' Take: At least 3 signees who should make a major impact for …