After all the recent good news, UGA fans must keep expectations in check
Welcome to your one-stop shop for all the relevant UGA football news and takes every Monday through Friday. In today's edition, we talk about keeping expectations in check after a week where UGA gots lots of good news on the personnel front. Oh, yeah, and it's Christmastime.
Cautious optimism is the order of the day
Georgia was far off from competing for any hardware in Kirby Smart's first season as coach, but the Bulldogs seem to be in the thick of the hunt for an offseason national title. Nick Chubb, Sony Michel, Lorenzo Carter and Davin Bellamy's decisions to stay in Athens one more season, plus the commitment of 5-star offensive tackle Isaiah Wilson, has Georgia fans back in high spirits after a disheartening loss to Georgia Tech to end the season.
And Georgia fans are right to be excited. Those four juniors returning to UGA for another year will make the Bulldogs markedly better on offense and defense next season. Smart also has recruited, at least to this point, Georgia's highest-ranked class since 2006, and Wilson is just the latest big prospect to join it. As noted by many, UGA has almost as many 4- and 5-star players as the rest of the SEC East combined. If that's the kind of talent gap Georgia forges between itself and the rest of the division the next few years, it won't matter how much Smart is out of his depth because UGA's players will just be plain better. After all, it was Smart's mentor, Nick Saban, who, upon his hiring, told Alabama's athletic director, "I just want you to know you've hired a horseshit football coach, but nobody will out-recruit me."
A word of caution on all this excitement, though: Do not be tricked by offseason national titles. Yes, it feels great to have four of the best players on the team come back, and then to see UGA bring in one of the most-talented recruiting classes in the nation. But there have been plenty of teams in the past who had everything go right for them in the offseason, but didn't produce on the field when the next season rolled around.
All of this is really just my way of saying curb your expectations for next season. Right now, everything seems right in the Georgia world, but next season's team likely will have plenty of flaws, mostly on offense. The offensive line will be more talented than it was this season, but it also will be younger and more inexperienced at a position where experience is of the utmost importance. Although a few guys have shown flashes, there still isn't a go-to receiver on this team. And Jacob Eason needs to learn to put a little more touch on his passes
I just don't want anyone falling into the trap that many fans, including this one, fell into last season. The hiring of Smart, and his potential to turn UGA into some sort of Diet Alabama, blinded folks like me into thinking a turnaround was imminent.  In truth, this was always going to be a six- to eight-win team, regardless of who coached it. And if I, and my ilk, hadn't thought this team was better than it is, it would have saved a lot of heartache.
You should be excited and optimistic. Those four guys that stayed will help the team from both skill and leadership perspectives. The defense is barely losing anyone and should take a huge leap forward in Smart's second season. This recruiting class could be the cornerstone for the program's future, and provide a few immediate contributors. Just be cautious. There's a long way to go before we find out if these factors created a contender, or if this offseason was pure bunk. Championship teams may be built in the spring, but those championships are won in the fall.
Dawgs in the NFL
The Detroit Lions and Matthew Stafford lost for the first time in six games on Sunday, falling 17-6 at the hands of the New York Giants. Stafford completed approximately 62 percent of his passes for 273 yards and no touchdowns, plus an interception picked by Dominique Rodgers-Cromartie.
The Bengals lost 24-20 at the hands of the Steelers, but Shawn Williams had a decent outing, recording 8 tackles, 5 solo. Geno Atkins also provided a sack among his 3 tackles for the Bengals.
Ramik Wilson recored 7 solo tackles in Kansas City's 19-17 loss to the Tennessee Titans. Chris Conley caught 2 passes from Alec Smith for only 11 yards. An injured Justin Houston played for the Chiefs on Sunday, but didn't do anything that showed up on the stat sheet.
The New England Patriots defeated the reigning Super Bowl champs, the Denver Broncos, 16-3 on Sunday, and Malcolm Mitchell pulled in a 14-yard reception on his only target of the day from Tom Brady.
When you ask Santa for a Razor Scooter
But he brings you socks.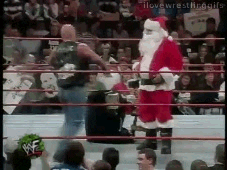 Top Logs
One of the regular features I do in this space is "Top Dawgs." Each Monday following a game, I rank the top five UGA players from the weekend. When the regular season finished, I ranked the "Top Dawgs of the Season." When it was announced that UGA would play the TCU Horned Frogs in the Liberty Bowl, I compiled a list of "Top Frogs," a.k.a TCU's best players. Without much new happening around the holidays, this feature is running on fumes. But today, I decided to try and keep it going by looking at the "Top Logs."
Log flume – Who doesn't love a big splash?
Log cabin – Abraham Lincoln was born in one, so that's pretty sweet.
Yule log – Look at this effin' log.
Log out – Getting off the internet is always a good idea. Always.
Logarithm – This is a math word. I heard it a lot in high school but never figured out what it meant, and I still don't know what it means.
ICYMI
Good dog
Shout out to squirrel-suit dog. You're a braver soul than I.
RT if you'd do this with your dog pic.twitter.com/5Yr3jk7nVF

— Fascinating Videos (@FascinatingVids) December 19, 2016