Why the hype for Georgia football-Alabama will surpass Georgia-Notre Dame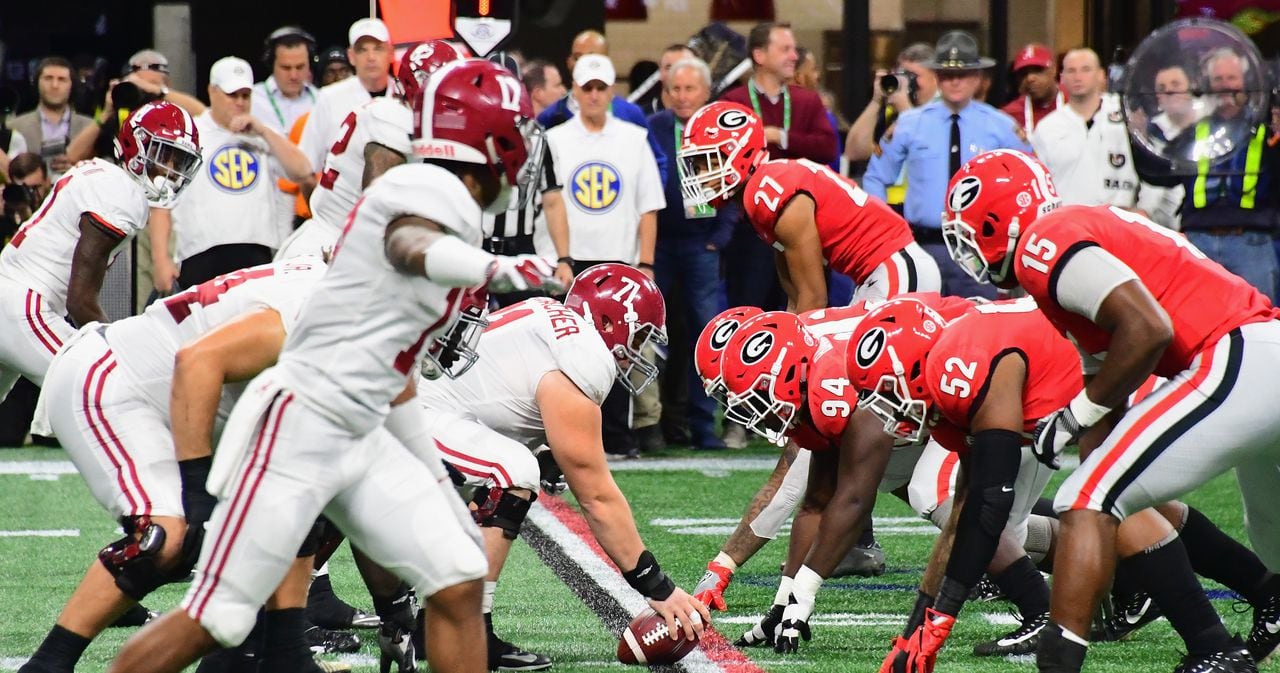 Welcome to Good Day, UGA, your one-stop shop for Georgia football news and takes. Check us out every weekday morning for everything you need to know about Georgia football, recruiting, basketball and more.
 Georgia football game against Alabama already drawing hype for 2020 season
Few Georgia regular-season games have had as much hype as the 2019 clash against Notre Dame. College GameDay came to town. It was a matchup between top-10 opponents. And Georgia had a chance to show off its new LED lights in a primetime atmosphere.
The game mostly lived up to the hype from a neutral-viewing standpoint, though some Georgia fans probably found the game a little disappointing given a sluggish offensive performance.
But for all that when into that game, there's a very real chance that when Georgia visits Alabama during the third week of the 2020 season, the hype for that game will surpass and even dwarf the Georgia-Notre Dame contest.
ESPN's Alex Scarborough put out a list of the most intriguing games for the 2020 season. And on the list was the Georgia-Alabama game, set for Sept. 19.
Scarborough's main selling point for the game at this point is Georgia coach Kirby Smart's return to Tuscaloosa, after his long tenure as Nick Saban's defensive coordinator.
Nick Saban is bound to lose to one of his former assistant coaches someday, right," Scarborough wrote. "I mean, we're at 19 wins and counting, and the streak is bordering on ridiculous. So maybe with Georgia coach Kirby Smart coming back to Tuscaloosa for the first time since he left his post as defensive coordinator, it's time for it to end."
The 19 wins the writer is referencing is the fact that Saban is 19-0 against his former assistants. Two of those wins have come against Smart, with the first coming in the 2018 National Championship Game and the second coming in the 2018 SEC Championship Game. Georgia held double-digit second-half leads in both of those games and ended up being undone by an Alabama back-up quarterback each time.
You can imagine at some point in the week leading up to the game, Smart will be asked about making any preparations for the Crimson Tide's back-up, just given the history of the game. He likely won't find the question all that funny.
The Georgia-Alabama game will also have quite a bit more history around the game than the Notre Dame-Georgia matchup. The two sides have played some epic games in the past decade, with Georgia somehow coming up short in all of them.
But when the two sides have met in the regular season — 2008 and 2015 — neither game has been all that competitive. The last time these two had a close game that wasn't played in Atlanta was back in 2007. Georgia took down the Crimson Tide in overtime thanks to a touchdown pass from Matthew Stafford to Mikey Henderson.
That was the last time these two teams met in Tuscaloosa and the last time Georgia came away with a win in this series. A win for Georgia would allow the Bulldogs to exorcise a lot of demons.
Even with the recent matchups though, one reason for more excitement is that both teams enter with an unknown entity at the quarterback position.
The first two Smart-Saban games also doubled as Jake Fromm-Tua Tagovailoa matchups. Fromm was a one-time Alabama commit, and when he flipped to Georgia after Smart became the head coach, Tagovailoa joined Alabama's 2017 recruiting class.
With Fromm and Tagovailoa both off to the NFL, two new quarterbacks will be stepping into the spotlight. For Georgia, it seems like Jamie Newman will be the starting quarterback for the Bulldogs after transferring from Wake Forest. While he still has to win the starting job, Georgia wouldn't have brought in Newman if they didn't think he was capable of being the starting quarterback for Georgia.
"Once Jamie went into the portal and we knew he was going to be a graduate transfer, we started communication immediately," Smart said. "And it was a process of finding out whether what he wanted aligned with what we wanted.
"We're looking forward to putting him to work and letting him go out and compete this spring."
Newman put up some strong numbers this past season at Wake Forest, throwing for 26 touchdowns and rushing for another six. But when he played a team with similar talents to what Alabama has, he struggled. Against Clemson, Newman completed just six of his 14 pass attempts while also tossing two interceptions in a 52-3 loss. Fortunately for Newman, Georgia has a lot more talent than Newman's Wake Forest team.
As for Alabama, they'll have to decide between someone who has a better grasp of the Alabama system or the more talented long term option. Mac Jones returns for the Crimson Tide after starting against Auburn and Michigan to close out the 2019 season. But Alabama also brought in the No. 1 ranked quarterback in the 2020 recruiting cycle in Bryce Young. Whoever starts will have talented playmakers to distribute the ball to, as running back Najee Harris and wide receivers Devonta Smith and Jaylen Waddle return.
UGA News