Georgia making moves to add depth to defensive line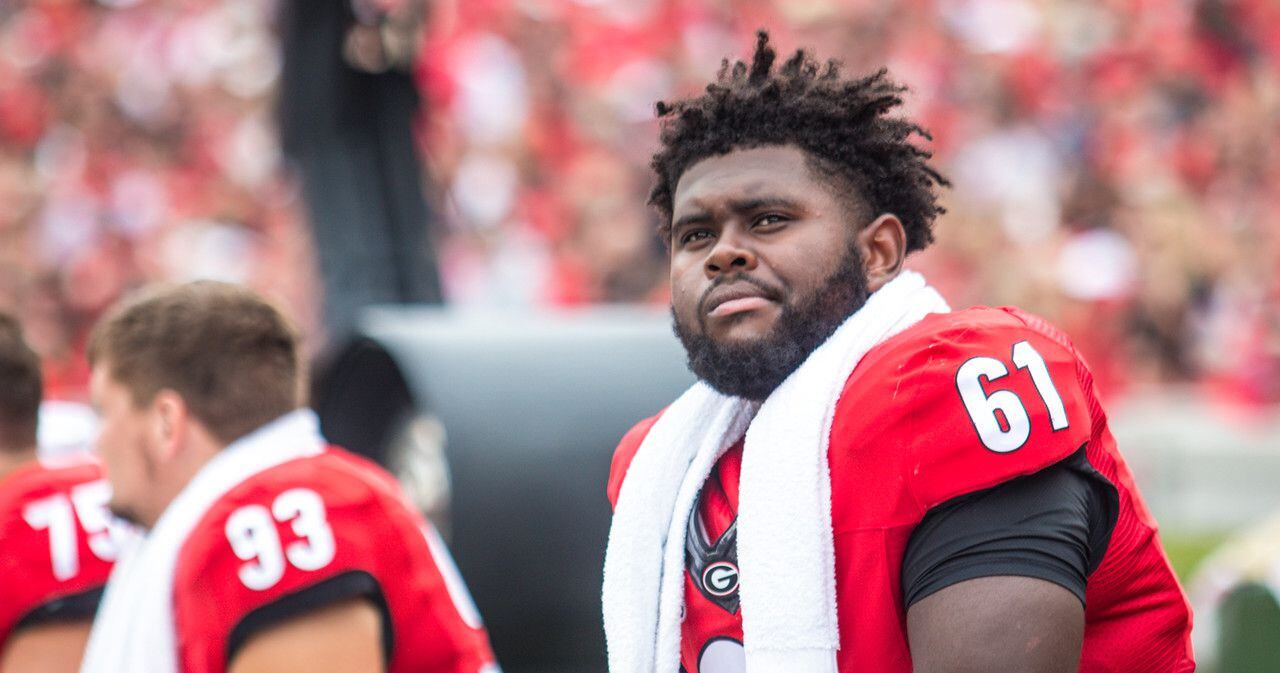 ATHENS — In the grand scheme of things, the position change Tuesday not mean much. But Chris Barnes' move from offensive line to defensive line serves notice on several levels for the Georgia Bulldogs.
1. Georgia's depth concerns on the defensive line are real.
2. If you're not starting and starring, you can never get too comfortable with the position you're playing.
Barnes, a redshirt sophomore from Leesburg, was moved from guard, where he has been stationed the last two seasons, to defensive tackle, where he hasn't played since his early years in high school.
"That always happens some time during the spring," said senior defensive end Jonathan Ledbetter, who's not moving anywhere. "People go down, people get hurt, things happen. You've got to make those changes because you need that depth on the D-line. You need depth on the O-line, too."
Because of leg injuries to defensive tackle Michael Barnett and defensive end Justin Young, Georgia was down to nine players to work at Georgia's four down-linemen positions on the defensive front last weekend. Young was able to return Tuesday. Barnett — who also had a stint on the offensive line — may be able to return next before G-Day, coach Kirby Smart said this past weekend.
Meanwhile, the Bulldogs' offensive line seems to be flourishing, both from a depth and quality standpoint. Barnes hasn't been seen working the No. 2 unit at any time this spring. Meanwhile, freshmen and fellow second-year players have moved past him on the depth chart.
"Our O-line and our offense is going really well," said Ledbetter, an 11-game starter as a junior last season. "They came out and ran the ball today. They did a great job, tremendous. So our defense has to step up and answer the call on Thursday and come right back at them."
Barnes was a consensus 3-star prospect as a guard when he signed with Georgia out of Lee County High School in February 2016. But he garnered a 4-star rating from ESPN, which rated him as the No. 19 offensive guard in the nation.
Barnes, who is listed at 6-foot-3 and 289 pounds, was redshirted his first season, then played in just one game in the fourth quarter of Georgia's 53-28 win against Missouri last year.
Senior Kendall Baker, junior Pat Allen, sophomores Solomon Kindley and Ben Cleveland, and freshmen Justin Shaffer, Netori Johnson and Trey Hill have all been running ahead of Barnes at guard. All that's before the No. 1-rated guard in the Class of 2018 — Jamaree Salyer — shows up at the end of May from Pace Academy in Atlanta.
Conversely, Georgia has only Tyler Clark, Michail Carter and Devonte Wyatt playing defensive tackle this spring. The Bulldogs signed only two other defensive tackles in recruiting. But Jordan Davis and Tramel Walthour won't arrive until summer.
"We've got a couple of guys banged up, but everybody's coming back," Ledbetter said. "There's nothing major or too crazy. You always want to protect your guys because this is spring and this is a building period. So some guys you know what you're getting from them, some guys you want to see what they're going to give to the team. So you want to keep everybody healthy for when you really do need them during the season."
It's unfair to judge Barnes on one day of work, but Ledbetter said he liked what he saw from his new defensive mate.
"He was playing more on the inside, but I saw him doing some good things on the other wide," tight end Isaac Nauta said.
Said Ledbetter, the leader of the defensive line: "I think he'll be all right for us. I like the way he strikes. … Of course, it's going to take a few days and a few practices for him to get a feel for what he's doing. But, you know, once a football player, always a football player. You always know that you may be needed somewhere else."
UGA News
Next
Where's James Cook in all the talk about Georgia running backs?