In light of recent developments, should Georgia's 2018 class still be ranked No. 1?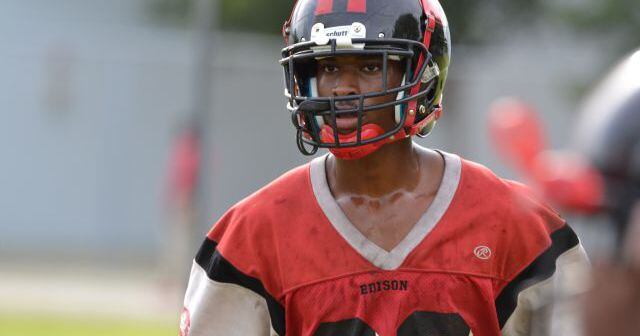 ATHENS — Let's talk a little football recruiting.
I know Jeff Sentell is usually the one you turn to in that regard. I do, too. In fact, he and I had a good conversation Wednesday morning when I asked about something that was on my mind. I was wondering whether Georgia's No. 1 national recruiting ranking for its Class of 2018 should stand in light of some recent developments.
You've no doubt seen reports that some of the members of that ballyhooed group ended up with some alternate plans. Most recently, cornerback Nadab Joseph enrolled at a junior college in Kansas. Before that, it was defensive tackle Tramel Walthour who went the JUCO route, also to Kansas. Each player was one of the 26 prospective student-athletes who signed a national letter of intent to play for the Bulldogs last winter.
Then there's James Cook. Cook, a running back who carries a 5-star rating from at least one recruiting outlet, apparently has not shown up yet at UGA. I say apparently because I haven't actually dug into this yet. Why? Because nobody from the 2018 class has to be here yet. The only NCAA requirement is that they are enrolled for fall semester, when they'd be eligible to play.
My sources indicate Cook will be here by then, if not before. You may recall, Georgia had a similar situation last year with Netori Johnson. But Johnson ended up getting his situation squared away by late July, I think it was, and he was able to join the Bulldogs for preseason camp.
I anticipate the same outcome with Cook, who initially was going to be a 2019 recruit but encountered some complications when he decided to move up into the 2018 class. So it's my understanding he's actively working to resolve all that. That's his business, but I have no reason to believe he won't.
As for the original premise — should Georgia's 2018 class still be considered No. 1 — my conclusion is it should. There are reasons for that, both mathematical and otherwise.
Since National Signing Day in February, the Bulldogs have lost two recruits and gained one. Remember, Notre Dame defensive tackle Jay Hayes decided to come to Georgia as a graduate transfer earlier this spring. Granted, Hayes will have only one year to play. But it's not hard to see that he'll come in as an immediate, major contributor. That can't be said of either of the two signees who aren't showing up.
Obviously, that wasn't the case for Walthour. I met this young man, and I happen to think he'll be a good player eventually. But the facts are that he was the 25th-rated recruit in Georgia's 26-member class. With a national composite rating of 631, according to 247Sports, that's ahead of only punter Jake Camarda, a 3-star signee who doesn't register on that scale. (That said, the reality is that Camarda might stand the best chance of all of the Bulldogs' signees of becoming a starter this fall. At worst, he enters No. 2 on the depth chart.)
As for Joseph, there's no downplaying his value as an athletic prospect. He was a consensus 4-star-rated recruit being recruited by Alabama and every other major program, and he could've been the top-rated signee for a lot of respectable programs. As it was, he was the 16th-highest-rated player in Georgia's class.
That speaks more to the depth of quality the Bulldogs reaped than it does to Joseph's abilities as a cornerback. Think about this for a second: Georgia inked seven players who garnered 5-star composite ratings, which never had been done. The Bulldogs brought in 10 of the nation's top 55 players, or nearly 20 percent. All those players, and several other notable ones, already are on campus and working out with the team.
Then there's the mathematical side of these things, which is where Sentell was able to educate me. The way the metrics of these national composite rankings work is they calculate only the top 22 players in each school's class. That's to account for the differences when teams sometimes sign more or sometimes less than the 25-a-year that's allowed by NCAA rule.
So only Joseph's rating figures into that formula. And recalculated to allow for his omission, Georgia's overall class rating is still 321.66 points. I don't know whether or not Ohio State, which finished No. 2 in the 247 composite, also had some players in its class that also didn't make it to campus. But, as it is, their total of 317.06, remains behind UGA. The rest of the nation — including No. 6 Alabama — isn't even close.
All of which means absolutely nothing when it comes to what might happen on the field of play this fall. There's is no trophy handed out for having the No. 1-ranked recruiting class. No doubt, Georgia will get a lot of contributions from this class in 2018. It has to, just based on the egress of talent from the 2017 national runners-up.
But just as far as the quality of the 2018 class goes, I don't think these late-spring re-directs should take any of the shine off the good work done by the Bulldogs. By all indications, these outcomes were expected. I'm assuming the delayed enrollment of Cook was as well. If for some reason that doesn't work out, we can do another mathematical recalculation.
But by any measure, this was a historic class for Georgia. I imagine we'll still see some significant impact when everybody is able to suit up this fall.
UGA News
Next
How the late Billy Cannon of LSU figured into Georgia's 1959 SEC...