Georgia football winners and losers after stunning South Carolina defeat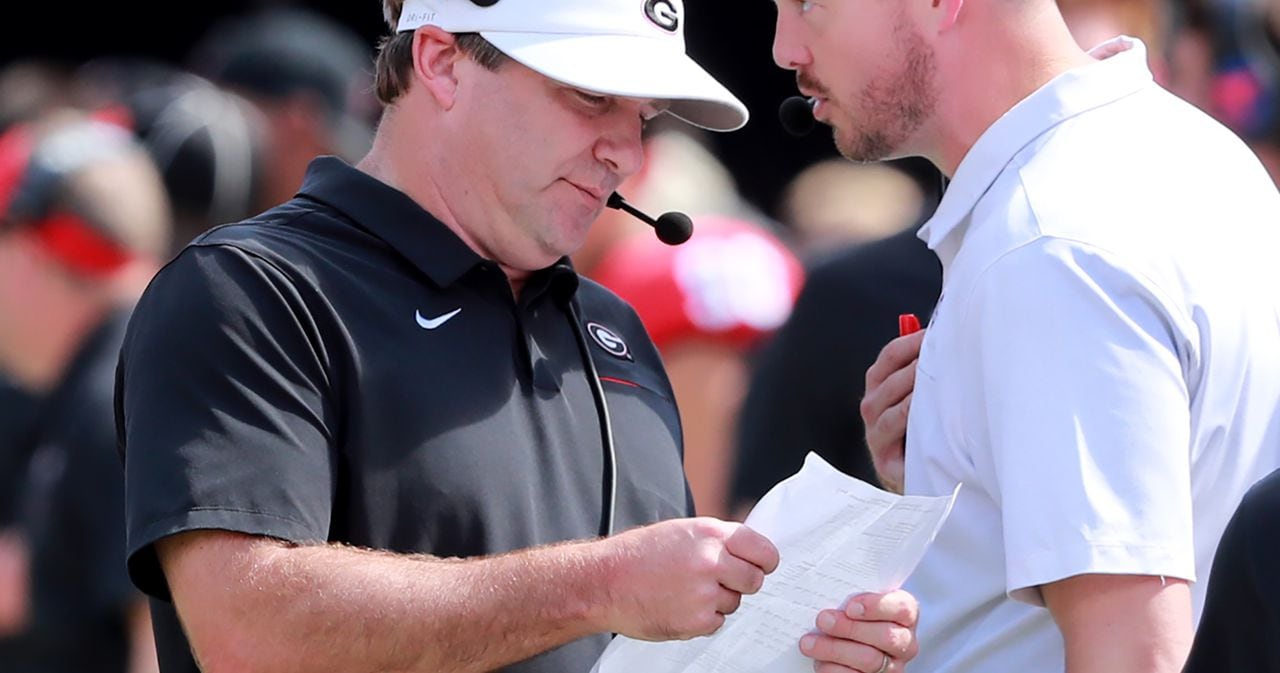 Welcome to Good Day, UGA, your one-stop shop for Georgia football news and takes. Check us out every weekday morning for everything you need to know about Georgia football, recruiting, basketball and more.
Georgia football winners and losers after South Carolina defeat
Loser: The entire Georgia offense: We could make a number of points here about how every position group wasn't good enough during Saturday's loss to South Carolina. Instead, we'll just share what Smart said about each unit on offense.
On quarterback Jake Fromm: "I believe in Jake Fromm. Jake Fromm is a leader of men. He gives tremendous effort week in and week out. He tried to throw the ball away and didn't get enough on it to get it of bounds and the kid picked it off. We fumbled the snap. That rarely happens with our guys. It happened today. I can't tell you exactly why it happened."
On the running backs: "We had some rushing yards in there but it wasn't the dominant performance, it wasn't controlling the line of scrimmage that we like to have. Give South Carolina some credit. They played really physical, they rotated guys up front and did a better job against our run game than most people have as anybody who has done in the past."
On the offensive line:  "They were able to control our run game, played really physical up front, they played a lot of guys, they outplayed us up front. That played a big part in the game."
On the pass catchers: "If you had to say one thing they did well they got their hands on our guys, and there was not a lot of (berth?) and separation. There were a couple of those that were frustrating. They were playing man to man, they pressed, they pressed George, they pressed Tyler, they pressed Cager."
Those are a lot of words to reflect how the Georgia offense as a whole was not good enough. It wasn't just Fromm or the offensive line. The offense as a whole did not play well, which is how you run 95 plays and end up with only 17 points.
Related: Georgia QB Jake Fromm takes responsibility for loss to South Carolina
Loser: Kirby Smart: The fourth-year head coach has opened himself up to a lot of criticism given how he's managed games. The first concerns were raised after the Notre Dame game, when Smart elected to kick a field goal instead of going for it on fourth down.
Then on Saturday, Smart and the Georgia team made a mess of a potential game-winning field goal situation at the end of regulation. Georgia had the ball on the 38-yard line with 8 seconds left. The Bulldogs did not have a timeout, meaning the Bulldogs would need something quick to get a few more yards for Rodrigo Blankenship to attempt a field goal. Or, Georgia could put Blankenship out there to attempt a 55-yard field goal.
Blankenship is one of the nation's top kickers and he'd already made a 50-yard field goal on Georgia's opening drive of the game. But Blankenship had a 53-yard attempt blocked right before halftime, and that was no doubt on Smart's mind. So the Bulldogs ran a play, resulting in an incomplete pass. To make things worse, Georgia lined up in an illegal formation, pushing Georgia back another five yards. This certainly took Blankenship off the table.
Georgia instead had to settle for a Hail Mary attempt from Jake Fromm that fell that never even got downfield.
Even if the presnap penalty is out of Smart's control, it is another example where critics can point to questionable decision making in a tight game. It's a hard thing to get better at when so much of it is out of your control, but it's apparent that this is an issue for Smart.
Winner: The Georgia sports curse: I've quoted this passage in this space before, but in the movie Friday Night Lights, Billy Bob Thornton's character is asked by his quarterback if he believes in curses. His response is perfect and something I've longed believed on the validity of curses.
"I believe that, uh, our only curses are the ones that are self-imposed. You know what I'm sayin," Thornton asks his quarterback. "We, all of us, dig our own holes."
After this weekend, I'm actually starting to believe a higher power might be involved in bringing misery to Georgia sports fans. The three most popular teams in the state of Georgia are the Atlanta Braves, the Georgia Bulldogs and the Atlanta Falcons. All three of those teams lost in uniquely painful ways over the past week.
In a win or go home against the St. Louis Cardinals last Wednesday, the Braves gave up 10 runs in the first inning. The Braves' season was over before it even had a chance to respond.
We don't need to relitigate Georgia's stunning loss on Saturday, we've already performed that autopsy.
Next
South Carolina's AD apologizes for damage to UGA's treasured hedges