Georgia basketball schedule release, Top 5 signing class put to test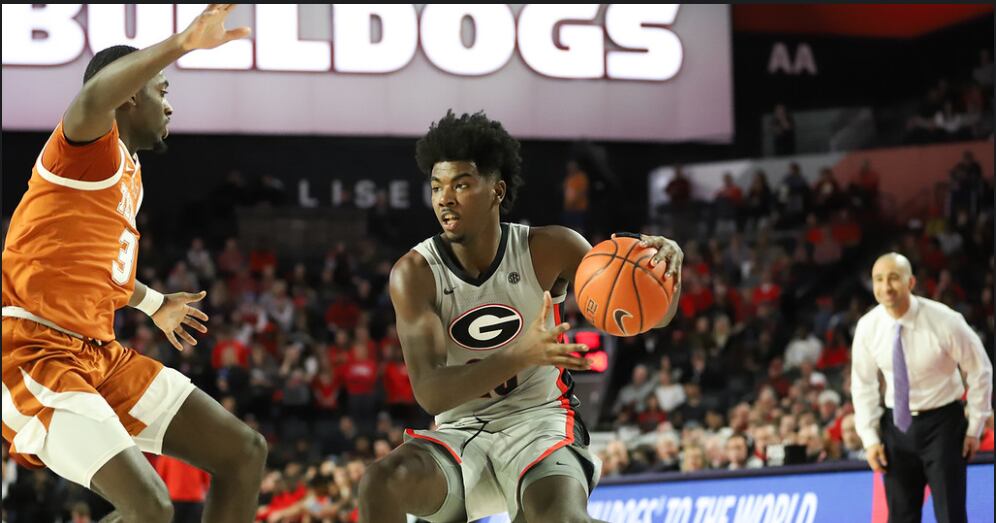 ATHENS — Georgia released its season schedule this week, and it's fair to suggest the Bulldogs better come out balling.
The season-opening game is against Western Carolina on Tuesday, Nov. 5 in Athens, but soon after the Bulldogs will head to Hawaii and open the Maui Invitational with Dayton on Nov. 25.
The Bulldogs next two games in Hawaii come from a pool of teams that include Michigan State, Virginia Tech, UCLA and Kansas.
A non-conference slate is highlight by trips to Arizona State (Dec. 14) and Memphis (Jan. 4) before things really take off.
Georgia's SEC season-opening game is home on Jan. 7 against the league's blue-blood program, Kentucky. The Wildcats represent the first of six-consecutive league games against teams that played in the 2019 NCAA Tournament.
"Night-in and night-out in this league, you have to bring your 'A,' game," Georgia coach Tom Crean said in a school release. "You might be able to get by with an 'A-' but if you think you're going to get away with your 'B' game, it's just not going to happen."
Georgia fans who can't wait that long to see Crean's second edition of Bulldogs basketball can attend the program's free fan event, "Stegmania," at 7 p.m. on Friday, Oct. 11.
The Bulldogs have 10 newcomers among their roster of 15 players.
This season's squad ranks as one of the most anticipated in program history, with Georgia debuting its highest-ranked signing class since Hugh Durham's No. 2-ranked class in 1992.
Freshman Anthony "Antman" Edwards, the top-rated. backcourt prospect in the 2019 signing class and a projected NBA lottery pick, highlights a Top 5 ESPN ranked class.
Versatile junior forward Rayshaun Hammonds looks to lead a young team that also includes four other prospects rated in various Top 100s: Christian Brown (6-6, SF), Jaykwon Walton (6-6, SF), Sahvir Wheeler (5-8, PG) and Toumani Camara (6-6, SF).
Crean also landed 6-10 center Rodney Howard, Northeastern guard transfer Donnell Gresham Jr., and 6-8 forward Mike Peake mixing them with returning veterans Jordan Harris, Tyree Crump, Tye Fagan and Amaze Ngumezi.
Tom Crean enters his second season at UGA
"We've got a lot to learn and how we're going to respond when we start having to deal with physicality is going to be key," Crean said.
Fans interested in purchasing non-renewable season tickets can do so online here or by calling the UGA ticket office at 877-542-1231.
SEASON-OPENING SCHEDULE
(home dates in bold)
Nov. 5 Western Carolina, Athens
Nov. 12 The Citadel, Athens
Nov. 15 Delaware Staate, Athens
Nov. 20 Georgia Tech, Athens
Nov. 25 vs. Dayton, Maui, Hawaii
Nov. 26 vs. Michigan State or Virginia Tech, Maui, Hawaii
Nov. 27 vs. BYU/Chaminade/Kansas/UCL, Maui, Hawaii
Dec. 4 N.C. Central, Athens
Dec. 14 at Arizona State, Tempe, Ariz.
Dec. 20 SMU, Athens
Dec. 23 Georgia Southern, Athens
Dec. 30 Austin Peay, Athens
Jan. 4 at Memphis, Jan. 4
SEC SCHEDULE
Jan. 7 Kentucky, Athens 9 p.m. ESPN 2/U
Jan. 11 at Auburn, Auburn, Ala., 6 p.m., ESPN2/U
Jan. 15 Tennessee, Athens, 7 p.m. ESPN2/U
Jan. 18 at Mississippi State, Starkville, Miss., 8:30 p.m., SECN
Jan. 21 at Kentucky, Lexington, Ky., 7 p.m. ESPN2/U/SECN
Jan. 25 Ole Miss, Athens, 5:30 p.m., SECN
Jan. 28 at Missouri, Columbia, Mo., 8:30 p.m., SECN
Feb. 1 Texas A&M, Athens, 1 p.m., SECN
Feb 5 at Florida, Gainesville, Fla., 7 p.m., ESPN2/U
Feb. 8 Alabama, Athens, 6 p.m. SECN
Feb. 12 South Carolina, Athens, 6:30 p.m. SECN
Feb. 15 at Texas A&M, College Station, Texas, 3:30 p.m., SECN
Feb. 19 Auburn, Athens, 7 p.m., ESPN/2/U
Feb. 22 at Vanderbilt, Nashville, Tenn., 6 p.m., SECN
Feb. 26 a South Carolina, Columbia, S.C., 6:30 p.m., SECN
Feb. 29 Arkansas, Athens, 6 p.m., SECN
March 4 Florida, Athens, 7 p.m., ESPN2/U
March 7 at LSU, Baton Rouge, La., 2 p.m. ESPN/2/U
POSTSEASON SCHEDULE
SEC Tournament
March 11-15, Nashville, Penn
NCAA Tournament
March 17-18  First Four: Dayton, Ohio
March 19-22 Rounds of 64 and 32: Albany, N.Y.; Cleveland, Ohio; Greensboro, N.C.; Omaha, Neb.; Sacramento, Calif.; Spokane, Wash.; St. Louis, Mo.; Tampa, Fla.
March 26-29 NCAA Regionals: Houston, Indianapolis, Los Angles, New York
April 4 & 6: Final Four: Atlanta
UGA News