Good Day, UGA: The obligatory AC/DC reference edition
Good day, UGA. Welcome to your one-stop shop for all the relevant UGA football news and takes every Monday through Friday. In today's edition, we discuss all things black jersey. Hit the music!
'It's the blackout, 'rari got the back out'
Kirby Smart handed down the official word on this weekend's uniform situation on Tuesday: The Bulldogs will, indeed, wear black jerseys for the first time in eight years. Smart obviously thinks the talk of the jerseys is a load of guff. Get a load of how Smart confirmed so to the media Tuesday, via Seth Emerson of Dawg Nation:
Reporter: "I know you love black jersey questions."

Smart: "Last question."

Reporter: "What's the deal. Are you all definitely using them?"

Smart (turning to Felton): "Is this the last question?"

Felton: "Yes."

Smart (turning back to reporter): "Yes."

And he walked off.
I guess that is that then. I don't know why, but ever since Greg McGarity announced in August that Georgia would break out the black at some point this year, there seems to have been a concerted effort to say, "These aren't a big deal." For one, there are Smart's dismissive comments about the jerseys over and over again. For another, why are they wearing these for the first time in almost a decade against Louisiana-Lafayette … at noon.
I can think of a few reasons to wear them for the first time on Saturday. First, Smart is generally just a grumpy dude who doesn't want to talk about anything other than the game (which he barely wants to talk about). "IT'S CALLED FOOTBALL, NOT DRESSBALL." Second, in 2008, the last time Georgia wore them, the Bulldogs were crushed by Alabama. That took away a lot of the mystique that built up around them from the Auburn and Sugar Bowl wins in 2007. For the superstitious among us, which I am to a degree, bringing them back and losing again would ruin them forever. You might as well burn them and bury the ashes in Oconee Hill Cemetery because lots of folks will never want to see them again. And who wants that?
The only thing I don't get is wearing them in a noon game. Part of the fun of the black jerseys to begin with was that Georgia only wore them at night. There was synergy there. The black jerseys. The black of night. The black mass of fans. The blackouts those fans experienced after tailgating from dawn 'til dusk. There was a nice synergy there. I'm afraid something about them will be lost in the light of day.
They still look sharp, though
No matter day or night, though, those jerseys look good. I'll admit to some bias, but I think they are among the best alternate uniforms in college football, especially when compared to some of the alternates I've seen around the country this season. Get a load of these eyesores:
Maryland will wear these hideous "Red Ops" jerseys against Ohio State. Let's gather around and roast them. https://t.co/wzgn8NrrnX pic.twitter.com/And32b4uNu

— Eleven Warriors (@11W) November 7, 2016
Gameday suits.#ShamrockSeries ☘️ pic.twitter.com/O0xlyjrJgU

— Notre Dame Football (@NDFootball) November 12, 2016
All of those are betraying the one principle of a good alternate uniform: There has to be some classicism. The best college football uniforms in general are the most restrained ones. Think Alabama, Penn State or Texas. Simplicity works. Which is one problem with that Notre Dame jersey. The regular uniforms look way nicer. The best alternates aren't just jerseys you want to wear every game, they're jerseys you believably could wear every game. No one is going to want to look at Maryland's big, red monstrosity every week. It'll burn your retinas. Check out some of the best-looking alternates from this season:
Georgia Tech vs. Pittsburgh Final Score: Panthers beat Jackets on game-winning kick, 37-34 https://t.co/WIpqrbI98e pic.twitter.com/FkSgrFgFGE

— From the Rumble Seat (@FTRSBlog) October 8, 2016
The Miami Hurricanes' throwback uniforms are too good to wear just once, and the Canes agree https://t.co/VpIuhf5u0b pic.twitter.com/20GV5BfkNe

— BasicLikeMyDefense (@BuckeyesGirl33) October 8, 2016
This is all subjective, of course, and you may have a completely different opinion than me. But I think the trick is to wear alternate uniforms sparingly to keep the crowd wanting more. Logan Booker had a few ideas of the occasions when UGA should wear black to keep it special:
My #UGA black jersey ideas going forward:

1. Wear them once a year, the first home game after becoming bowl eligible.

— Logan Booker (@LoganMBooker) November 15, 2016
3. Only during home night games in November, as a symbol of hunkering down to finish the year.

— Logan Booker (@LoganMBooker) November 15, 2016
Of those options, I picked  No. 3. But, if I had my druthers, Georgia would only wear them in night games against ranked teams. I like saving them for the big atmosphere. What do you think? On what occasions should Georgia bust out the black?
A little help from my friends
Apparently it's a thing now that former pro alumni of college football programs can come back and play for the scout team. John Park Wilson and Trent Richardson recently came in and subbed as Danny Etling and Leonard Fournette. Urban Meyer learned of that fact from a member of the media recently and immediately he (jokingly) started looking through his phonebook for former Buckeyes who could help out.
Kirby Smart also wasn't aware of the rule.
"It'd definitely be worth looking into if we had anybody who could help in those capacities," said Smart, according to Seth Emerson.
So, who does Georgia have who could lend a hand to this young team? Emerson already mentioned a few prime candidates: Hines Ward, Champ Bailey and Knowshon Moreno. If we're looking on the defensive line, Richard Seymour and Robert Geathers might be able to help. Maybe Drew Butler could help out Brice Ramsey in his transition to starting kicker. Maybe Matt Stinchcomb can take a break from his SEC Network gig and act as a fullback in Georgia Tech's triple-option attack.
Better yet: Bring back Goldberg!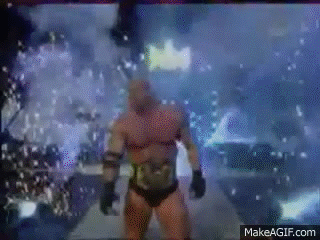 Chubb 3k
Lost a bit in the hullabaloo around the Auburn upset was the news that Nick Chubb eclipsed the 3,000-yard mark for his career.
A rare breed joins elite company. Congratulations, Nick.#CommitToTheG / #ATD pic.twitter.com/1rM3GxwraD

— Georgia Football (@FootballUGA) November 16, 2016
Chubb joins Herschel Walker, Todd Gurley, Garrison Hearst and Lars Tate in Georgia's 3k Club.
ICYMI
Good dog
Our good dog today is this superdog basking in the glow of the supermoon.
Winning The Internet: Photographer Trevor DeHaas with his dog and the #Supermoon last night in Phoenixville, Pa. pic.twitter.com/Bi51f7Vj4w

— Darren Rovell (@darrenrovell) November 15, 2016
Be easy, folks.