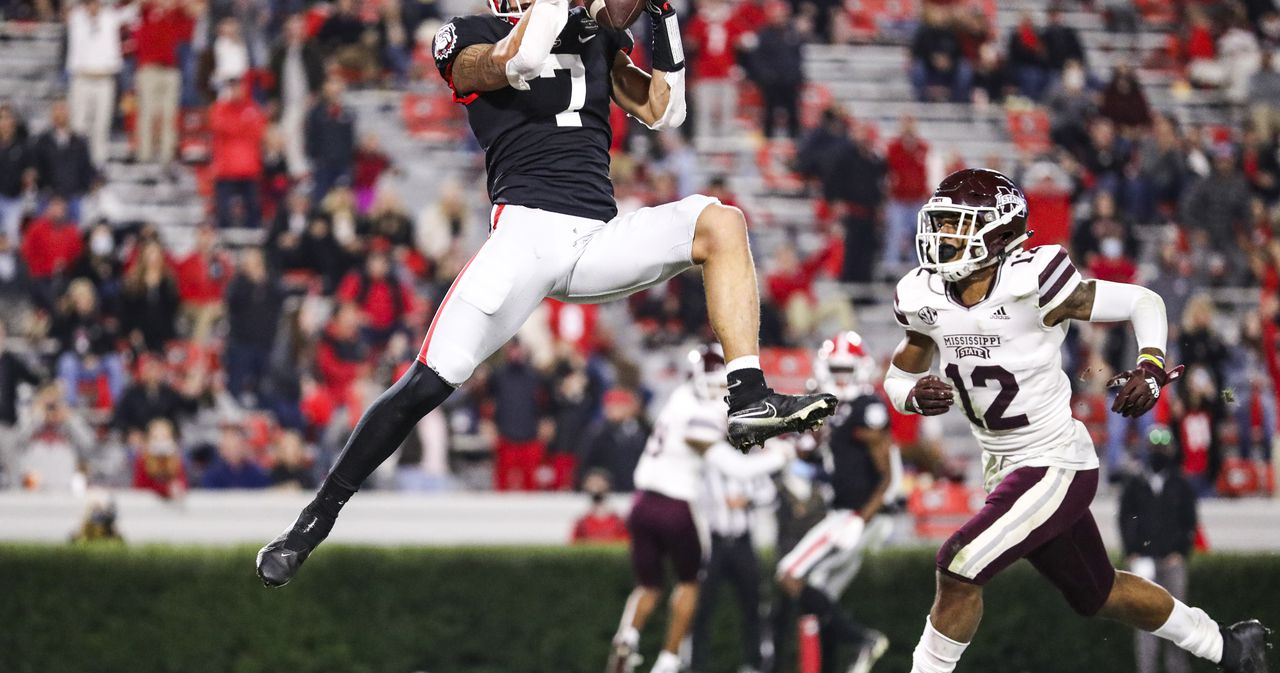 How JT Daniels can turn wide receiver from a weakness into a position of strength for Georgia
Welcome to Good Day, UGA, your one-stop shop for Georgia football news and takes. Check us out every weekday morning for everything you need to know about Georgia football, recruiting, basketball and more.
How a solid quarterback changes the course of the wide receiver room
If quarterback has been the most concerning position for Georgia in terms of needed improvement, wide receiver hasn't been far behind.
George Pickens had his flashes at the end of the 2019 season, but once Dominick Blaylock went down with a season-ending knee injury in fall camp the position was once again in question. Kearis Jackson had some nice plays against Auburn and Tennessee. The came the Alabama game and teams have begun to put the clamps on him.
The nadir came against Kentucky when Georgia's wide receivers caught just four passes for a total of 36 yards.
So to see the likes of Pickens, Jermaine Burton and Demetris Robertson all have their most productive games of the season in JT Daniels' debut only added to the excitement that Daniels brings to the offense.
Jackson didn't have a bad game either, as he hauled in the game-winning touchdown pass on a 3rd-and-20 throw from Daniels.
Saturday showed that with the right player at quarterback, Georgia's receivers are capable of making plays, especially those downfield chunk plays that the likes of Alabama, Clemson and Ohio State seem to produce so often.
And if Daniels is able to continue to thrive, the wide receiver position might soon change from a position of concern to an outright strength for Georgia in this season and 2021.
"They are growing. Part of the thing that we wanted to improve on was the ability to throw the ball and throw the ball vertical downfield and make some plays," Georgia coach Kirby Smart said. "To do that, you have to have the people to make those plays."
Jackson is still the team's leading receiver at this point with a team-best 31 catches for 451 yards. Smart called him "a really good surprise for us." Part of the reason for Jackson's emergence is just the fact that he's actually been able to stay on the field this season.
He missed time during the 2019 season with a broken hand and then an ankle injury to end the season. In addition to his playmaking skills, Jackson is one of the top blockers at the position and a clear leader for the position group.
When discussing Daniels and his performance on Saturday, Jackson used a word that hasn't often been associated with the Georgia passing game in recent season.
"It was a fun moment seeing your guys go out there and competing especially in practice and then translating it over to the game," Jackson said.
Whether it be the touchdown passes to Burton or Pickens, it's clear that the play of Daniels injected some life into the position group.
Pickens was a factor from the beginning, as he caught a 28-yard pass on Georgia's first drive. He, like it seems almost every Georgia wide receiver over the past two seasons, has been snake-bitten by injuries as he missed the Kentucky and Florida games with an upper-body injury.
But for really the first time all season, the sophomore wide receiver looked like the same one that turned in an MVP performance in last year's Sugar Bowl.
"He is a great wideout. He's getting better in the run game. He's really physical when he blocks," Smart said. "He can be an impact on our overall team, in terms of energy-level and enthusiasm when he makes plays—it sparks a lot of guys."
Next
Georgia football podcast: Thank you JT Daniels for making UGA …