UPDATED: Mark Richt says he wants 'great success' for Kirby Smart, Georgia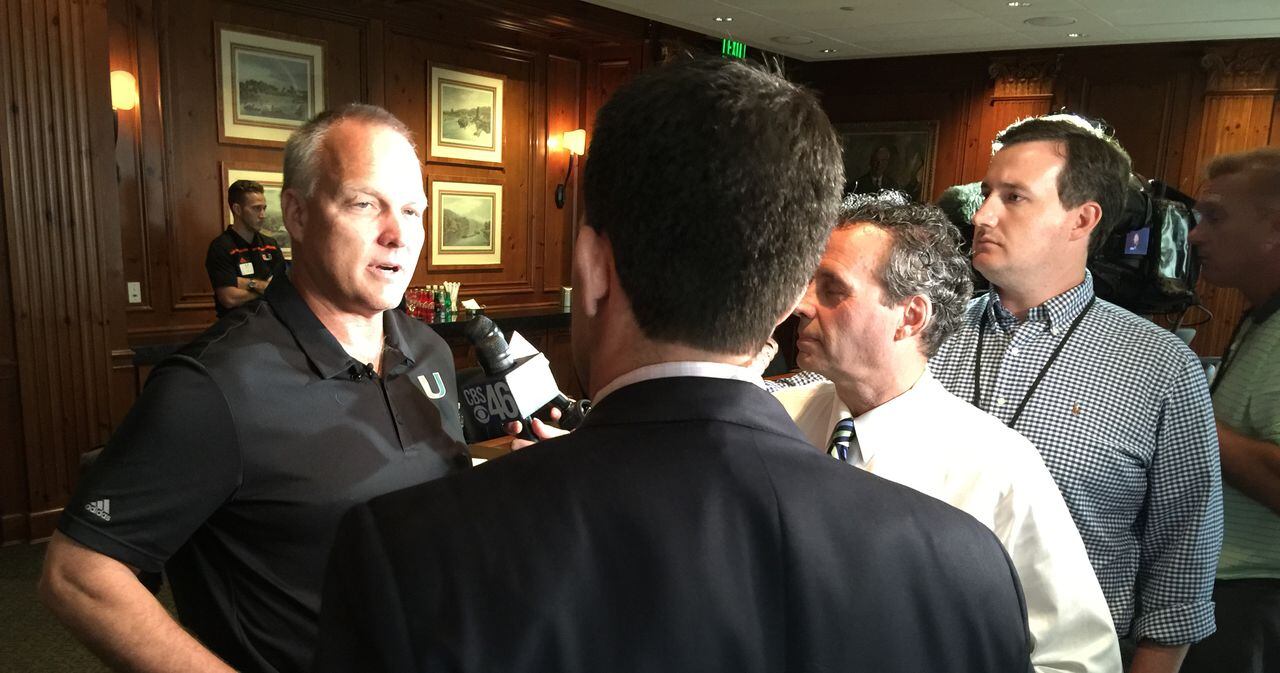 Mark Richt will always have a lofty place in Georgia annals. And, for the moment at least, he's riding high as the new head coach at Miami.
In fact, he was 49 floors high over Atlanta on Thursday as he spoke to a gathering of Miami alumni and fans at the Commerce Club at the 191 Peachtree Building downtown. This was the latest stop on the Hurricanes' spring speaking tour. This past Tuesday, Richt was in Amelia Island, Fla., with the rest of the ACC football coaches at the league's spring meetings. From here stops await him in Chicago and New York.
"I've never been in this building," Richt said during a press briefing in the wood-paneled Ivan Allen Room overlooking Peachtree Street. "I was impressed when I walked in here and saw all these different rows of elevators."
Richt showed up, tanned, relaxed and "feeling at home," both being in Atlanta and being the head coach at his alma mater.
"People around here still say 'it's hard to get used to you wearing that 'U,'" Richt said. "But I'm used to it. It's been five months for me. I'm very comfortable at my alma mater. And, for me, home is where my wife is."
Richt's wife Katharyn recently completed work for a nursing degree and he was in Athens for her graduation earlier this month. Afterward, he and current Georgia coach Kirby Smart exchanged pleasantries via Twitter.
That seemed to resonate with fans of both schools. But Richt said he and Smart actually have a very good relationship for a long time and that he wishes the best both for Smart and the Bulldogs.
"I want Georgia to have great success," Richt said before the speaking engagement. "I love the players there, first of all, but I love Georgia. Georgia was great to me. I know Georgia is going to do well. There's too many good things going on there. Kirby's a great coach, a great recruiter. I think he's an outstanding person. He coached with me for a year and I got to know him on a personal level and I know he's a good guy."
Richt said he and Smart have actually talked a few times since they've been in their respective positions.
"I like Kirby," he said. "I don't know if we're close-close, but I'm as close as I can be to a guy … I coached one year with. I have a lot of respect for his work on the field. I've always thought he's a really good person. … You see guys on the road, you see guys at the convention once in a while. It wasn't like we were calling each other on monthly basis or anything like that, but I think there's a very healthy respect between us and a good friendship."
That said, Richt said he's not interested in scheduling a regular-season game with UGA anytime soon.
"Hopefully in a playoff game or a bowl game that's significant," he said. "Right now I've got enough scheduled out for a while now."
Richt was the second-winningest coach in Georgia history when he coached the Bulldogs from 2001-2015. He went 145-51 during his tenure, won two SEC championships (2002, 2005) and led UGA to five SEC title game appearances.
However, the Bulldogs appeared to have plateaued in recent years, winning double-digit games but coming up short of SEC champioships and, consequently, national championships. He was fired by UGA Athletic Director Greg McGarity in late November, the day after the Bulldogs beat Georgia Tech for their fifth win in a row and ninth of season.
Richt was asked to weigh in on a number of subjects during his brief question-and-answer period before speaking to 100 or so alums and fans in a banquet room.
On interactions he has had with UGA fans since leaving …
"When something like that happens, people are like, 'You're in the tank.' They feel like they've got to come help you. Then they came (to visit) and they realized that I really do live in paradise, they didn't feel so bad for me. So it really was good, but I've been feeling good for a while."
On being a second-time head coach …
"I have a lot better idea of what I think it should look like than I did the first time around. I wasn't really sure before. I observed Coach Bowden as much as I could and tried to do it the way he did it in a lot of ways, because I believed in what we were doing at Florida State. … I have a really good feel for what I think everything should look like."
On satellite camps …
"I think not long from now that vote will go back the other way. I really do. I just think  …the biggest thing wrong with it is you're basically having contact with players in a non-contact period. It's not about teaching fundamentals and all that. It's about recruiting. I just think built on the wrong things. I think it's also problematic. I think in time everybody's going to see it's a mess. Now do I want kids to have an opportunity to be seen and all that? Yes, it should be a situation like when I ran camps at Georgia for years _ we had many, many colleges come to our camps and do that. But in reality, May recruiting (and) spring recruiting _ we have 168 chances to go to schools, get transcripts, watch practice. It's a satellite camp at every high school you go to basically. We might go to a few, but I don't see a wholesale jumping in with both feet now."
On how much he'll recruit the state of Georgia …
"We'll do our best. We know we need to have the great majority of our team from South Florida. There's been so many great players that went to Miami that are from all over the country. Guys from up north, from California, some of the great quarterbacks from all over the place. (Jeremy) Shockey was from Oklahoma. I'm not going to turn down the best of the best outside of our area, but we're going to make most of our living in that tri-county area."
On being a hands-on coach again …
"That first scrimmage I called plays, it was probably the first time in nine years. It was fun. It was exciting. I think the players are seeing a real healthy side of me as a competitor because when you're neutral it's hard to get too excited one way or the other. One side of the ball thinks you're favoring one side of the other. You kind of keep it even keel. But those defensive kids know I'm coaching on offense."
On Miami finally approving an indoor practice facility and the irony in that …
"We're really close. It was pretty funny, actually. A lot of work had been done already towards getting one at Miami, so it's not like I walked in the door and all of sudden it's going to happen (fundraising). There's been a lot of work, a lot of groundwork and leg work, I guess. Now there were a couple of things I wanted to do to enhance it, in my opinion, as far as getting football offices redesigned and things of that nature that added to the project. Hopefully it won't slow down the project. I don't think it will. I think whoever's looking at it is going to see the excellence in it and want to be a part of it.
UGA News
Next
UGA signee Charlie Woerner wins state discus title