Puailoa's shot has Bulldogs still buzzing at College World Series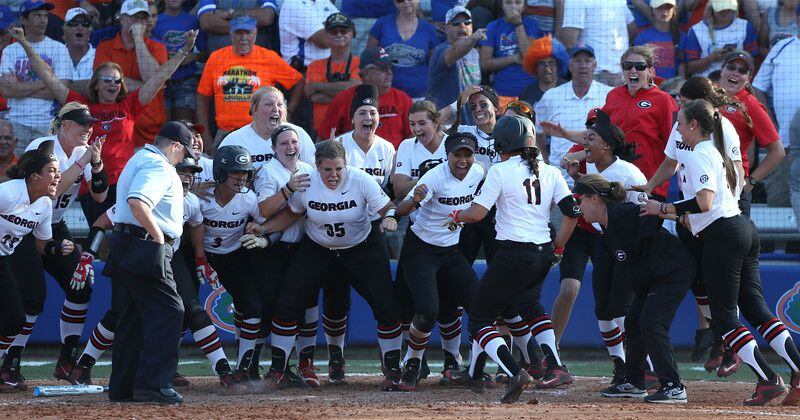 ATHENS — It is not the way numbers are supposed to trend during a career. Kaylee Puailoa hit .380 with 16 home runs and 54 RBI as a freshman, then .308 with 7 homers and 58 RBI as a sophomore and .237 with 4 homers and 27 RBI last season.
Late in this, Puailoa's senior season, coach Lu Harris-Champer reconsidered how she was utilizing the left-handed power hitter. She decided Puailoa needed to come off the bench and pinch hit.
"Sheer joy," the Bulldogs' longtime coach said of the moment. "Everybody was just so happy for her because of the human being she is."
Said pitcher Chelsea Wilkinson: "Top moment of my life. Moose is so awesome. She hadn't been starting every game like normal but she kept a good attitude and, to come through like, it was just incredible."
As a result, the 16th-seeded Bulldogs (45-18) defeated the No. 1-ranked Gators (56-7) and are now in the Women's College World Series in Oklahoma City. Georgia will face No. 8 seed Florida State (53-8) in the first game among the nation's final eight teams on Thursday at noon (ESPN).
The Bulldogs arrived there still buzzing from the moment Puailoa provided for them. And that's not necessarily a bad thing.
"I definitely believe in momentum," said Puailoa, still sporting a chin on her bruise from the home-plate celebration. "We believe we can do it. Why not us? We're as good as anybody out there. We're playing loose and having fun. But the game doesn't care what you did yesterday. We've just got to be the best team that day."
While Puailoa's amazing feat served as validation that she could still swing a mean bat, she hasn't used it as an I-told-you-so for doubters. Instead, it has galvanized the team concept not only within her, but within the Bulldogs' locker room.
"It hasn't been easy being a pinch-hitter," said Puailoa, who came to Georgia from Buena Park, Calif., and is of Tongan and Samoan descent. "I've always been a starter throughout my career, even before college. Here I am in my senior season and I find myself pinch-hitting. In the beginning, there were a lot of tears, but I had to trust that Coach had the team's best interest in mind. So I accepted my role and I became team first and I changed my mindset. I just worked harder, prayed a lot and didn't give up.
"It's taught me a lot about patience and resilience. And I think through all that God gave me and this team a reward in a big way."
So many things about that moment made it perfect. Defeating the nemesis Gators, getting to the College World Series, Puailoa's redemption. And then there was Puailoa's mama holding that yellow sign in the background for all the world to see.
Lili Puailoa had gone to great trouble to get exactly into that spot, first row behind the backstop, directly behind the catcher, in full view of TV cameras. That wasn't her seat. That's home-team territory. But she spotted the opening from afar and scurried down to put herself in optimum position for her daughter's big moment.
"That was her plan," says Puailoa, who has answered to the nickname Moose since travel ball. "She wanted to get on TV, so she moved down there. She had been waiting for me to get in all game."
Mom could not have had a better view of the greatest moment of her daughter's softball career. The problem was, she found herself with no one to embrace during those seconds of insanity that followed the big blast.
She'd make up for that later.
"When I saw her after the game, she was crying," Puailoa said. "And, I mean, it was weird because I had never seen my mom cry; well, only when we watch a sad movie. So just to see those tears of joy was really heartwarming to me. All I ever want to do is make my family happy."
She made a lot more people happy than just her family. Puailoa's blast set off a social media explosion within the Bulldog Nation. Literally in minutes, a Vine of bottom-of-the-seventh, two-outs, two-strikes, game-winning homer was being tweeted and re-tweeted on Twitter and blowing up on Facebook and Instagram.
Even now as the Bulldogs are settled in their hotel in Oklahoma City and preparing for what they hope will be more big moments, Puailoa continues to hear from people who saw the play.
"My phone has blown up," Puailoa said. "I've heard from people I haven't talked to in five years."
Slowly, Puailoa and the Bulldogs are floating back down to Earth. This is the third trip to the College World Series for Georgia under Harris-Champer and it reached the Final Four before bowing out the last two times.
Having now knocked out the nation's No. 1 team in a road sweep, there is a sincere belief among the Bulldogs that they can win it all. But regardless of what happens from here on, Puailoa will always have that moment in Gainesville, and her teammates and coaches will, too.
"Really that moment was for every pinch-hitter out there who understands what I'm talking about," Puailoa said. "Just never give up, God's got you. And when you're part of a team sport, it's not about you. You may have individual stats but, in the end, it doesn't matter. If everyone doesn't play their part, it doesn't matter. Everyone on the team needs to play their role and do their job. It doesn't matter if you're a starter or a bullpen catcher, everybody on the team is of equal value. I think this team has really embraced that."
UGA News