Report Card: A victory the Dogs can sink their teeth in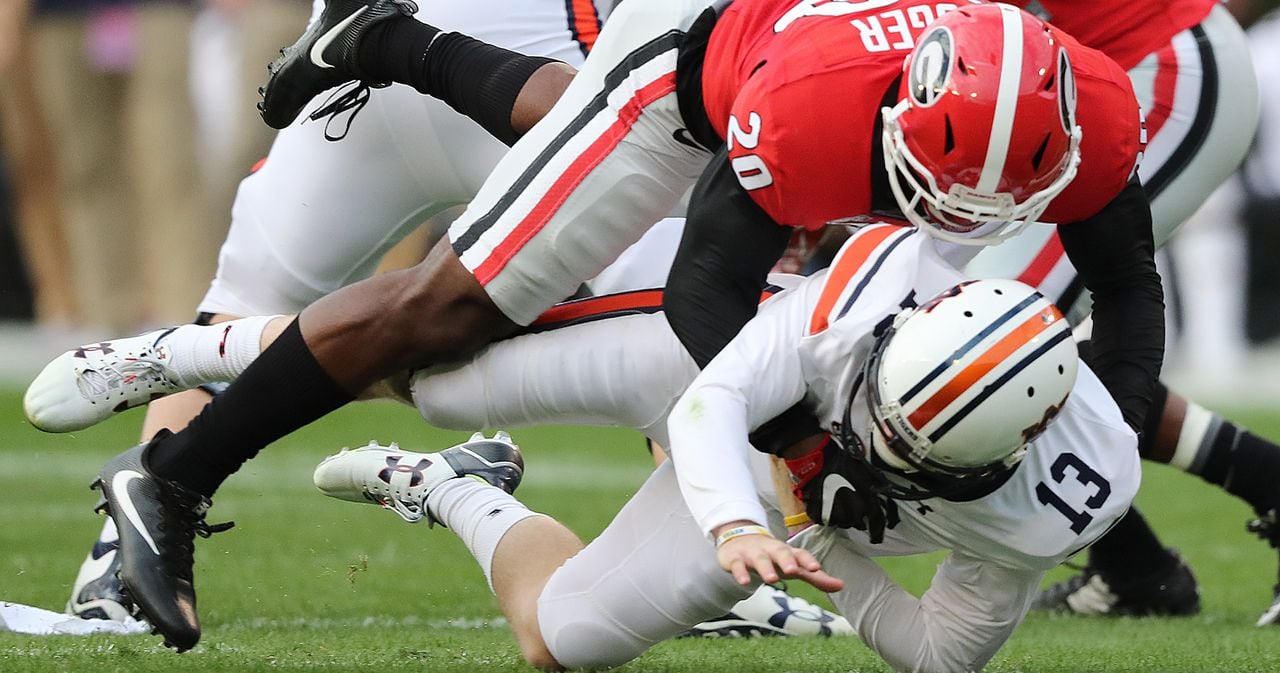 ATHENS — There has been some nice stuff happen for Georgia this season. Remember Nick Chubb and all those rushing yards against North Carolina? How about that throw Jacob Eason made to Isaiah McKenzie to beat Missouri? Rodrigo Blankenship's four kicks against Kentucky, including the game-winner? Pretty awesome.
But there had been nothing like what the Bulldogs pulled off  Saturday. Utilizing a combination of stifling defense, resilient offense and solid special teams, Georgia did exactly what it needed to do to be able to execute an upset of No. 8-ranked  Auburn, 13-7.
It wasn't perfect, but nearly so. And along with becoming bowl eligible, it gives the Bulldogs (6-4, 4-4 SEC) a chance to re-write the narrative on a season that previously had been written off for rebuilding. The prospect now of earning nine wins gives it the possibility of being a reloading year.
Here's how Georgia performed:
OFFENSE: B
Facing one of the most formidable defensive fronts in the SEC with a beat-up offensive line that became further decimated before the day was over, the Bulldogs nonetheless managed 343 yards and 21 first downs and thoroughly dominated time of possession, 39:09 to 20:51. And they showed some versatility doing it. Nick Chubb recorded his first 100-yard rushing game (101) in more than a month, while quarterback Jacob Eason completed passes to eight different receivers — five with two or more — and finished with 208 yards on 20-of-31 passing.  Pass protection continues to be an issue as Eason was sacked twice and hurried countless others. And Georgia's redzone woes continue as a trick play resulted in an interception on one trip and the Bulldogs had to settle for a field goal on another. Despite not recording an offensive touchdown, it still was a good day.
DEFENSE: A
Sure, Auburn was playing without its starting tailback, and Kamryn Pettway actually led the SEC with an average of 138 yards rushing per game. But that by itself is not enough to explain Georgia's total and thorough domination in the second half. The Bulldogs did not allow a single first down after halftime and only 32 yards total. The Tigers finished with only 164 yards total yards — or 330 below their season's average. Georgia did this with two of its starters — DT DaQuan Hawkins-Muckle (ankle) and LB Natrez Patrick (shoulder) sidelined with injuries. Except for that 15-play touchdown drive by Auburn in the first quarter, a perfect day.
SPECIAL TEAMS:  B
This is an area that has shown dramatic improvement in the last couple of weeks. Not only did the Bulldogs get two more field goals from Rodrigo Blankenship — including what turned out to be a 45-yard, game-winner early in  the fourth quarter — but all four of Blankenship's kickoffs reached the end zone, two went out and one went through the uprights. Quarterback Brice Ramsey stepped up to fill in for punter Marshall Long, who suffered a season-ending leg injury in practice, and came through with three punts inside the 20. Isaiah McKenzie had a 20-yard return against a punt team that had allowed minus-3 yards all season. Only a missed 49-yard field goal from Blankenship kept Georgia from perfection.
COACHING: B
It was another good day for head coach Kirby Smart and his staff. The Bulldogs came in with excellent offensive and defensive game plans. They vowed to throw the ball around a little and let Eason take some deep shots downfield against a secondary with some weaknesses. Conversely, they made great halftime adjustments on defense to gain control of the Tigers' perimeter running game. Varied and well-timed blitzes called by defensive coordinator Mel Tucker confused Auburn quarterback Sean White and contributed to four lost-yardage plays. Neither of two trick plays worked and one blew up in the Bulldogs' faces, but didn't negate victory.
OVERALL: A
A packed crowd, an electric atmosphere and dozens of the South's finest recruiting prospects in attendance made this an advantageous day for Smart and company. It was the type of performance executed at a place in time that can change the course of what remains in the season. Wins over Louisiana-LaFayette and Georgia Tech will assure UGA of logging at least eight wins for the sixth consecutive season and 19th out of the last 20. That's a level of proven consistency that's hard to match.
UGA News