Here's what happened in UGA sports over the weekend
Welcome to Good Day, UGA, your one-stop shop for Georgia football news and takes. Check us out every weekday morning for everything you need to know about Georgia football, recruiting, basketball and more.
Spring practice roundup
Here's a quick rundown of what you may have missed from spring practice over the weekend.
• Some bad news came out of practice Saturday on the defensive front: Michael Barnett will miss at least a portion of spring practice with what Kirby Smart described as a "slight dislocation" of one of his knees. Smart said he was unsure whether the lineman would return before the end of the spring session. He also gave an update on the status of Zamir White, which can be found here.
• In the wake of Barnett's injury, Smart conceded that Georgia is struggling for depth along the defensive line at the moment. According to Seth Emerson of DawgNation, senior Jonathan Ledbetter, junior Julian Rochester and junior Tyler Clark are working as the first team DL in practice, with juniors David Marshall and Michail Carter and senior DaQuan Hawkins-Muckle working with the second team.
• It's been less than a year since Smart switched sophomore Mark Webb from receiver to cornerback, but it seems he's taken to the secondary like a duck to water. According to Emerson, Webb has been working with the first team in practice. Obviously, working with the first team in spring doesn't guarantee a starting spot come fall. There's a long way between now and kickoff against Austin Peay. But it's safe to say Webb will be in the mix to start at corner.
• Justin Fields may be one of the most highly-touted recruits Georgia's ever landed, but he's still a freshmen working with a steep learning curve. Smart said Fields is "hitting a little bit of a wall" after six practices this spring.
MORE: Want this roundup in your inbox every morning? Sign up here!
Jonas Hayes watch: Day 17
On Thursday, multiple outlets reported that new Georgia basketball coach Tom Crean would retain Jonas Hayes, who was an assistant on Mark Fox's staff as well as former UGA basketball player himself. But those reports seem to have been premature, as Emerson reported Friday. As of Sunday night, neither Crean nor Georgia has made any announcement regarding Hayes.
Diamonds Dogs shine despite snapped streak
This is turning into one heck of a turnaround season for Georgia baseball.
The Diamond Dogs (21-7, 7-2 SEC) extended their winning streak to nine games and claimed a series victory over Texas A&M with an 11-5 win on Thursday followed by a 3-0 two-hitter on Friday. But the Dawgs were unable to clinch the sweep, losing 5-0 to the Aggies on Saturday.
"Great weekend, it wasn't a great day but it was a great weekend and that's what you have to look at the whole picture," coach Scott Stricklin said following the Saturday loss. "If you go out and win two out of three every weekend you're going to be in the right place at the end of the year."
Georgia is tied with Florida atop the SEC standings.
UGA Equestrian claims back-to-back SEC titles
Georgia Equestrian was crowned the champion of the SEC after the Bulldogs defeated Auburn 12-7 Saturday in Blythewood, S.C. It's the second consecutive SEC title for Georgia.
"This is an incredible feeling," coach Meghan Boenig said. "This is such a deserving and hard-working team. We saw such dominance right from the start and I'm so proud of the atmosphere we brought here today. The senior class has led this team with enthusiasm and it had a tremendous impact on building confidence and trust within each other to get us to be back-to-back SEC Champions."
The Bulldogs will compete for an NCEA national championship in Waco, Texas, beginning April 18.
BACK-TO-BACK @SEC CHAMPIONS! 🏆

It's great to be a Georgia Bulldog! pic.twitter.com/fxCddnONJ8

— Georgia Equestrian (@UGAEquestrian) March 31, 2018
Odds & ends
Dawgs on Twitter
What a week for @JohnIsner!

Wins first Masters 1000 title defeating Zverev 6-7(5) 6-4 6-4.#MiamiOpen pic.twitter.com/DAQeefh5Yd

— Tennis TV (@TennisTV) April 1, 2018
So many great RBs have come through @FootballUGA, including @Flyguy2stackz! So who's his favorite?

"@TG3II cause I got to compete with him and learn from him." 👀 pic.twitter.com/FBnOXKqkPK

— NFL Total Access (@NFLTotalAccess) March 28, 2018
#HappyEaster
And, for Bulldog enthusiasts on this holiday in 1980, it was a Happy Easter indeed.. pic.twitter.com/rpl8lN4YYl

— Patrick Garbin (@patrickgarbin) April 1, 2018
Good dog
This is Popeye, a very good boy in need of ACL surgery. I can say from experience he's one of the sweetest pups you'll ever meet if you're lucky enough to come across him. If you can spare a few bucks and want to help out some good folks and a good dog, I encourage you to consider giving to his GoFundMe. Let's get Popeye up and running again!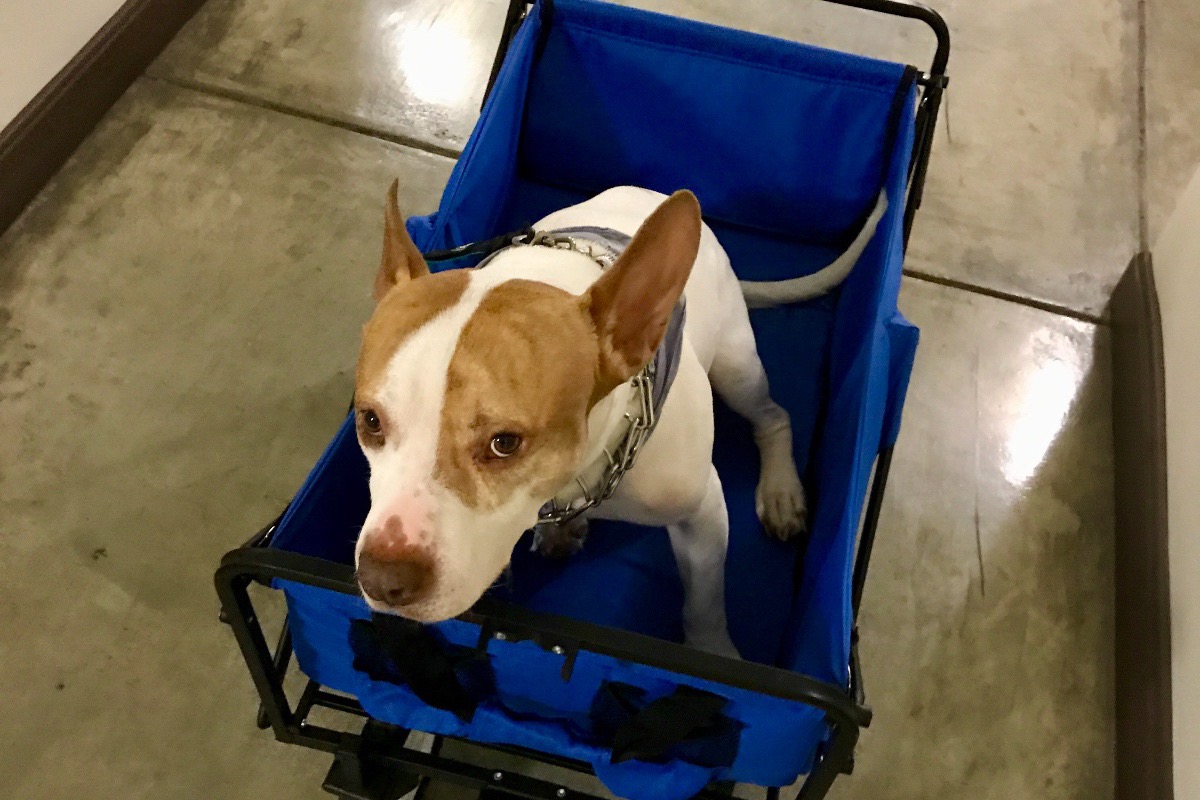 Miss a previous edition of Good Day, UGA? Get caught up here.