UGA football: Which of spring's talking points will become fall reality?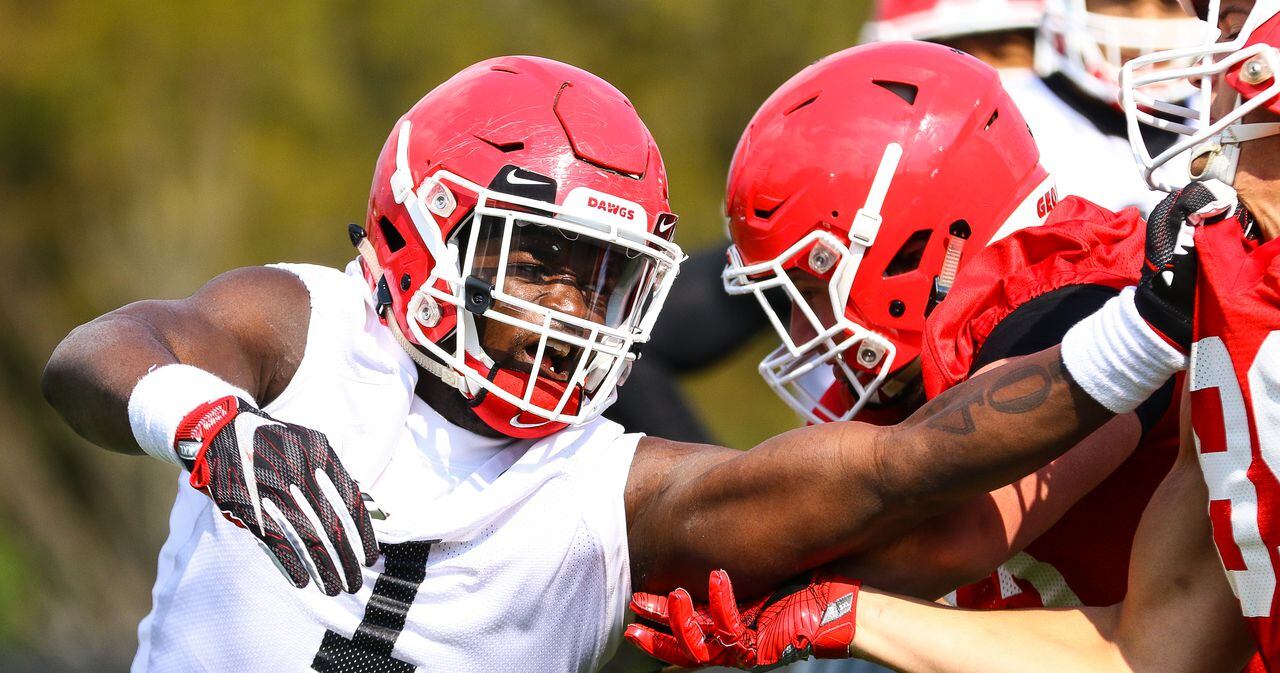 Ah, springtime. The season when hope is in plentiful supply on college practice fields all across the country.
Everyone is undefeated. All coaches and players are excited about the "challenges" presented by the new season. The head coach is impressed with the effort exhibited in offseason conditioning drills. Players are talking about how, this year, everyone is on the same page and there's more team leadership. Yada yada yada.
In Athens, you know the beginning of spring practice means all of the above, plus fans' high expectations tempered in some cases by discussion of who's likely to step up to replace departed star players, and speculation about which freshmen and transfers are most likely to have an impact this fall. And, of course, talk of throwing to the tight ends more!
Thankfully, at least this spring we don't have to endure breathless throw-by-throw social media coverage of another quarterback battle.
And, with Justin Fields gone, we won't have to listen to discussion of whether the coaching staff really plans on installing a package of special plays for him the red zone.
The usual spring caveats apply, too. The version of the Georgia Bulldogs practicing and scrimmaging this spring isn't the complete team we'll see in the fall. Quite a few incoming freshmen won't arrive until June.
Plus, there is the usual contingent of players rehabbing injuries (including some of the early enrollees) who probably won't do much more than run on the sidelines this spring.
Unfortunately, the disappointing news for much of the fan base is that one of those rehabbing players we won't see this spring will be much-discussed and highly anticipated tailback Zamir "Zeus" White, about whose status many fans seem to be obsessing.
Said Kirby Smart at his spring news conference this past Tuesday: "Zamir is coming back, doing really well, but he won't be doing spring practice other than doing some stuff on the side, doing some running. And he's done a lot of off-season conditioning, but he won't be out there or cleared to go practice. … He's running really well. He's doing a lot of straight-line stuff. He's just not going to be involved in the scrimmaging and contact part."
Smart rightly noted that, with White recovering from a second noncontact ACL tear, it "makes you wonder, hey, is the kid going to be able to progress this time as fast as he did last time. … So, ultimately, how do I know he's going to contribute to the team? I don't know that. I'm not going to know that until probably early fall camp."
But, Smart said of White: "I'm very pleased with his work ethic."
The other favorite topic for fan discussion this first week of spring practice has been the idea put forth by several players, past and present, that Georgia will throw the ball more under new offensive coordinator James Coley than it did under the departed Jim Chaney.
"I think his first instinct would be to throw," tight end Charlie Woerner said this week. "I could definitely see us throwing more, which would definitely help the run game as well. It opens up the run game because they're scared of the pass."
Mecole Hardman, talking to reporters at UGA's Pro Day, said he expects "probably a little bit more passing. I think Coley probably brings a little bit more of that into the element but they're going to run the ball still. … It's going to be a similar offense. We're going to play our brand of football and our standard, but probably a little bit more finesse, a little bit more passing."
Some fans I heard from tended to latch more onto the "more passing" part than the bit about Georgia still playing "our brand of football," which last season meant running the ball 61 percent of the time, as the Dawgs led the conference in rushing.
Yes, I think Georgia probably will pass the ball more under Coley — a bit more, that is. But, the odds are that, come fall, the Dawgs still will be a run-first team. Running Back U, as they say.
Smart seemed to leave little doubt about that in his don't-fix-it-if-it-ain't-broken answer to a question at his press conference about what difference Coley might bring to the offense.
"Look, we've been really successful at running the ball," the head coach said. "That's who we are at Georgia. We're not going to go re-create the wheel and say, OK, now we're going to open and be an empty spread team every down and go high tempo. You do what makes you successful, and (Coley) had a meeting with the offense yesterday, which I sat in, and he talked about balance.
"What is balance? People think balance means 50/50. Balance is not 50/50. Balance is being able to run the ball when you have to run the ball and being able to throw the ball when you have to throw the ball.
"So, can you do both? Yes, you can be successful at both. That might be 70/30 one game and then 30/70 the other way the next game."
To sum up: "I don't think that we're going to say, OK, we're throwing out everything we've done; we're starting over.'"
And, I'm fine with that. Sure, I'd love to see Jake Fromm throwing downfield a bit more in his third season behind center for the Dawgs. I'd also like to see more of those slant passes that were so successful (despite being ridiculed by some opponents) during Georgia's run to the national championship game season before last. And, I'd like those throws to be on first down more often, rather than Chaney's predictable two runs up the middle and then try to pass on third-and-long.
Still, as Senator Blutarsky of Get the Picture pointed out, under Smart, Georgia has tended to be most successful when it establishes the run; when his quarterbacks are approaching 30 passes a game, it usually means desperation.
What I was encouraged by this week was offensive tackle Andrew Thomas revealing that Coley has identified three areas where the Dawgs' offense needs to improve this spring.
"We talked about how we want to get better at our gap schemes, we want to get better at our third-and-7 passing and goal line-short yardage," Thomas said.
We all recall those embarrassingly unsuccessful efforts to punch the ball in down inside the 5-yard line last season. And the Dawgs were pretty awful in third-and-long passing situations, too.
So, it's good to know Coley is looking for change there.
The other thing I found particularly encouraging this past week was Smart's talk of the need for a more disruptive Georgia defense, and his plans to try to establish that this spring. The Dawgs' inability to get to opposing quarterbacks with their pass rush was a major problem last season.
"We want to increase our havoc rate on defense," Smart said. "That's one of the main target areas. We want to be more disruptive … We've gotta create more lost yardage plays, more negative situations, and that's something we've really worked on. And we've done studies on the Top 10 teams last year in havoc, and we're trying to do some of the things they do and we're trying to put guys in position to do that."
I like the fact that Smart is willing to look at what other programs are doing successfully and try and adapt those practices to problem areas in his own program.
That's something Nick Saban is known for doing at Alabama and, obviously, Smart remains a Saban disciple, despite SEC Network talking head Paul Finebaum's ridiculous efforts to create some sort of rift there.
After laughing off the suggestion he has a bad relationship with Saban, Smart said in his press conference that Georgia's battles with Bama the past two seasons have only increased his respect for his former boss.
"I wouldn't be where I am today without him," he noted correctly.
UGA News