UPDATED: Trent Thompson withdrawing from classes after medical episode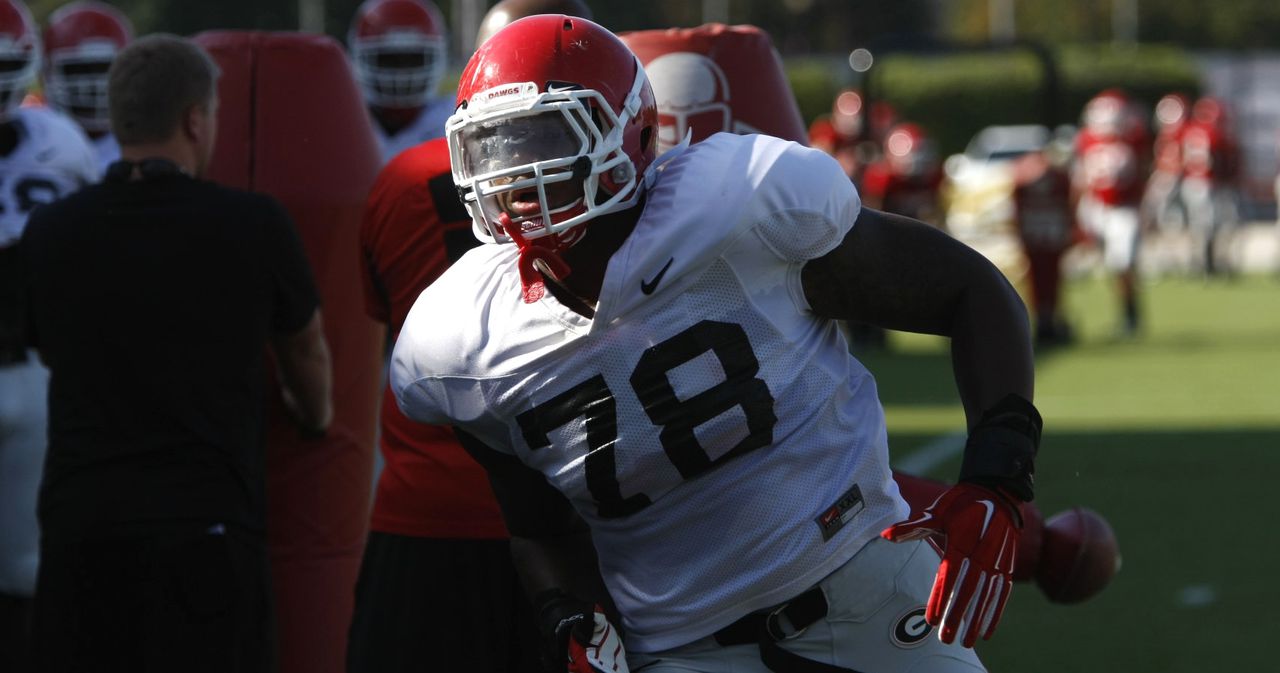 ATHENS — Georgia defensive tackle Trent Thompson will be withdrawing from classes and seeking further treatment for a "significant medical issue" that drew the attention of police early Thursday morning on campus and sent him to Piedmont Athens Regional.
That's the latest update in a developing story that began in the wee hours of Thursday morning and continued through the day. Thompson, a rising junior, was initially released from the hospital Thursday but apparently will be returning for further treatment.
UGA issued a statement late Thursday acknowledging the incident. It reads:
"Trenton has been dealing with a significant medical issue which required emergency hospitalization and extended hospital stay. Trenton was recently discharged from the hospital and remains under close medical care. With respect to last night's incident, the physical appearance and behavior described in the UGA PD report is solely related to an adverse reaction to medications prescribed specifically for his medical condition. The adverse reaction required emergency transport to Piedmont Athens Regional Medical Center where he was treated and released. Toxicology tests performed at the hospital were negative for OxyContin. We cannot release any further information at this time due to federal privacy laws. Due to the medical issues, Trenton is withdrawing from classes this semester, and his family requests privacy during this time."
There have been unconfirmed reports that Thompson, a defensive tackle, had offseason shoulder surgery. Neither Thompson nor members of his family responded to calls and texts seeking comment.
According to a police report obtained by DawgNation.com, Officer Z. Wood said he encountered Thompson at 1:14 a.m. Thursday on River Road in the Joe Frank Harris Commons dining hall area of South Campus. The officer stopped after Thompson allegedly "wandered into the roadway." When he stopped to check on Thompson, the 6-foot-4, 307-pound football player reportedly tried to enter the police car from the passenger side.
The officer reported that Thompson appeared incoherent and unsteady on his feet and had difficulties following his commands. However, when asked by the officer, Thompson said he had not consumed alcohol or drugs. Later, he admitted to another officer he had taken "two Oxies," slang for the prescribed pain medicine Oxycotin.
Another officer asked Thompson if he played football at UGA, and while Thompson replied that he did, he "did not seem able to recall what position he played." After emergency medical services were contacted, that officer contacted a UGA athletics staff member, unnamed in the report, to apprise them of the situation.
Thompson eventually told EMS that he wanted to go to the hospital, and he was transported there at 1:40 a.m
Thompson played in all 13 of Georgia's games last season, making seven starts, and finished as team's leading tackler among interior linemen with 56 total stops. He also had 9.5 tackles for loss, five sacks and seven QB pressures. The sophomore was named overall MVP and defensive MVP of the Bulldogs' win over TCU in the Liberty Bowl.
Thompson was considered the No. 1 overall recruiting prospect in America when he signed with the Bulldogs out of Albany's Westover High School in 2015. He played in 12 games that first season, starting six, but battled an ankle injury the middle of the season.
Grady News Source, UGA's in-house television news production team, asked Georgia kicker Rodrigo Blankenship what he knew about the situation.
"Trent has asked that we don't speak to anybody else about what's happened, just because the football team is a brotherhood and a family," Blankenship said in a brief interview that appeared on WSB-TV.
UGA News
Next
Next Generation: Making it work is Justin Shaffer's specialty