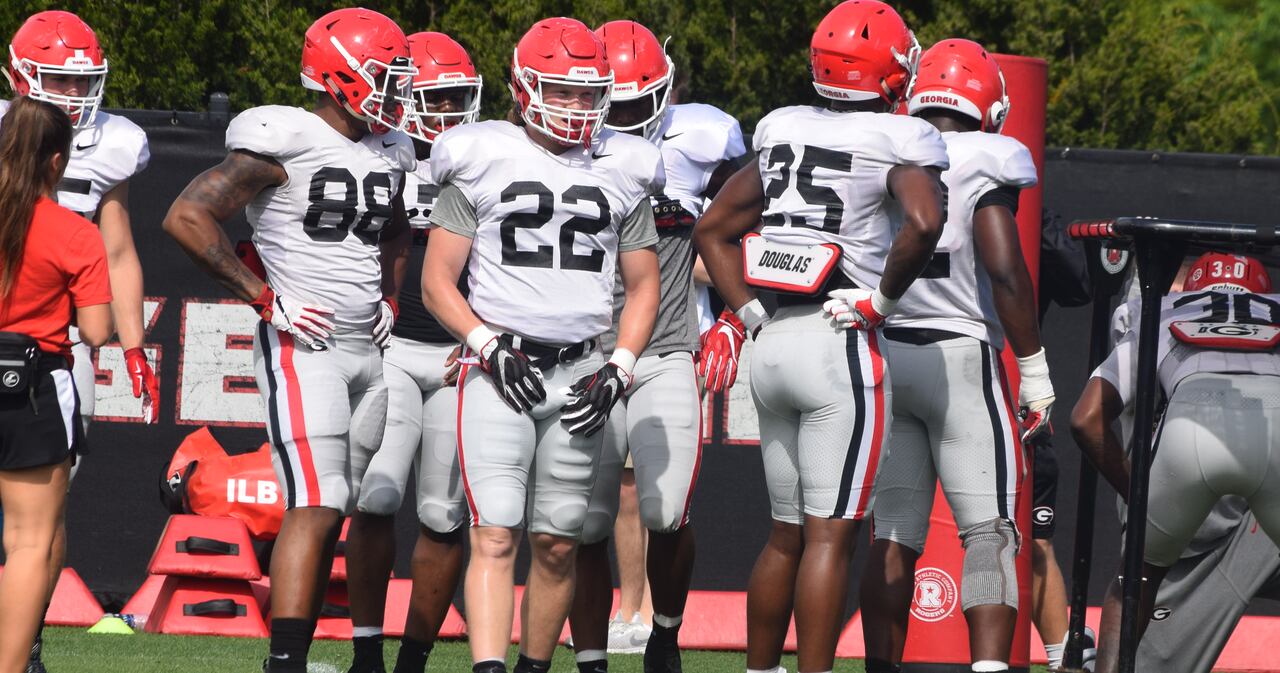 WATCH: Georgia LB Nate McBride said he's doing just fine, thanks, just 'working, having fun'
ATHENS — Ladies and gentlemen, we not only have had a Nate McBride sighting, but a full-blown close encounter.
The Georgia Bulldogs' curiously popular junior linebacker was made available for post-practice interviews for the first time since his trumpeted signing in 2017. A former 4-star recruit and U.S. Army All-American, the absence of McBride from the Bulldogs' defensive lineup the past two seasons seems to be a great unsolved great mystery for many Georgia fans, who ask about him almost daily on DawgNation's many digital platforms.
About that phenomena, McBride is apparently somewhat aware.
"I've heard a little bit of that," McBride said of his status as a Bulldog curiosity. "I'm just working. It's all in God's plan. I can't rush anything. I'm still having fun here. I love this place. I love the guys I'm around. I'm very close to them."
Full disclosure, though, he was bit taken aback when informed he was to represent the team at Tuesday's media availability.
"It was a little bit shocking," McBride said with a laugh. "I was like, 'dang, did I do that good in the scrimmage?' But, yeah, it shocked me a little bit. I've done these things before. … It's fun."
For the record, McBride reportedly did have a very good scrimmage this past Saturday at Sanford Stadium. But, the fact is, the 6-foot-2, 223-pound junior from Vidalia actually has been on the field for the Bulldogs quite a lot his first two seasons. It just so happens that has been primarily as a special teams player.
McBride currently has a spot on just about every unit that takes the field for Georgia's kicking game. He was on the No. 1 kickoff team as a freshman. Last year, he was on the kickoff and punt-return teams. This year, he's getting looks on every special teams unit, taking the field with the 1s or 2s in every phase of what remains an unresolved competition.
That has provided McBride some personal highlights, like "the Florida guy I hit on the kickoff," and making a tackle in Rose Bowl. "That was pretty cool," he said.
As for a spot at inside linebacker on the defense, McBride has gotten playing time with the defense mainly in late-game, outcome-decided situations. But he's working hard to practice to try to break into the game-day lineup. McBride and fellow junior Jaden Hunter are trying to crack a rotation that this spring had started this spring with senior Tae Crowder and junior Monte Rice, has gone next to sophomores Channing Tindall and Quay Walker and has added three highly-touted freshmen this year.
Nakobe Dean — the nation's consensus No. 1 linebacker prospect — is joined by fellow freshmen Rian Davis and Trezman Marshall as early enrollees. Davis (knee) and Marshall (shoulder) are currently sidelined with injuries.
"It's crazy," he said. "Channing, Quay and Nakobe, those are three of the best players I've ever been around. It's just fun competing with them. Sometimes you win; sometimes you lose. It's all a part of your work ethic and how you prepare off the field."
At one time, McBride was the "highly-recruited prospect" expected to made the "immediate impact" for the Bulldogs. Everybody everywhere marveled at the speed and athleticism was bringing to UGA. A consensus 4-star football recruit out of Vidalia, McBride also turned heads in track as he won or shared four Class AA state titles in the 100-meter and 200-meter dash and the 4×100- and 4×400-meter dashes.
Nevertheless, McBride's production to date — which adds up to only 10 career tackles — has come almost exclusively on special teams. McBride insists he's not upset or bewildered by that. He said he remains motivated and has made personal strides, but understands that the Bulldogs of coach Kirby Smart continue to recruit at his position and the intention is to always get the best possible player available.
McBride arrived at UGA alongside Rice with eventual Butkus Award winner Roquan Smith ahead of both of them. And while he has struggled at times to deal with the disappointment of being a bigger part of the weekly game plan, he also has developed an appreciation for the level of athlete the Bulldogs are trying to put on the field.
"You've got to get the best, then you have to get the best in the next class, and in the next class and the next class," McBride said. "It's exciting because they're good players, and it makes me just want to work harder, even harder than I am now."
Georgia hasn't circulated spring depth chart and won't until revelations are exposed with the G-Day roster. But McBride said he doesn't derive his fulfillment from whether he's on the 1s or 2s or scout team. He's just glad to have a role on the team and is motivated to make it more significant with each passing day.
"I'm not expecting anything great; I'm not expecting anything bad," he said of this coming season. "I'm just going to keep working. It's a tough scheme we run here and you've got to be in the (play) book every day."
McBride is not alone in the struggle to earn a more significant role on the team. As the Bulldogs' have continued to recruit at a championship level, players that may have found their way to the field before are entering their third and fourth seasons still trying to earn a starting position.
"Nate's very versatile," fellow junior Mark Webb observed. "You always see him on special teams. He's definitely a special teams guru and somebody I look up because I'm on special teams, too. We're just football players. Whatever it takes we do it."
At the end of it all, McBride takes comfort in the notion that the daily competition makes him better every day.
"It just makes you want to get in the book more and hit somebody a lot harder," he said. "It's awesome having all those guys around. It's nothing about jealousy. You get in what you put out."
While it might not be blatantly evident to those who man the bleachers, Nate McBride is putting out all he can every day.