Georgia bows out to Kentucky in SEC Tournament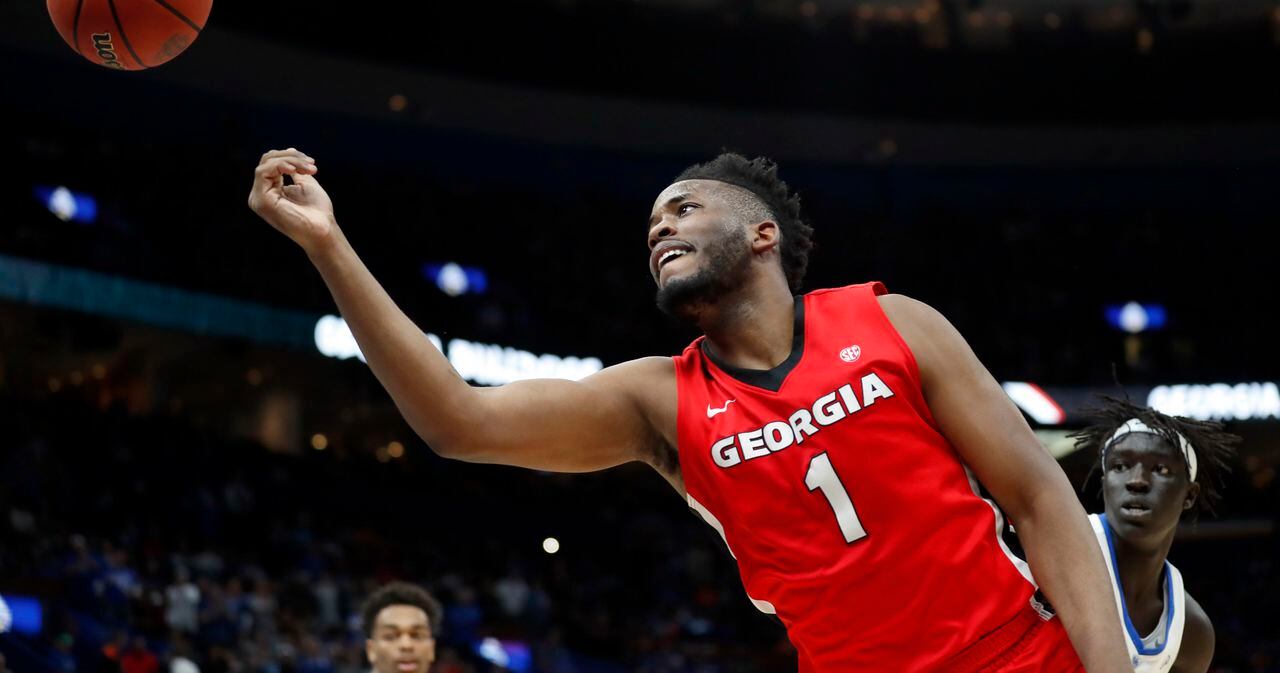 ST. LOUIS – Mark Fox and his Georgia players walked solemnly through the handshake line, the exuberance of the previous day gone. Then Fox and his team quietly left the court and the SEC Tournament, walking to an uncertain future.
Georgia fell to Kentucky in the SEC quarterfinals 62-49 on Friday afternoon. The Bulldogs are now 18-15. It is not known whether that will be the final mark on this disappointing season.
There will be no NCAA Tournament bid. An NIT bid is an open question. And so is the future for Fox, who has not yet been publicly assured of returning for his 10th season as Georgia's head coach.
Georgia had won two games here at the SEC Tournament, showing some fight after a disappointing regular season. But whether it was fatigue or just facing a better team, Georgia couldn't muster a serious threat this time.
Yante Maten, the SEC Player of the Year, had one of his quietest games of the season. The offense in general was a struggle other than Tyree Crump. And the team's freshmen, so key in the previous day's upset of Missouri, were nonfactors against Kentucky.
Three who mattered
Yante Maten: Georgia's star didn't reach double figures in scoring for only the second time this season, matching his season low of 9. Maten did struggle and look fatigued at times, missing an open layup early in the game. But mostly he was just surrounded and prevented from taking open shots.
Tyree Crump: The sophomore shooting guard tied his career high with 17 points, including 4 3s, giving Georgia one of its only sources of offense.
Derek Ogbeide: The Georgia sophomore had a game-high 11 rebounds, but only 2 points.
Turning point
Georgia took its only lead of the game with 3:15 left in the first half. It lasted only a few seconds, however, and Georgia did not score the rest of the first half. Looking tired on both ends and committing several unforced errors, Georgia watched Kentucky score the final 8 points of the half and enter the locker room with all the momentum. It got worse when the second half began, with Fox burning two timeouts by the 16:28 mark as the lead grew to 15.
Observations
Turtle struggles: There is no way to sugarcoat it — junior point guard Turtle Jackson had a rough game. He missed all five 3s he tried, was charged with 2 turnovers, and committed 2 early fouls.
Longer rotation: After basically only using eight players in the win over Missouri — a formula that also worked in several other wins — Georgia went 10-deep against Kentucky. It was easy to explain why, with this being the third game in three days. But freshmen Nicolas Claxton and Teshaun Hightower, so valuable in Thursday's win, saw less minutes and weren't as effective.
Worth mentioning
Maten as usual played the most minutes (32) for Georgia, followed by Crump (28), Ogbeide (25) and E'Torrion Wilridge (23), who only played 1 minute against Missouri.
What's next
Georgia awaits word on a possible NIT bid, which appears uncertain at best.
UGA News
Next
WATCH: Yante Maten grabs whiteboard during timeout, draws up defense...