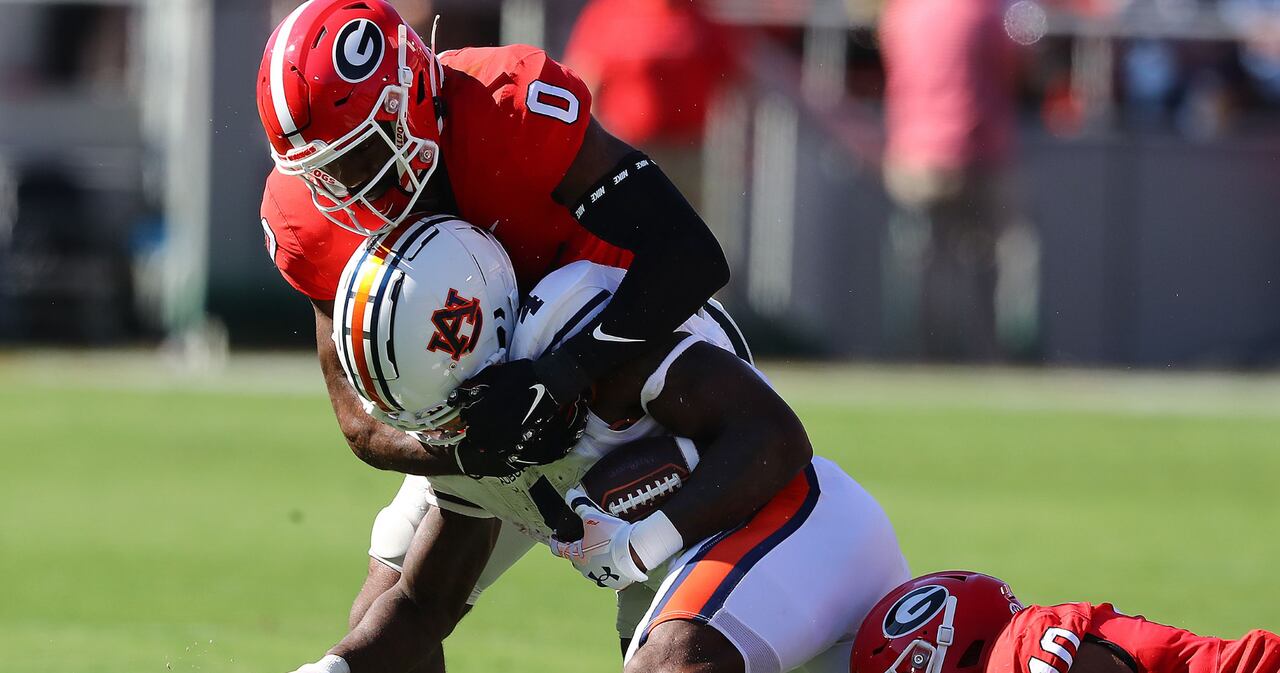 Georgia players want 'best of the best' on new schedule model
ATHENS — If Georgia football were to play the same three SEC teams each season, which ones should it be?
That was the question asked to Broderick Jones, Chris Smith and Kearis Jackson, three Bulldogs' players who played their high school ball in the state of Georgia and played at UGA.
The SEC will soon (2024) be moving forward with a new schedule model that will likely feature nine conference games.
Alabama coach Nick Saban really made news when he complained about the three teams the Tide is being projected to play annually should the so-called "3-6″ model be approved by the SEC.
"I've always been an advocate for playing more [conference] games," Saban says. "But if you play more games, I think you have to get the three fixed [opponents] right. They're giving us Tennessee, Auburn and LSU. I don't know how they come to that [decision]."
The Georgia players' mentality on the topic is a bit different, judging by how they answered the question.
Indeed, it would seem Bulldogs' players want to play the best teams possible, with a nod toward Auburn as the one rival they all agreed on.
Chris Smith: Florida, Auburn and Tennessee
Broderick Jones: Auburn, Tennessee and Missouri
Kearis Jackson: Tennessee, Auburn and Alabama
It was surprising Smith was the only of the three players who chose Florida as an annual rival, as it would seem the annual game with the Gators would be the one UGA would maintain of the league chose to go with an 8-game league model.
Jones' trio is interesting because of the inclusion of Missouri, until one recalls that the Tigers gave Georgia its biggest challenge of the SEC season, leading by 10 in the fourth quarter before the Bulldogs rallied.
Jackson's trio of teams seemed particularly challenging, but his explanation made sense.
"If you are a Georgia fan those games always mean the most to you, and just add Bama in there as well just knowing the history behind that game," Jackson said.
"I feel like those three games there would be opportunities that the fans would like but the players would like as well, because we like going against the best of the best."
The three schools Georgia would play under the proposed format of a nine-game schedule, starting in 2024 when Texas and Oklahoma join the league, are Florida, Auburn and Kentucky.
South Carolina, per a source within that program, does not want to play Georgia as its annual rival despite the schools' proximity.
A look at how SI.com's Ross Dellenger projects the SEC's three-game pods in the likelihood of a three-game schedule:
Missouri: Oklahoma, Arkansas, Vanderbilt
Arkansas: Missouri, Texas, Ole Miss
Texas A&M: LSU, Texas, Mississippi State
Texas: Oklahoma, Texas A&M, Arkansas
Oklahoma: Texas, Missouri, Florida
LSU: Ole Miss, Texas A&M, Alabama
Ole Miss: Mississippi State, LSU, Arkansas
Mississippi State: Ole Miss, Kentucky, Texas A&M
Alabama: Auburn, Tennessee, LSU
Auburn: Alabama, Georgia, Vanderbilt
Vanderbilt: Tennessee, Auburn, Missouri
Tennessee: Vanderbilt, Alabama, South Carolina
Kentucky: Mississippi State, South Carolina, Georgia
Georgia: Auburn, Florida, Kentucky
Florida: Georgia, South Carolina, Oklahoma
South Carolina: Florida, Tennessee, Kentucky
Next
Why Herschel Walker towers above others on Georgia football Mount …