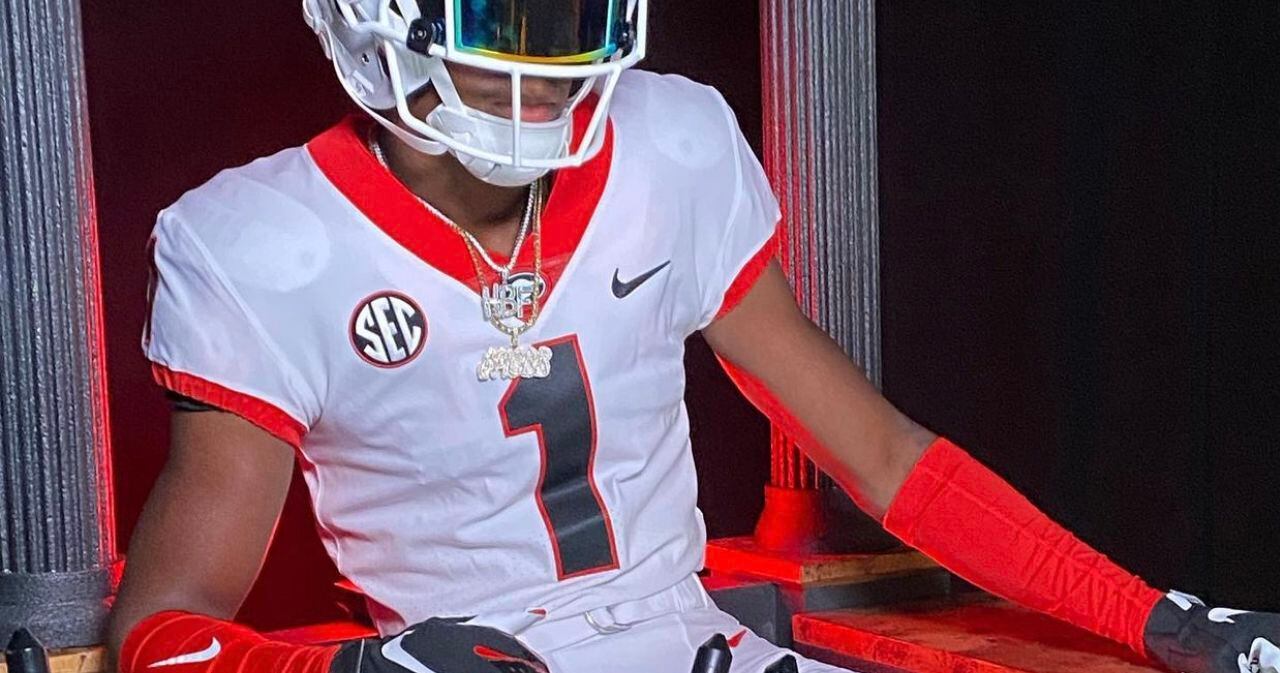 LOOK: 2024 DB commit Antione Jackson shows off Georgia football uniform variant, regal throne for visit pics
Want to attack every day with the latest Georgia football recruiting info? That's the Intel. This rep shows off the new toys that Georgia will have this weekend for its epic slate of official visitors. The Bulldogs welcomed campers today and a few photos have trickled out.
=========================================================
Never let it be said that Antione Jackson is not a trendsetter. The 4-star Florida defensive back prospect wears No. 1.
He also became the first public commitment to Georgia in the 2024 cycle. His relationship with first-year cornerbacks coach Fran Bown had a great deal to do with that.
Jackson, who could be a cornerback or safety in college, made it back to Athens on Wednesday for the first day of Kirby Smart's prospect and player camps this week.
He also looked the part of a trendsetter, too. Check out the photos from his visit that he posted this afternoon on his Instagram account. There's the clean all-white uniform look that comes complete with a white helmet. Not sure we've ever seen that one yet from recruits on a visit photoshoot yet.
It is an interesting look. Some old-schoolers might have their take on it, but if it works for the current crop of players, then it works.
"They are 🔥 ," priority North Carolina DT target Jamaal Jarrett shared in a text message reply.
That's live live," replied Texas speed demon receiver Anthony Evans III.
DawgNation has collected some early feedback from some of this class's most prized targets about the look. Most are in agreement with Jarrett there.
The interesting thing to keep in mind here will be whether or not those white helmets go the way of the black jerseys. Are those just for visit pics?
Or maybe Georgia's 5-star uniform and equipment staff is planning something to go head-to-head with Oregon in the season opener? The Ducks are known for their unique style and color palettes in their marquee cross country matchups.
Georgia looks eager and ready to go for a Grade A prime weekend of official visitors this weekend, including 5-star QB Arch Manning, 5-star prized in-state safety Caleb Downs, 4-star explosive Texas wideout Jalen Hale and 4-star legacy All-American RB Justice Haynes, among many others.
Jackson ranks as the nation's No. 10 safety prospect and the No. 80 overall recruit for the 2024 cycle on the 247Sports Composite ratings. He's the only pledge to that class at that point, but look for that to change the more blue-chip players get the chance to sit on that "Arch" throne and rock those colors.
What do you think about the uniform variant? Share your thoughts in the comments below.
Did you know the weekly DawgNation.com "Before the Hedges" program is available as an Apple podcast? Click to check it out and download it.
SENTELL'S INTEL
Next
Georgia football: 12 reasons why the Bulldog roster will get a lot …