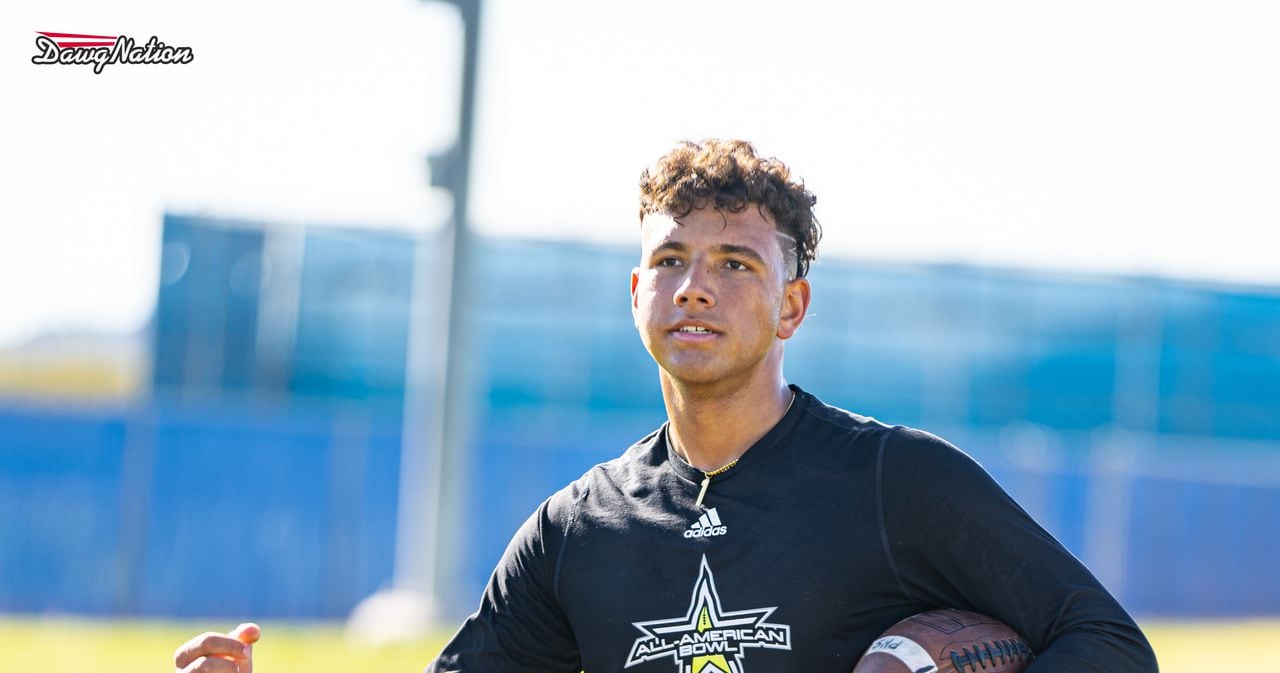 Dylan Raiola: 'Dawgs set to welcome the nation's No. 1 QB back to Athens this week
Want to attack every day with the latest Georgia football recruiting info? That's the Intel. This rep has the latest with 5-star QB Dylan Raiola. He ranks as the nation's No. 1 QB and the No. 1 overall prospect for 2024 on the 247Sports Composite ratings.
==========================================
The back-to-back national champions kick off spring practice today. The 'Dawgs will begin workouts in earnest and go until G-Day on April 15th.
There will be a host of big-name recruits on hand to watch them over the next month. The list will be long and quite distinguished with a host of 5-stars and other important All-American targets.
None of those will garner more attention than 5-star QB Dylan Raiola. The nation's No. 1 QB prospect for 2024 will be back in Athens this week.
"I'll be in Athens this weekend," Raiola said on Tuesday. "Friday and Saturday."
The Raiola recruitment is one of the key 2024 cycle storylines for Georgia. That's for more than just his obvious talent alone. The Bulldogs did not sign a QB in the last cycle and have only signed two quarterbacks total over their last three recruiting classes.
This trip will be noteworthy for several factors. The first of those would be that it offers the chance for Raiola to get reacquainted with Athens.
Raiola has made at least two trips to check out USC since he de-committed from Ohio State back in November. He's also been able to visit Nebraska during the dead period due to the fact that his uncle is the offensive line coach there and that his father, Dominic, is a beloved former All-American center for the Cornhuskers.
Raiola's last trip to check out Athens was back on October 16, 2021. A lot has changed for UGA since that last visit. The 6-foot-3, 215-pound rising senior also visited USC last spring prior to his commitment to the Buckeyes.
The 5-star QB was able to attend Georgia's rousing national championship victory against TCU back in January. That gave him an eyeful of what the 'Dawgs looked like in person as the back-to-back national champions on the mountaintop of college football.
247Sports reported last week that Raiola also plans to visit Georgia Tech and Nebraska this month. Raiola's trip to see the Yellow Jackets is largely a nod to new offensive coordinator Buster Faulkner.
Faulkner was one of Raiola's key recruiting relationships in Athens while he was an analyst on the UGA staff.
The other big thing here for Raiola is to check under the hood of the UGA offense.
What will Georgia's offense look like after the departure of Todd Monken to the NFL? How much will Mike Bobo's offense resemble the unit that finished fifth nationally last year averaging 501 yards per game? The Bulldogs were also tied with Alabama for fourth in the NCAA at 41.1 points per game last season.
Will the 2023 'Dawgs offer more of the same? Kirby Smart said during his leadoff spring practice presser on Tuesday that the Dawgs would retain the same verbiage and schemes, but would add in some new Bobo wrinkles.
While UGA has three great quarterbacks vying for the starting job this spring, there is clear class separation to note with Carson Beck entering his fourth spring in Athens, Brock Vandagriff about to start his third and the second round of spring drills for redshirt freshman Gunner Stockton.
Expect the 'Dawgs to try and sign two quarterbacks in this cycle. They already have a solid commitment from the nation's No. 12 QB (247Sports Composite) in 4-star Ryan Puglisi.
What will the Raiola visit mostly be about this weekend?
"Just getting back on campus to see everything," Raiola said this week.
The trip this weekend also dovetails with an encouraging tweet sent out on Tuesday by longtime Georgia WR commitment Ny Carr.
Next
Kam Davis: 5-star RB is committed to FSU, but the 'Dawgs continue to …