Georgia softball road to world series goes through ACC champion Florida State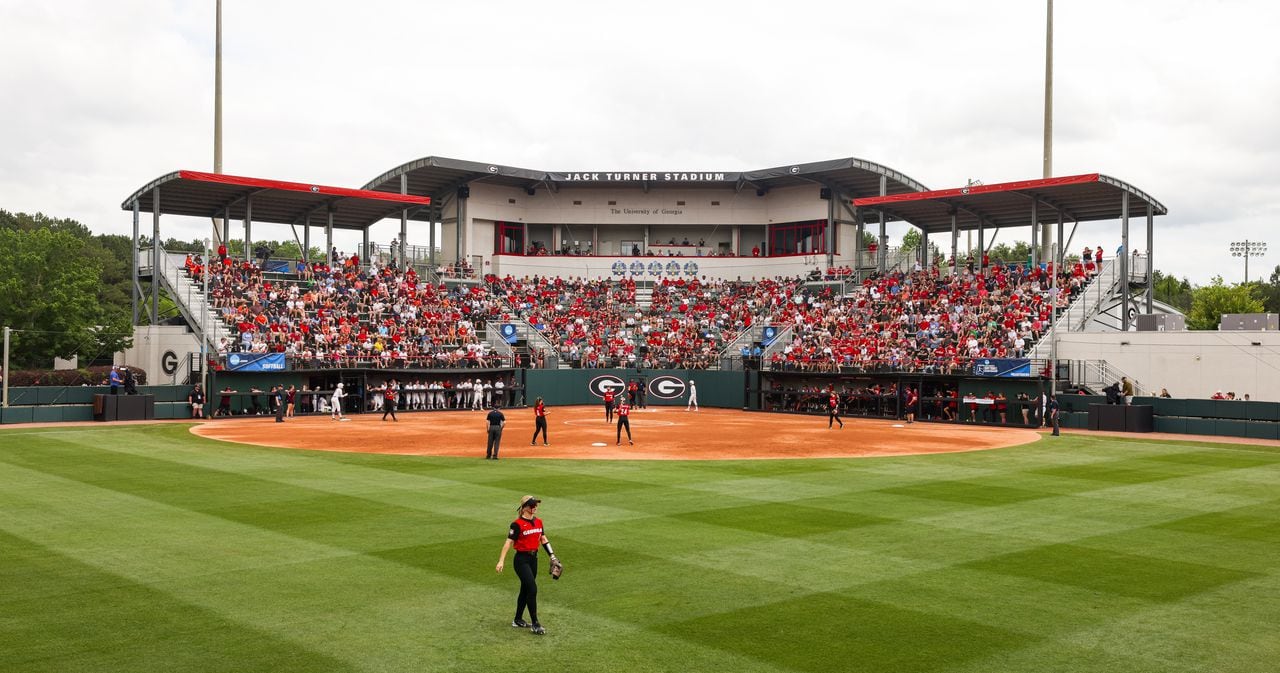 ATHENS — Georgia softball answered the bell at Jack Turner Stadium one last time this season and will hit the road with hopes of making it to the Women's College World Series in Oklahoma City.
Tallahassee will be the next stop, where the No. 14-seeded Bulldogs (42-13) will face No. 3-seed Florida State in a best-of-three Super Regional showdown, UGA's 12th appearance in softball's version of the Sweet 16.
The Gamecocks, the 10th place SEC team, came through the loser's bracket in Tallahassee and beat Florida State 4-0 on Sunday, forcing the "if" game in the double-elimination bracket.
The Seminoles won Game Two by a 1-0 count, forcing the Bulldogs to travel and leave the friendly confines of Jack Turner Stadium behind.
Georgia will have to go through the best pitching staff in the ACC to make its first trip to the WCWS in Oklahoma City since 2021. The Bulldogs have arguably the hottest hitter in the nation in junior Sydney Chambley, who went 7-of-9 hitting with four home runs and 13 RBIs in UGA's three-game regional.
Florida State will counter with ACC Pitcher of the Year Kathryn Sandercock, who threw a perfect game for FSU in its 1-0 win over South Carolina.
Georgia has lost six of its last eight games away from home, but Baldwin is confident his refocused team will be ready for the challenge ahead.
"The great thing about being in our conference — and we're not the only conference that plays good softball — but in our conference you play a lot of good teams," Baldwin said. "We had 10 (SEC teams) playing for a regional championship today, so you get used to playing other teams that are as talented as you and as well-coached as you, so you're comfortable in that environment."
Florida State has been a thorn in the side of Georgia's program before, eliminating the Bulldogs from the 2018 WCWS and the 2017 NCAA tourney regionals back when Baldwin was serving as UGA's associate head coach under Lu Harris-Champer.
SEC teams Alabama, Tennessee and Georgia have advanced to Super Regional action.
Florida State is one of three ACC teams among the final 16 programs left standing, as Clemson and Duke also won the NCAA regionals they hosted this weekend.
The Pac-12 has four teams that have punched their tickets to Super Regional play -- Utah, Oregon, Stanford and Washington.
Here's a look at the NCAA Super Regional matchups:
No. 16 Clemson at No. 1 Oklahoma
No. 9 Stanford at No. 8 Duke
No. 12 Northwestern at No. 5 Alabama
No. 13 Texas at No. 4 Tennessee
No. 14 Georgia at No. 3 Florida State
Oregon at No. 6 Oklahoma State
Louisiana at No. 7 Washington
San Diego State at No. 15 Utah
UGA News
Next
Georgia softball overpowers Virginia Tech, rolls into Super Regionals