Georgia football needed halftime adjustment to look like No. 1 in 30-13 win over Kentucky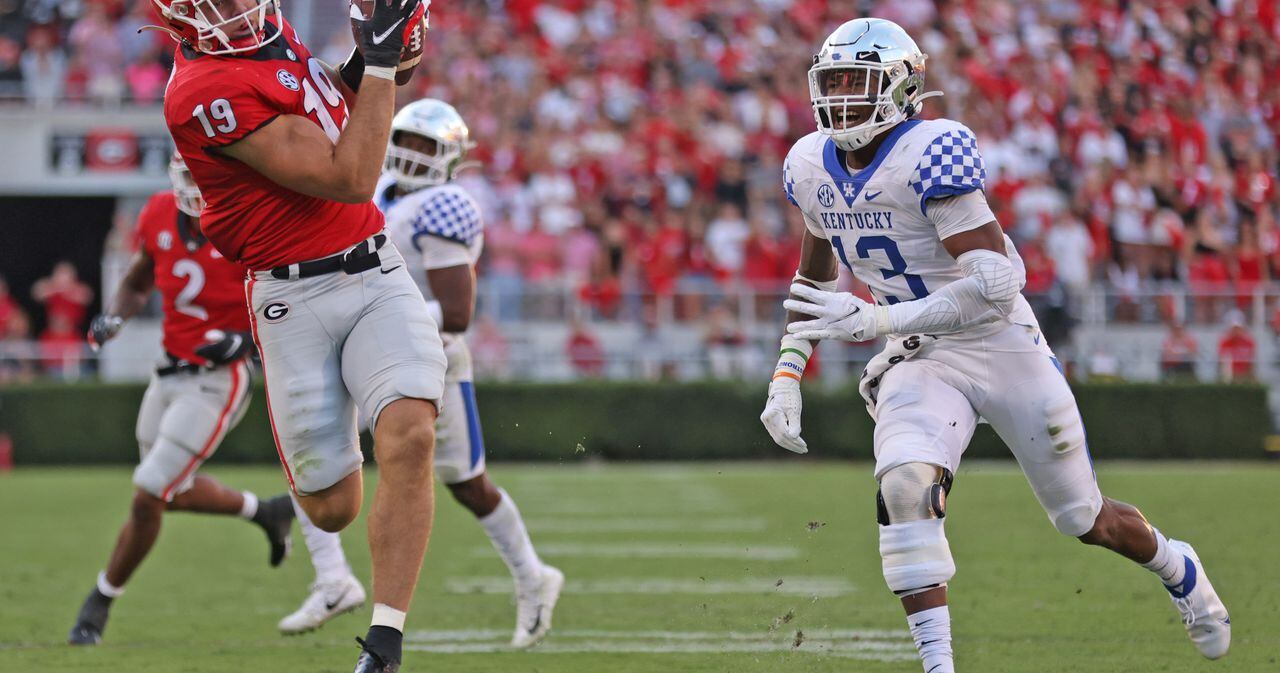 ATHENS — Georgia showed up at Sanford Stadium a hard-working and accomplished group ready for another day at the office.
Except this wasn't business as usual — this was the de facto SEC East Division title tilt.
Kentucky, clad in spiffy silver helmets, played like a team that had nothing to lose in the first half.
The Bulldogs, wearing the Associated Press No. 1 ranking for the first time since 2008, played on offense like a team that was trying not to lose through the first 30 minutes.
And then came halftime, and then came the adjustments.
And THEN came what a No. 1-ranked version of Georgia needs to look like if it is to win its first national championship since 1980.
The Bulldogs came out on the attack in the second half, Stetson Bennett (14-of-20 passing 250 yards, 3 TDs) connecting with Darnell Washington for a 16-yard gain on the first play.
Five plays later, Bennett lofted a 29-yard pass into the corner of the end zone and Brock Bowers (5 catches, 101 yards) pulled it down for a TD to make it 21-7.
The Bulldogs' second drive of the second half was nearly as impressive — 8 plays, 63 yards — with Jack Podlesny putting a 26-yard field goal through the uprights to make it 24-7.
Four of the eight plays were passes, Bennett 4-4 for 62 yards on the drive.
"The first half was a little stagnant, we hit some roadblocks," Bennett said. "I'm not in (Coach) Monken's mind, we had some changes at halftime.... it was a lot more fun for me."
RELATED: Kirby Smart: 'never satisfied,' but praises OC Todd Monken, identifies play of the game
Georgia stayed hot on its fourth and final possession of the second half, too, a 7-play, 82-yard scoring drive capped by another Bowers TD reception.
It was in great contrast to the first half, when Bennett was just 5-of-10 passing for 76 yards leaving Georgia clinging to the 14-7 halftime lead.
UGA News
Next
Georgia football instant observations show why it's the No. 1 team in …