History repeats itself as QBs Jake Fromm, Justin Fields prepare for spring competition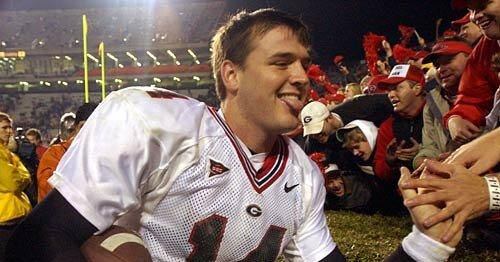 ATHENS — There was an alternate destiny for David Greene and D.J. Shockley. Shockley, then a highly touted freshman who had just arrived from College Park in 2002, looked like he might unseat Georgia's starting quarterback only a year after Greene had been named freshman of the year in the SEC.
Alas, fate would intervene. Greene retained his job and led the Bulldogs to a 13-1 record, an SEC championship, a Sugar Bowl victory and a No. 3 final national ranking. And Shockley, well, he patiently had to wait his turn.
And wait and wait and wait.
That scenario is fresh on the minds of both Greene and Shockley, star quarterbacks of the early 2000s for Georgia, as it appears history is in position to repeat itself. Or not.
As spring football practice approaches, the Bulldogs have a very similar situation developing at the quarterback position. Sophomore Jake Fromm returns as the battle-proven starter. He survived the slings and arrows starting an entire season as a freshman, and he flourished in the role to the point that he led Georgia to an SEC championship and a National Championship Game berth.
And now here comes Justin Fields. The early enrollee from Kennesaw signed with the Bulldogs after earning status as the top-ranked quarterback prospect in America, according to national recruiting rankings. He signed with Georgia in hopes of earning immediate playing time.
That's exactly the scenario UGA had with Shockley and Greene in 2002. Shockley came in from North Clayton High School as the No. 1 dual-threat quarterback prospect in the country to compete with Greene, who was the Bulldogs' well-established starter and already had earned a place in UGA lore with a winning touchdown pass against Tennessee in the "Hobnail Boot" game.
"It's eerily similar to what me and Greenie went through," said Shockley, now a freelance television broadcaster covering the SEC, ACC and Atlanta Falcons. "You've got a guy who's already proven himself. He's been in there a year, he's done it, he has the respect of his teammates. And then you have this hot-shot No. 1 or No. 2 quarterback in the country, speed guy from the city. Everybody's excited; they wanted to see what he could do. Oh, yeah, it's really close to me and Greenie and a lot of what we went through."
Somewhat forgotten in that tale, which ended with Greene leaving UGA as the NCAA's winningest quarterback of all time, was that he came incredibly close to losing his job to Shockley right out the chute. Even though Shockley had just arrived on the scene in 2002, Bulldogs coach Mark Richt planned to alternate quarterbacks in the season opener against Clemson. And, as it turned out, it was Shockley who saved the day.
"I really struggled that first game we did the two-quarterback system," said Greene, now an insurance executive with Seacrest Partners who also does some TV broadcast analysis for the SEC Network. "I was under 100 yards passing for the game [67], the only time I ever did that, I think. And Shock was the one that brought the spark to the team that day."
Indeed, the freshman Shockley came off the bench to run for a touchdown and throw for another as he led the No. 8 Bulldogs to a 31-28 victory over the unranked Tigers. He finished 3-for-4 passing for 50 yards with a 24-yard touchdown to Terrence Edwards and added a quarterback-run element to Georgia's offense.
And just like that, Georgia and Richt had a full-blown quarterback controversy on their hands.
In the immediate aftermath, Richt said that Greene "is still our starting quarterback." But he also said, "I think D.J. will play more. I like how he played. He didn't get flustered and I thought he was pretty accurate."
As the Bulldogs prepared for the SEC opener on the road the next week at South Carolina, the Georgia fans were in a frenzy. They loved Greene, for sure, but they were excited about the glimpse they'd seen of the young kid from College Park.
Message boards were aflame with arguments about why Georgia should stick with Greene or build the offense around the new guy. After all, at that point the Bulldogs were coming off an 8-4 season and hadn't won an SEC championship in 20 years. And they knew what Richt — still a new commodity as their coach — had done with Charlie Ward at quarterback at FSU. Shockley had been described as "a bigger version of Ward" coming out of high school and had been hotly pursued by the Seminoles.
The consensus among the fan base seemed to be that Georgia's ceiling was higher with Shockley. At the least, they wanted to see more of him.
Shockley laughs out loud thinking back on it now.
"You know how it is," he says with a chuckle. "Whatever the shiny new toy is in town, everybody's excited about it."
Richt and quarterbacks coach Mike Bobo were, too. So, the plan going to Columbia was to alternate Greene and Shockley against the Gamecocks and go with the hot hand if one developed.
That plan fell through.
Thunderstorms soaked the field at Williams-Brice Stadium and caused a lightning delay. And then Shockley, who to that point was 0-for-3 passing, broke his left foot in the first half jogging off the field after a possession. He stepped on the seam between the grass field and the artificial turf on the sideline. He didn't know it then, but his season pretty much was over.
"We managed to win the game [13-7], then we go on an absolute tear and go 13-and-1 that year," Greene said.
Shockley returned several weeks later but played primarily in a backup role rather than as an alternate. He eventually earned regular playing time as a junior, but he wouldn't start for the Bulldogs for another three years, after Greene graduated and left for the NFL.
"It wasn't anything he did or didn't do," Greene said. "We were just winning championships and winning a lot of games in general."
Again, very similar to what we witnessed last season, though in inverse. Fromm, who earned some 5-star ratings as a high school prospect, competed with incumbent starter Jacob Eason in spring practice and preseason camp and distinguished himself while doing so. But nobody really believed he was about to unseat Eason, who had started all but one game as a freshman and was expected to be even better as a sophomore.
Eason, of course, went down with a knee injury in the first quarter of Georgia's first game. Fromm, who had expected to play only in a mop-up role, if then, hurriedly entered the game and led the Bulldogs to victory. He started the next 14 games and finished the season with consensus freshman All-America honors.
Fields signed with Georgia in December and enrolled in January while Eason transferred to Washington. That has left the Bulldogs with only two scholarship quarterbacks heading into this season.
And all eyes will be on the competition between Fromm and Fields this spring.
From the outset, at least, both quarterbacks expect coach Kirby Smart and the Bulldogs offensive brain trust to handle the scenario in much the same way.
"I think because Justin is such a talent, you've got to find a way to get the guy on the field," Shockley said. "You've got to find a way to work him with the 1s, a way to get him some live action to see the way he responds to certain situations. You've got to see if that athleticism takes over. You've got to see if he has poise when he's with the top guys."
That said, Shockley added that he doesn't see Fields unseating Fromm in practice.
"I think Jake is definitely their guy, just like Greene was definitely our guy at the time," Shockley said. "But, obviously, they bring different dimensions to the offense and you want to see if you can use that to help you out in some way."
Greene concurred.
"In our scenario, Shockley and I had two different styles of play," he said. "Both could work and fit within our offense. Defenses had to use different schemes to defend us. That makes the preparation for defensive coordinators more challenging. The one thing they hate more than anything is a running quarterback, because when things break down they can make plays out of it."
However it plays out, it's unlikely there will be any declarations from Georgia's coaching staff. Expect Bulldogs leadership to let the competition play out unfettered on the field. At the end of it all, letting these two talents battle it out as if every minute of playing time depended on it will serve the team best.
"From a coaches' standpoint, they absolutely love it," Greene said. "Great players create urgency. You better be getting better because, if you're not, you're gonna get passed, especially the way Coach Smart has been able to recruit."
Said Shockley, "Greenie and I talked about a week ago or so about how it's going to be fun to watch. We're both excited to see what Fields is about. But at the same time, Fromm, how can you forget about a guy who came in last year and lit it on fire like that? I'm sure there's going to be a lot of talk about it and I'm sure Justin is going to look good at times and he's going to look bad at times.
"But it'll come down to actually live ball and playing SEC games when 90,000 are screaming at you and Coach Smart and Coach Chaney aren't standing behind you telling you to do this and do that. That other team doesn't care who you are. They just want to take your head off."
Next
D'Andre Swift's moment arrives as Georgia's primary tailback