Georgia's Kirby Smart speaks out against racism exposed by 3 brave UGA students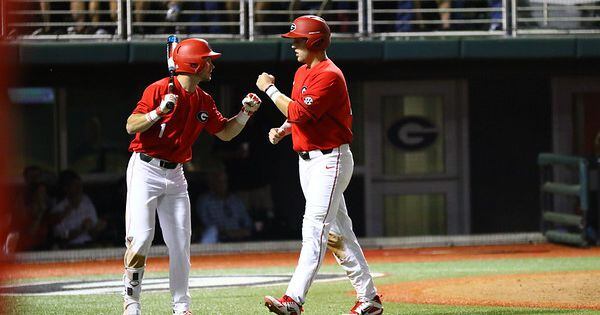 ATHENS – Georgia coach Kirby Smart, known to bristle at the tamest of questions, was ready and willing to answer one of the most difficult ones he's fielded all year.
Adam Sasser, a senior and one of the top hitters on Georgia's baseball team, stands accused of directing racial slurs at Georgia quarterback Justin Fields during the fourth quarter of this past Saturday's game against Tennessee. Those alleged remarks caused a confrontation between Sasser and three female students sitting nearby and brought a police officer to scene.
After the exchange was brought to the attention of UGA Athletics administrators on Monday, a full-blown investigation has been launched. As of Tuesday evening, that investigation is now in the hands of UGA's Equal Opportunity Office and is being considered as an anti-discrimination/anti-harassment case.
Smart was asked after the Bulldogs' practice Tuesday whether he had addressed the alleged incident with his team.
"I really haven't," Smart said. Then he cast his eyes downward to the lectern, where he appeared to read from prepared statement.
"If what I read and heard is true, it's really unacceptable behavior that's not who we are at Georgia," Smart said. "We're trying to build a program on tolerance and mutual respect. You can't control what other people say, but the expectation is that people that are part of our program and come to our games share the same beliefs that we do. It's sad that something like this would happen. I'm disappointed. But it doesn't affect our family, our unit here and our kids have been great. It's not something I've had to address with them. I've addressed it with Justin. That's the most important thing."
Asked then how Fields reacted, Smart said, "Justin's great."
None of this would be in the public domain had it not been for Klarissa Gulebian. A junior from Lawrenceville, Gulebian witnessed of the confrontation that ensued and is the person who summoned police to the scene. She also posted an account of what happened on the "Overheard at UGA" Facebook page Saturday night and again Sunday morning after it was initially taken down.
Gulebian was attending the game with her friends, Africa Buggs of Wisconsin and Sierra Buckner of Lawrenceville. Buggs is the one who actually brought the incident to the attention of UGA in an email to Georgia baseball coach Scott Stricklin and Athletic Director Greg McGarity. All three women were interviewed by EOO investigators on Tuesday.
"It's been a bit overwhelming," Gulebian said of the whole experience. "There has been a lot of response. But most of it has been positive. People have been very supportive."
Gulebian made it clear that she did not actually hear the remarks alleged to have been made by Sasser. She had walked up to the concourse so she could take a phone call. But she saw the confrontation unfold below and then rushed in to intercede.
"I personally didn't hear the words that he said," Gulebian said. "When I reached them there were words being exchanged. My friends were telling him, 'hey, you can't say that. That's not OK.' A little while later, they started saying again, 'I still hear you saying that' and started arguing again. That's when I ended up involving a police officer."
Gulebian said that officer — who was not a member of the UGA Police Department — took Sasser to the side and spoke to him for a while. Sasser then returned to his seat and the police officer spent the remainder of the game standing in the aisle watching Sasser and his friends with his back to the game.
A UGA official said that officer has not yet been identified and no incident reports were filed. Multiple police agencies staff Georgia home football games, which are attended by more than 92,000 people when at full capacity.
Buggs has not yet returned a phone message left for her. But in a Twitter message she confirmed to DawgNation that Sasser was the offending party and that he was yelling, 'put the [N-word] in the game,' throughout the fourth quarter."
Gulebian said the EOO officer she spoke with said the investigation would "be resolved quickly."
A UGA spokesman confirmed that the investigation remains ongoing and referred to Monday's statements offered by McGarity and Stricklin.
Sasser was one of Georgia's top hitters on last year's team, which earned an NCAA Tournament bid for the first time in five years. The 6-foot-4, 225-pound sophomore batted .317 with 10 home runs and 44 RBI. He tied a school record with three home runs in one game against Missouri last season. He was named second-team All-SEC.
A graduate of Greenbrier High in Evans, Ga., Sasser was carrying .273 career average, 13 home runs and 60 RBI into this season.
Gulebian was asked what her and her friends thought should happen to Sasser.
"Honestly, that's kind of hard to say," said Gulebian, a junior majoring in animal science. "I don't know how far his consequence should go. But I do think something should happen. People will think it's OK if it doesn't, and it's not OK. Plus, he's a student-athlete. He's a public figure, people know who he is and he represents our school. He should know better. So I don't know what should happen but I think something should happen."
UGA News
Next
WATCH: Charged-up Kirby Smart says Georgia football aims to protect...