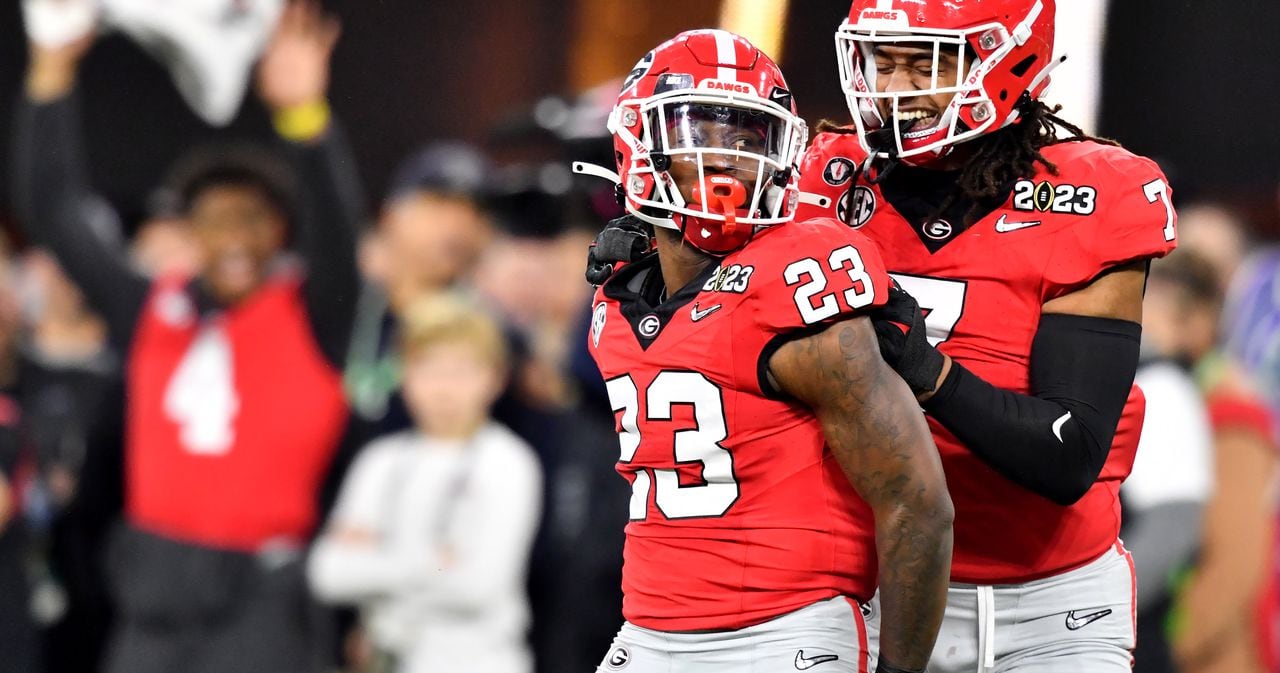 Kirby Smart shares plan with Georgia football transfers coming and some soon to be going
LOS ANGELES — Georgia football transfers are coming — and some will soon be going —in the wake of the Bulldogs' 65-7 CFP Championship Game win over TCU on Monday night.
As hard as it might be to imagine football players not wanting to be a part of Georgia's historic and dominant football culture, with a realistic potential for a three-peat ahead, there is also a business aspect to the sport.
Coach Kirby Smart has already met with several players about their futures and expectations within the program, so there aren't likely to be any more surprises than there were a year ago when 13 players left a championship program.
And on the flip side, Smart and his coaching staff have been actively seeking players through the portal to beef up the 2023 roster -- just as they did a year ago.
Smart has in fact patiently reminded media at each turn that Georgia not taking a transfer for the 2022 season was not for lack of effort.
It just turned out the Bulldogs weren't able to successfully land Heisman Trophy winning quarterback Caleb Williams or any of the other elite players they targeted.
"I don't know that I can say we 'bucked the trend' because we've taken them (transfers) this year and we would have taken some probably last year if the right ones were willing to come," Smart said at the CFP Media Day at the Los Angeles Convention Center on Saturday.
"We didn't turn our nose up to the portal and not use it. We searched for a certain type kid."
As Smart noted, this year has already been different, with Georgia getting explosive Missouri receiver Dominic Lovett and Mississippi State target Rara Thomas.
Also, as the Georgia head coach has said, it's likely more players will be coming — as well as going — from UGA.
"That will continue to be the case because I think it's a culture element for us — it's like who fits what we do," Smart said. "If they don't fit what we do, I don't think we should bring them in."
Some current Bulldogs' players, of course, will leave the program as 13 did last year.
Tight end Arik Gilbert is currently in the NCAA transfer portal, and defensive lineman Bill Norton has already gone through the portal and landed at Arizona.
A look at the participation chart from the CFP Championship -- noting which non-injured UGA players did not get into the game -- should provide clues as to who might be moving on.
The key for Smart is to make sure he doesn't lose the sort of prospects he feels can grow into future starters and leaders.
"I'm a lot more worried about retention than I am going to get them, you know what I'm saying?" Smart said. "I want to spend time investing in people in our program, keep them in our program, then I am looking at replacing them with someone else."
Smart knows better than anyone that talented young players who have always found success can grow impatiently quickly, and be more apt to search for immediate playing time.
"We're in the portal age, when kids feel like they don't have a role, they're quicker to leave," Smart said, "And we're really selling the development."
Indeed, past Georgia players such as Quay Walker, a first-round pick of the Green Bay Packers in the 2022 draft, shared he was once on the verge of transferring out.
"I tried to get in there (portal), they wouldn't let me, they were like, 'Nah, we'll fight it on out and see where we go from there,' " said Walker, who didn't start until his senior season. " …. so I second-guessed it.
I'm glad they did that because of how things turned out my senior year, winning the national championship for my home team, home state."
RELATED: Quay Walker, now in Green Bay, shares Georgia insights
Smart said his Georgia staff will also be sure to show young players film cut ups of how 2021 Outland Trophy winner Jordan Davis grew throughout his career after coming to UGA as an unheralded 3-star prospect.
"We're going to show Jordan Davis, from his freshman and sophomore year, working on the scout team, and say, hey, look where this guy was and look at what he became doing it this way." Smart said. "And selling that within your program becomes a selling point to them to stick and stay and truly develop and grow in the organization."
And for those outside the program, coming to Georgia offers the potential for improvement and championships.
Former West Virginia transfer Tykee Smith is that sort of example, overcoming a knee injury suffered in Athens to enter into the title game with Javon Bullard hurt and provide championship depth.
Next
How Ohio State neutralized Jalen Carter, despite Georgia star …