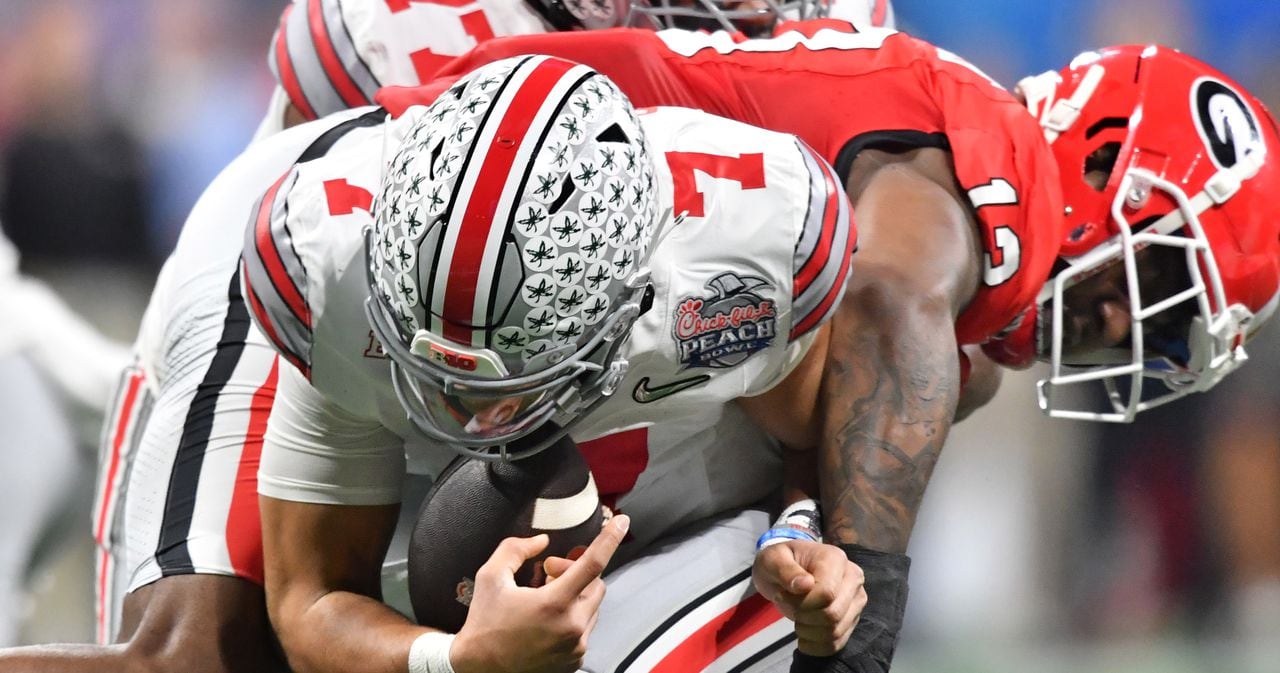 Georgia defense: 'When you get off the bus, they're coming after you'
LOS ANGELES — Georgia just needs to be Georgia when it comes to defending the Air Raid-style of offense employed by TCU, per a two-time national championship defensive coordinator.
Jeremy Pruitt who worked at Kirby Smart's side for six years on the defensive staff at Alabama — including the 2011-12 seasons the Tide won back-to-back titles — has confidence in the Bulldogs.
RELATED: TCU beat writer shares why Horned Frogs have 'puncher's chance' at upset
"The one thing about Kirby's defense, which I think is unique and is kind of the family of defense we've all come out of, is it's more of a deny-the-ball defense all the time," said Pruitt, who also won national titles as the defensive coordinator at Florida State (2013) and Alabama (2017).
"There are no alley-oops, there are no layups, so you've to to find a way to scheme to get those (completions)."
The No. 1-ranked Bulldogs (14-0) play the No. 3 Horned Frogs (13-1) at 7:30 p.m. on Monday at SoFi Stadium in Inglewood, Calif.
"I think Georgia is going to be who Georgia is, and I think that's how they need to play," said Pruitt, who has followed the Bulldogs closely with his weekly 'On the Beat' installments on DawgNation.
"When I think about Georgia's defense, when you get off the bus, they are coming after you. I don't think Georgia needs to change. They need to dictate to TCU, and they need to play Georgia football."
Ohio State quarterback C.J. Stroud looked as good against the Bulldogs as anyone since Alabama quarterback Bryce Young in last year's SEC Championship Game.
Both Stroud and Young had multiple NFL receivers to throw to in key stretches of the game while showcasing their NFL passing abilities.
As good as Stroud was, Georgia still sacked the Ohio State QB four times -- after he was only sacked more than once one time this season, twice, at Penn State.
Duggan, while celebrated, has not shown the same sort of arm talent.
"Usually if a guy has great arm talent and he's a great one, if you play zone, he's got the talent to get it in the windows," Pruitt said.
"If you're playing a quarterback that doesn't have that talent, then you want to make him throw it into small windows."
Pruitt has noted how well this Georgia plays together, and the pride they take in their identity.
"I think they need to let it all go, they got one more week, that's how they play, that's how they practice and that's what they know," Pruitt said.
"I think if they rushed four guys and sat back, I think they'd be looking over at the sideline thinking what the heck are we doing."
Georgia opened as a 14-point favorite, but the line has fallen to 12 1/2.
Next
How Ohio State neutralized Jalen Carter, despite Georgia star …