BREAKING: Georgia lands commitment from 5-star linebacker Mekhail Sherman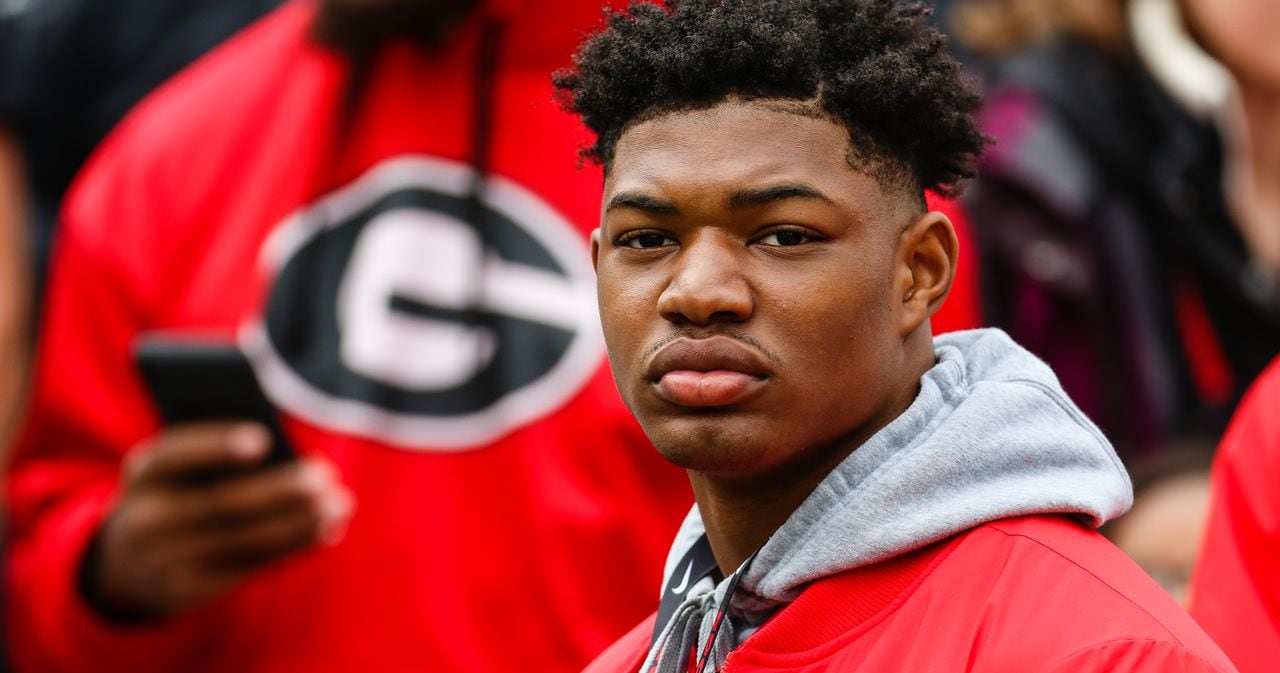 Mekhail Sherman chose May 9 as the day he let the world know he wants to be a Georgia Bulldog.
That decision meant that yet another 5-star OLB plans to storm SEC offenses for the Bulldogs. Sherman, an elite rising senior from St. John's College High School near our nation's capital, rates as the nation's No. 11 overall prospect for the 2020 cycle.
The 247Sports Composite ratings also list Sherman as the nation's No. 2 OLB prospect in that class.
His choice came down to Ohio State and the Bulldogs.
Sherman was in town for G-Day. That was his first official visit. He made his way back down to Athens with the same traveling party that joined him on an earlier unofficial visit to Georgia this year.
Related: Georgia football coaches, recruits and fans thrilled with 5-star Mekhail Sherman commitment
That was on the first weekend in March. It should be noted that was Sherman's birthday weekend at the time. His brother-in-law, mother and sister came along for both trips.
Georgia has now garnered the commitment of what should be one of its most outspoken leaders for the class of 2020.
A race that seemed at times like it was between Georgia and Ohio State saw the Bulldogs surge ahead early in 2019.
"UGA has set themselves apart from other big-time colleges," Sherman told DawgNation in late March.
The 6-foot-3, 233-pound rising senior becomes the eighth commitment for the Bulldogs of the 2020 cycle. This decision moves the program up to the ninth position in the 247Sports Team Composite recruiting rankings for this cycle.
Why was it Georgia?
"It is [just] the simple fact that they recruited my family as well just the same way they recruited me," Sherman said earlier this year. "They realize how important my family is in my decision making."
Sherman becomes the second 5-star commitment of the 2020 cycle for the Bulldogs. He will most definitely not be the last of those elite recruits to choose Georgia for this class.
Here's a stat worth paying attention to: Sherman is set to become the eighth linebacker prospect to sign to play for Kirby Smart that was able to earn a 5-star rating from at least one recruiting service.
In terms of the pure 247Sports Composite rating, he  also stands to become the fifth player to choose to play for Georgia since the 2018 recruiting cycle.
What Georgia is getting in 5-star Mekhail Sherman
Let's buzz through a few keywords: Speed. Size. Versatility
Sherman showed off all of that at the Nike Opening finals last year in Texas. He was one of a select group of rare juniors named to the event. While he was there, he didn't let a thing like the fact he played linebacker stop him from earning a spot in the "Fastest Man" challenge at the event.
He didn't win, but Sherman did clock a lot of laser times in the sub-4.6-second range.
How does he describe his game? Sherman said it pretty well earlier this year.
"My playing style is based off making offensive coordinator's pregame night restless," he said.
He was given the nickname "Big Sherm" when he was a freshman. That is because he was already measuring 6 feet, 2 inches in height and weighing in at 210 pounds.
This has been an interesting off-season for Sherman. His junior year was abruptly halted by a season-ending knee injury.
It was a completely torn ACL and a partial lateral meniscus tear, but he's well on the way back to playing at full strength this summer.
Look for Sherman to finally get cleared to play this fall sometime over the summer. He will not take part in any showcase or evaluation camps so he can focus on his senior football season.
The time away gave him some real perspective.
"It gave me more appreciation for the game," he said. "This time away from it only added fuel to the fire. I'm ready to show the nation what they missed and more."
Georgia co-defensive coordinator Dan Lanning has distinguished himself yet again from other national peers with this recruitment. Lanning also coaches the OLBs at Athens. That will also make him his position coach.
He's been a Lanning priority for well over a year. That's why Sherman slowly began to move up his decision timeline from the first early signing day in December of 2019 to this summer to now.
"His approach is very different than any other coach," Sherman said. "He comes with a family vibe. I keep emphasizing that because it is real."
Next
WATCH: Georgia football 2020 Quarterback commit Carson Beck shows out