Elite cornerback has no leaders but already has strong ties to UGA and other schools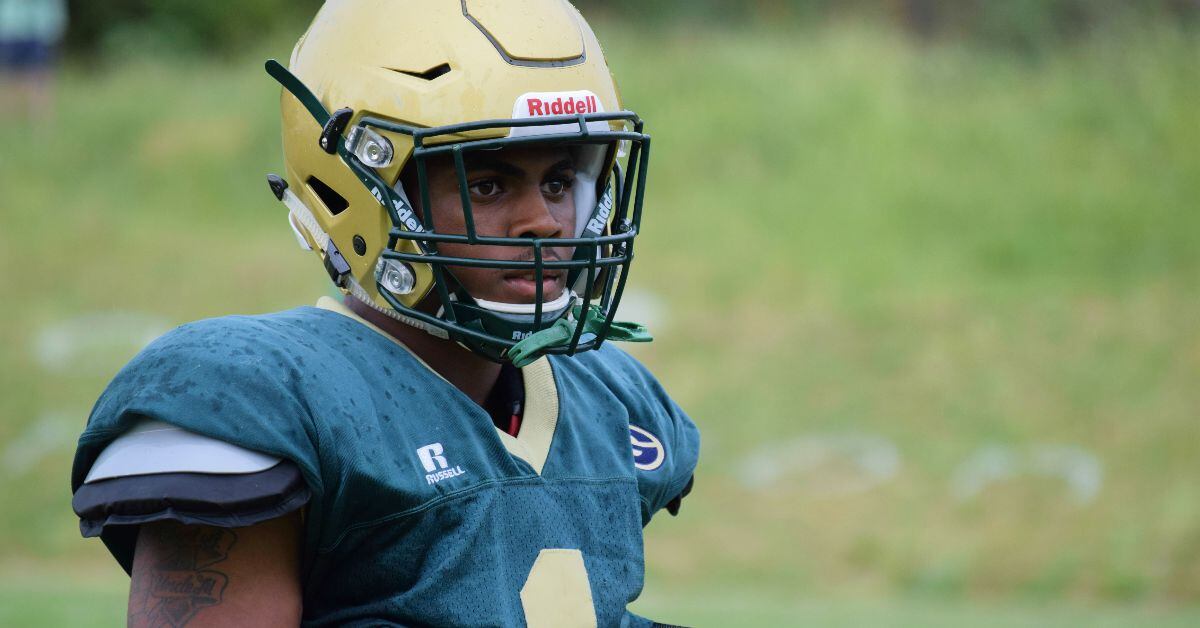 Jamyest Williams visited Ohio State earlier this month. The four-star cornerback told one Buckeyes website he would give the trip a '10' rating.
He is one of UGA's most valued 2017 targets. The more Williams takes the field in any game or a camp setting, he eviscerates all doubt that he's one of the top players in the nation. UGA sent two coaches to watch his loaded Grayson High School (Loganville, Ga.) team practice last Thursday.
UGA defensive coordinator Mel Tucker was there. He never lost sight of Williams. 
"He says he needs guys," Williams said. "He tells me he can't win without having guys like me."
Ohio State sees him in the same light. Defensive backs coach Kerry Coombs spent a lot of time with Williams on that visit. Then he came down to Georgia to catch Williams at practice before UGA did the same.
"Ohio State is just a great environment," Williams said. "Once you go there, you see why they produce so many guys into the NFL. Just the whole setup with Coach (Urban) Meyer … and what he does with his players is different (from what) a lot of other schools offer."
That trip to Columbus now ranks as Williams' best first visit to a campus.
Who else is coming after him like a Kardashian paparazzi? Williams told DawgNation that it's Georgia, Tennessee and Ohio State, in that order. He quickly added Notre Dame, Oklahoma and South Carolina as the schools which were coming for him "heavy."
Williams did clarify the Buckeyes and Bulldogs were coming after him the hardest. He recently decided to release a list of top schools and make his college decision prior to his senior season.
Coombs impressed Williams by showing him film of 2016 first-round draft pick Eli Apple's progression at cornerback.
"He showed me when Eli Apple first got there," Williams said. "He showed me the year after he redshirted and when he was playing and using all of Coach Coombs' techniques. It was amazing. I could tell Eli wasn't very good when he first got there, but you saw the progress he made under Coach Coombs."
The relationship he has with Coombs is the biggest reason why he'd ultimately choose Ohio State. Now counter that with why he would wind up at UGA.
"That's my home," Williams said. "That's my hometown. Going back home and also my relationship that I have with Coach Tucker."
The rising senior feels that Coombs, Tucker and South Carolina defensive coordinator Travaris Robinson were the recruiters he has the closest connection to at this time.
Williams is rated as the nation's No. 48 overall prospect and the No. 6 recruit in Georgia, but somehow those sterling measures don't cut it. It's hard to believe there are 47 players better than him in America right now. The thinking is he might be a Top 15 player if he were just a couple inches taller than his 5-foot-9 stature. Yet watch him play and his height is not a factor.
He was the best player in Gwinnett County last season, playing both ways at running back (1249 yards, 23 TDs) and cornerback. He never left the field despite a bone spur on his heel, which meant he suited up at around 80-85 percent most Fridays.
"That's just the way my father raised me," Williams said. "It is not about you and yourself all the time. It is a team goal and a team thing. Sometimes your team depends on you and I knew my team needed me. I just kept going out there with all I had and with all I am. I don't know what it is, but it is just something from my family that's inside of me. I had to do that."
Williams has established a vow to not shy away from adversity. That leads to complacency. He saw it as another challenge to test his mental and physical toughness.
That ailment required off-season surgery in early March, and he spent two weeks in a walking boot before beginning rehab. He was cleared to train again in mid-April. Williams was at about 75 percent when he flew up to Columbus for Nike's "The Opening" regional. He left with an "Opening" invitation as the best defensive back there.
The new Grayson Ram caught the eye of 247Sports' Director of Recruiting Steve Wiltfong. He noted at the Columbus Opening that he may be his No. 1 cornerback this year. The rising senior will have a new team this fall as he left Archer to join Grayson for his final prep season.
"It was just a great opportunity for me," he said. "It was a better opportunity for me and also the way (new Grayson) coach (Jeff) Herron prepares us every day we get after it. Then there's that power schedule we have. I believe that schedule is going to prepare me for the next level."
Oregon offered last Thursday and he is planning a California trip to check out schools. Look for Southern Cal to get a strong look. He's tight with former Archer teammate E.J. Price, who signed with the Trojans in February.
Williams hopes to wear either No. 1 or No. 5 in college. UGA commitment William Poole III already wants No. 1 at UGA, too. The two have discussed it, but there's no arm wrestle session set for that yet. Williams has yet to make a commitment, and still strongly considers other options.
Next
UGA angling for first 2019 commitment from a tantalizing three-sport …