UGA recruiting: Tift County LB Andrew Johnson wanted by most of the SEC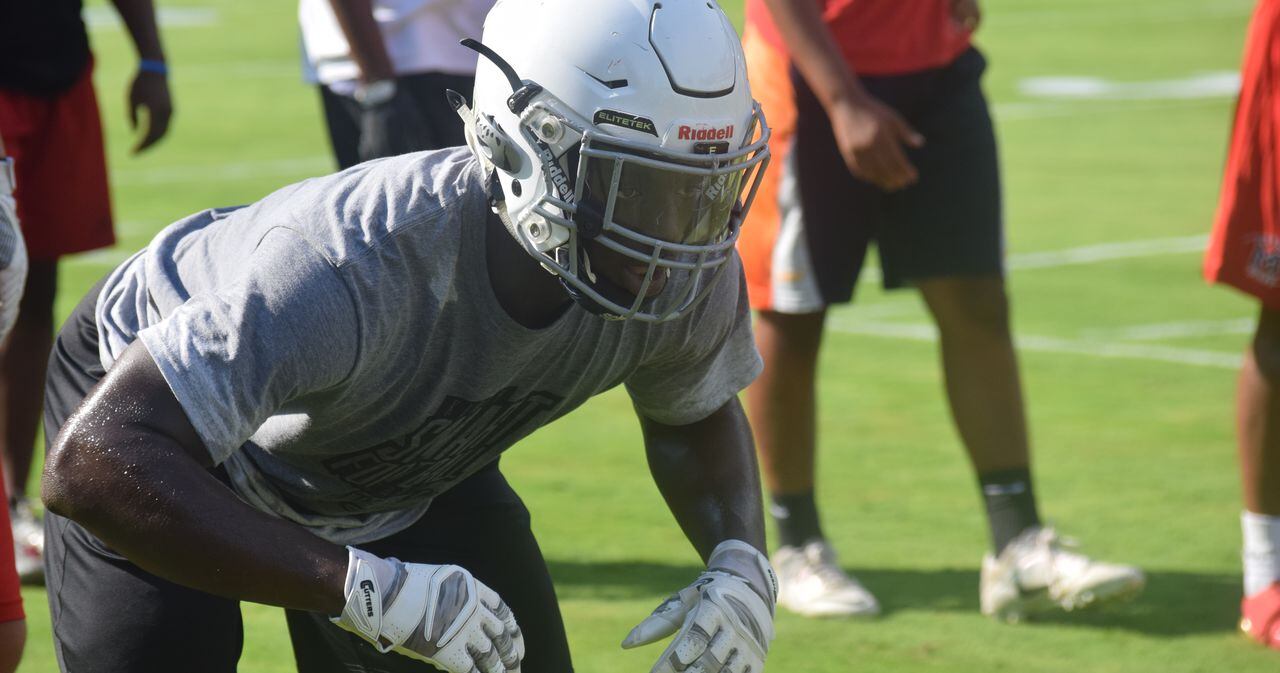 Want a daily lap through Georgia football recruiting? That's what the Intel will bring at least five days a week. We'll cover the news, help you get to know a guy like Andrew Johnson better plus add the latest on Justin Fields and Master Teague III to help fans figure out what it all means.
__________________________________________________
Andrew Johnson. South Georgia linebacker. When the casual fan hears that name, they might remember his name because of a former American President.
Bench that option. It is better to think about blazing speed. Especially for a linebacker.
He runs track at Tift County. Johnson, the former defensive end, runs the 100, 200 and is on the 4X100 relay team.
Sprinter to tackling machine. That's what the Georgia staff aims to fill its defense with.
Johnson is a rare linebacker who can do that. He said he's clocked the 100 meters in about 11.2 seconds.
Look at his highlight tape. An early play will catch your eye. That's when he chases down 2017 Oklahoma State signee J.D. King.
King starred for Fitzgerald and he's cracked the 11-second mark in the 100. But Johnson impeached his progress on that clip.
The Tift County standout rates as a 3-star recruit and as the nation's No. 28 outside linebacker for 2018 according to the 247Sports Composite.
He's migrated around the field a bit for Tift County. He'd been on the line at defensive end but will move to middle linebacker this fall. That's his most likely landing spot on Saturdays.
"Some schools say I can outside and some schools say I can play in the middle," Johnson said.  "Some schools feel I can do both."
The 6-foot-2, 223-pound prospect can power clean 315 pounds and bench another 300. He was stunned initially by the heat at the Kirby Smart Camp last Saturday but said he was able to bounce back.
He holds a lot of big offers. Which schools are contacting him the most?
"It is Alabama, Georgia, Auburn, Ole Miss and Georgia Tech," he said. "Oregon and FSU as well. It is a good bit. It is a handful."
He said that he already has good relationships in place with assistants Glenn Schumann and Kevin Sherrer at Georgia. Johnson also said he already knew FSU defensive coordinator Charles Kelly as well as those two gentlemen at Georgia.
Johnson grew up in South Georgia but grew up a fan of Florida. They are recruiting him, but not as hard as some other schools.
Does Georgia have a chance?
"Yes, sir," Johnson said. "They do. You never know how it goes. I have to figure out some things this summer. They have to have what I want for my education. I have to feel at home with it and love being there."
He was at G-Day this spring. He loved the chance to meet Nick Chubb and also said that Lorenzo Carter was one of his favorite players in the SEC.
Getting to know Andrew Johnson
What is Johnson like on and off the field?
"I feel just like a normal person going through my day at school," he said. "But then there is something about football. I feel like I become a different person when it comes time to step down on that football field."
UGA News
Next
UGA recruiting: 5-star QB Justin Fields shares a few thoughts on his...