Dawgs show what can happen when you 'never stop believing'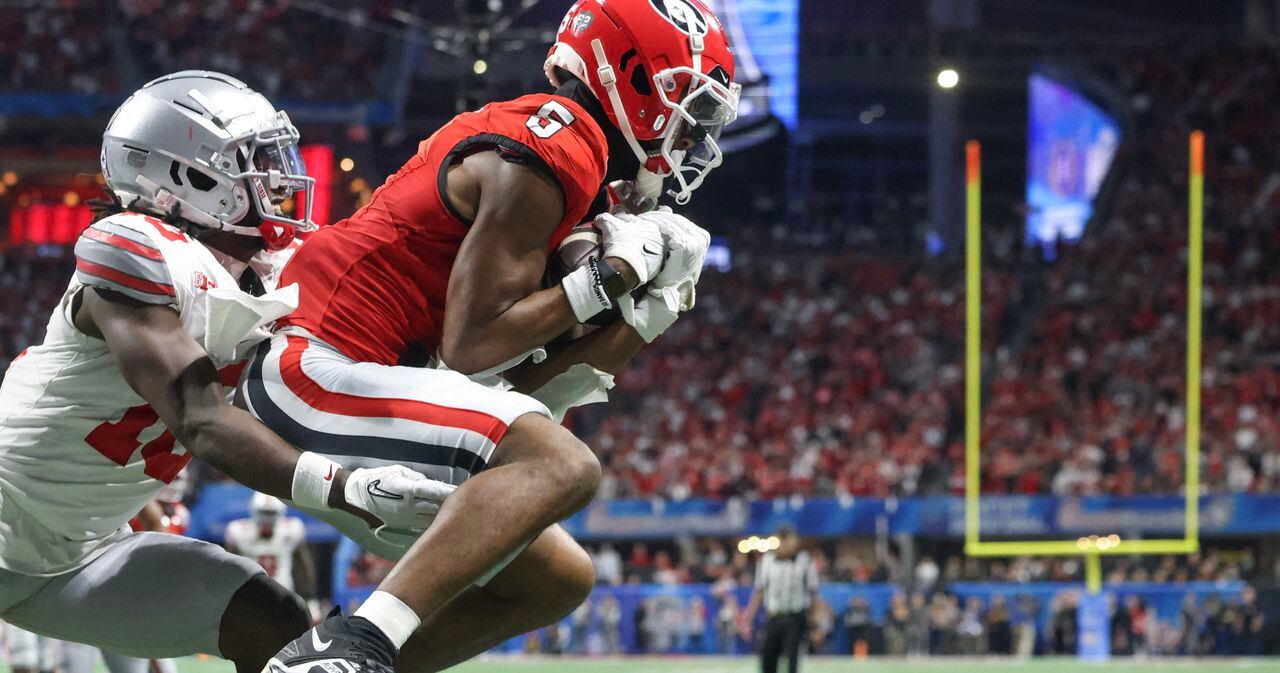 "Legendary."
That was Kirby Smart's reply in the wee hours of Sunday morning when he appeared on the late-night "SportsCenter" show on ESPN, and anchor Scott Van Pelt asked the Georgia head coach to describe his team's fourth-quarter comeback win over Ohio State in Saturday night's College Football Playoff semifinal game in the Chick-fil-A Peach Bowl at Atlanta's Mercedes-Benz Stadium.
With that succinct but eloquent reply, Smart neatly summed up the difficult — but ultimately successful — road that his program has traveled to wind up with the chance to win back-to-back national championships.
"We're a lot different team than we were last year," the coach said, "but this group is special, man. They never stop believing."
It's a good thing, too, because there was plenty in the New Year's Eve game to challenge the faith of even the most devout Georgia Bulldog.
As had been the case in several games earlier in the weird but wonderful 2022 season, the Dawgs turned in a very uneven performance against the Buckeyes.
Georgia's defense recorded 4 sacks, but, at times, had a hard time making contact with Buckeyes quarterback C.J. Stroud, allowing the Heisman finalist to stand back in the pocket and carve up a Dawgs secondary that was covering his wide receivers rather loosely.
Dawgs defenders also allowed Stroud, not normally known as a scrambler or runner, to slip away from their clutches time after time, as he kept the ball for significant gains when he wasn't rolling out to complete a long pass. Georgia's tackling was poor at times.
It should be noted, though, that the Dawgs, for the most part, shut down the Buckeyes' running game, despite Stroud's scrambles.
Offensively, Georgia, with its own Heisman-finalist QB, kept pace with the Buckeyes' offensive juggernaut most of the game — the chief exception being a sorry third quarter when, as Bennett said, "we sucked on offense." And, yes. that included Todd Monken's ultra-conservative play-calling in that quarter.
Stetson Bennett, normally Mr. Cool, looked rattled at times over mistakes he made ("Gunslinger Stetson" showed up a few times, making unwise passing decisions) and the poor protection his offensive line was giving him. (Several times, he seemed to react prematurely to impending pressure.) It was notable that Smart took him aside for a few words at the end of the first half. Asked about that by ESPN, the coach said he told his quarterback to settle down. "We're gopnna need him to win it."
How right he was. With Georgia's QB completing 23 of 34 passes for 398 yards, 3 touchdowns and 1 interception, and also running for another TD, the Dawgs twice came back from 14-point deficits (the most they'd trailed by this season) and held OSU to just 13 points in the second half, outscoring the Buckeyes 18-3 in the fourth quarter.
For the game, Georgia outgained Ohio State with 533 yards of offense to 467, and, despite Stroud's success against the Dawgs' secondary, UGA also topped the Buckeyes in passing yards, 398 to 348. (Stroud completed 23 of 34 passes for 348 yards and 4 touchdowns.)
Bennett completed passes to 10 different receivers, led by speedster Arian Smith (3 catches for 129 yards, including a 76-yard TD), Brock Bowers (4 catches for 64 yards), Kenny McIntosh (5 for 56 yards and 1 TD) and AD Mitchell (3 for 43 and 1 TD).
The game was a matchup of the nation's No. 2 scoring offense (OSU) against the No. 2 scoring defense (UGA), and the 11th-ranked scoring offense (UGA) against the 13th-ranked scoring defense (OSU). Neither defense covered itself with glory, so, really, the 42-41 final score sort of makes sense.
Georgia's offensive success especially was notable when you consider that the Dawgs, already banged up going into the Peach Bowl, lost one of their twin-titan tight ends, Darnell Washington, to an ankle injury early in the game, removing not just a big, tall, reliable target, but also one of the team's ablest blockers downfield. And, wide receiver Ladd McConkey, while he played and, in fact, caught a pass for a 2-point coversion, was used sparingly due to knee trouble.
There were several key moments that could have changed the outcome for the Dawgs, but perhaps none was bigger than an alert Smart spotting an unexpected formation and canceling out a successful Ohio State fake punt by calling a timeout a split second before the snap. (The best timeout Smart ever has called.)
The Buckeyes decided to punt for real on the replay, and, on the first play from scrimmage after that, Bennett connected for a long touchdown pass to a wide-open Smith, and Georgia's comeback was on.
Another key play came when Javon Bullard, named the game's defensive MVP (despite having a rough outing at times, like everyone else on Georgia's D), broke up a potential Buckeye TD pass in the end zone with a hard hit that sent Ohio State's top receiver, Marvin Harrison Jr., to the sideline for the remainder of the game.
(The extremely inconsistent Pac-12 officiating crew, which apparently never has heard of an uncatchable ball and doesn't know offensive holding when it sees it, threw a flag for targeting against Bullard for the hit on Harrison, but it was clear on video that he led with his shoulder, not his helmet, and the call was overturned after review. Another video review overturning one of the crew's calls gave Georgia a key 1st-down on a play where tight end Brock Bowers defied gravity and kept his legs off the ground while he reached past the down marker.)
Best of all for the Dawgs was the latest display of fourth-quarter heroics by Bennett (overcoming a spotty performance earlier in the game), which earned him yet another playoff MVP trophy.
However, the Dawgs' quick pace on their final score, a Bennett TD pass to Mitchell, left a dangerous amount of time on the clock — 54 seconds.
Even Bennett said later that he was worried about how much time was left. After all, at the end of the first half, after Georgia briefly had taken the lead, the Buckeyes had responded with a 55-second drive to go ahead, 28-24.
Indeed, that questionable clock management on the final scoring drive could have cost the Dawgs the game, as a long run by Stroud quickly brought the Buckeyes into field goal territory. The seeming likelihood of the Buckeyes tacking on another 3 points in the game's waning moments had Georgia fans fervently hoping for some sort of botched snap or hold, or for one of the Dawgs' big linemen to get a paw up and deflect the kick.
None of that happened, but fortune smiled on the resilient, never-say-die Bulldogs in what the AJC's e-Paper dubbed the Midnight Miracle, with normally reliable OSU placekicker Noah Ruggles sending his would-be game-winning 50-yard field goal attempt so wide to the left that it almost seemed as if he were aiming at an invisible set of goal posts that nobody else could see.
In a neat bit of timing, Ruggles' miss came at the precise moment that 2023 arrived in the Eastern time zone.
It was ironic, in a way, that a missed field goal by the Buckeyes gave Georgia the playoff win, sending them on to the championship game, since UGA placekicker Jack Podlesny had missed 2 of his 4 field goal tries earlier in the game — misses that loomed large as the game wound down.
Those misses turned out not to matter. Still, had Podlesny made both of them, it's likely that the final touchdown capping off the Dawgs' "legendary" fourth-quarter blitz would have been more a matter of icing on the cake, rather than the sort of comeback that today's fans will be telling their grandchildren about in years to come.
That especially will be the case if Georgia does repeat as national champs.
This latest playoff triumph will go down as one of the greatest Georgia Bulldogs football games ever, with a gutsy, incredible performance producing a win over one of the gold-standard programs in the sport.
While Smart thought Ohio State "played well enough to win," he added: "We played well enough to win, too. Just well enough."
"I'm so proud of these guys" he said, and he has good reason to be proud.
However, Smart also said that, "based on what I just saw, we've got a lot of work to do. We've got to play better."
He's right about that, too.
Looking ahead to the Jan. 9 title clash with TCU at SoFi Stadium in Los Angeles, there remain concerns for the Dawgs, chief among them the defense's vulnerability to the deep pass.
Having already given up more than 500 yards through the air to LSU in the SEC Championship Game (which Georgia still managed to win, of course), the Dawgs only sporadically applied the successful pressure needed to slow down a prolific pinpoint passer like Stroud.
UGA did have some success when sending an all-out blitz, but there were too many times Stroud stood back in a clean pocket, surveying the field to determine which of his wide-open receivers to hit.
And, even when Dawgs rushers did penetrate that pocket, they sometimes appeared to be coming in a bit too hot and out of control, allowing Stroud to sidestep them easily. Also, the absence of Nolan Smith, due to injury earlier in the season, was felt in this game, with the Dawgs struggling to get pressure from the edge to match that coming up the middle. That situation wasn't helped when outside linebacker Chaz Chamblis went out with a knee injury.
Since TCU QB Max Duggan (yet another Heisman finalist) is a two-way threat, and he has a super talented wide receiver in likely NFL first-round pick Quentin Johnston, Smart's comment that his team has a lot of work to do in the next week seems like a bit of an understatement.
And, yet, undefeated Georgia has been installed by the oddsmakers as a 13.5-point favorite over the dark horse No. 3 Horned Frogs (who upset No. 2 Michigan 51-45 in the Fiesta Bowl semifinal).
That's probably because of what we've seen time and time again this season: This Georgia team, despite all the talent lost to the NFL after last season, and its tendency to lose focus at times, knows how to win, whether playing with a lead or coming from behind.
And, unlike the Frogs, they're quite familiar with the intense spotlight that accompanies this exalted showcase, as they'll be playing in their third College Football Playoff national championship game in six seasons, this one just 12 months since they won it all in Indianapolis.
"The more you do it," Bennett said after the game, "the more confidence you have."
I think it's safe to say that this team, which wins games even when it doesn't play its best, is more than ready for the challenge.
UGA News
Next
Dawgs' 2022 season has been a little weird, but wonderful