Georgia Football 2017 Opponent Preview: Auburn Tigers
Welcome to your one-stop shop for Georgia football news and takes every Monday through Friday. Today, we continue our previews of UGA's 2017 opponents with a look at the Auburn Tigers. Come on in.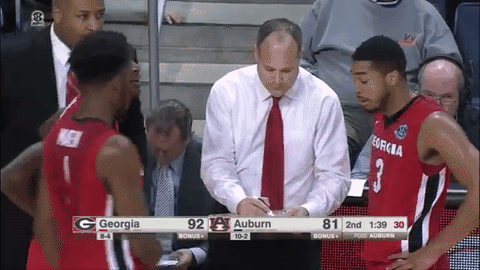 Who knows what to expect from Auburn?
You never really know what to expect from Gus Malzahn's Auburn Tigers. Every season, big things are predicted and expected. But aside from his inaugural 2013 campaign when the Tigers went to the national championship game, Auburn, under Malzahn, has always fallen short of where fans and pundits think it should.
Last season, in particular, was a strange one. Auburn opened the season at 1-2 with losses to Texas A&M and eventual national champion Clemson, convincing most college football fans that the Tigers were in for another down season. Then they beat LSU and rattled off six wins in a row to get back into the picture for the SEC East crown. The loss to Georgia at Sanford Stadium brought them back to earth and stole those hopes away, before they closed the season with consecutive losses to Alabama in the Iron Bowl and Oklahoma in the Sugar Bowl to finish 8-5. The way it all shook out makes it hard to tell whether they were a good team that played worse than it should've or a bad team that played better than it should've.
Auburn is an enigma once again heading into 2017. I think neither a brilliant 11-win campaign nor a 7-win dud would surprise any college football fan. The Tigers have one of the most talented rosters in the country but will the always perilous SEC West slate get the best of them?
Malzahn is on the hot seat for his performance over the last three seasons. If he can't get Auburn to 10 wins and, at the least, make the Iron Bowl a de facto SEC West title game like it's been so many times before, will we be talking about a new man in charge on the Plains a year from now? More importantly for Georgia fans, can the Dawgs extend their win streak to four in the Deep South's Oldest Rivalry and throw some extra coals under that seat before the Iron Bowl?
Offense
There's no denying Georgia got kind of lucky last season in the 13-7 upset against Auburn. Quarterback Sean White didn't let anyone know the extent of his shoulder injury, so UGA's defense had a field day pestering him all night long, limiting him to just 27 yards passing. But even if he had been at full health, he was still Sean White, a mediocre SEC quarterback at best.
The QB battle/slap fight between White and Jeremy Johnson last season was one of the major reasons for the Tigers' shortcomings. But Auburn fans believe they've found a solution to their woes under center: Baylor transfer Jarrett Stidham. In limited snaps for the Bears in 2015, Stidham put up 1,265 yards and 12 TDs to just 2 INTs. And coming from Baylor's spread-heavy system, he's a natural fit for the Malzahn offense. In Auburn's spring game, he went 16 of 20 for 267 yards. He was a 5-star prospect out of high school, so if he lives up to that billing, Auburn's problems at QB will be well behind it.
Another lucky break for UGA last season was the fact that Auburn played without star tailback Kamryn Pettway. Pettway rushed for more than 1,200 yards last season despite missing four games and led the SEC with 122 yards per game. He's back and figures to be one of the best running backs in the SEC. Also back is his understudy, Kerryon Johnson, who rushed for almost 900 yards and scored 11 touchdowns. That's a one-two punch every bit as deadly as Nick Chubb and Sony Michel were last season.
Defense
Auburn's biggest challenge on defense will be replacing Carl Lawson and Montravius Adams, two of the premier pass rushers in the SEC over their careers. That's 13.5 of the Auburn's 23.5 sacks last season gone in one swift blow. Jeff Holland is moving from linebacker to the line, and he's the first in line to attempt to replace them. Marlon Davidson and Nick Coe will also be relied upon to make up for some of what was lost up front. As far as intangibles go, it'll also be hard to replace the leadership Lawson, a multi-year team captain, provided to the front seven.
While they will be trying to figure things out up front, the Tigers bring back a lot in the secondary, including three senior safeties and a pair of upperclassmen starting at corner. There's also one name in the secondary that will be all too familiar to Georgia. Former Bulldog Tray Matthews led the team in tackles last season and he'll be a favorite to lead the Tigers in that category again.
It will be the second year under defensive coordinator Kevin Steele, so you have to figure the players will be more comfortable in his scheme this season. His defense is known for its complexity, and it can take players years to gain a full grasp of it, if they ever grasp it at all. But if the players can wrap their heads around it, and the Tigers can replace the production of Adams and Lawson, this should once again be one of the best defenses in the SEC.
What to expect vs. Georgia
The game returns to the Plains as Georgia tries to stretch its winning streak over Auburn to four games. It's difficult to tell how the defense will respond against the Auburn offense because of the uncertainty that comes with Stidham as the new signal caller, as well as the fact that these Bulldogs have never faced Pettway. As always, the impetus on offense will have to be Chubb and Michel. With the uncertainty that remains in Georgia's passing game, right now you have to think the best hope to get one over on the Tigers will be through UGA's star tailbacks. Although, I'm sure there are plenty of Dawg fans who will want see Jacob Eason air it out, if only to try and exact some revenge on Matthews for not knocking that damn ball down in 2013.
FPI Projection — Georgia has a 26.2 percent chance to beat Auburn.
Previous opponent preview — Appalachian State | Notre Dame | Samford | Mississippi State | Tennessee | Vanderbilt | Missouri | Florida | South Carolina
Saturday night under the lights
Night football is once again coming to Sanford Stadium. ESPN released its opening weekend slate of games Thursday, and Georgia is set for a 6:15 p.m. kickoff against Appalachian State.
Beat App St.

— Georgia Football (@FootballUGA) May 25, 2017
By the way, we're down to single digits. Sept. 2 is only 99 days away.
Bulldogs still fighting in NCAA singles and doubles tennis tourneys
A handful of Bulldogs are still alive in the NCAA singles and doubles tennis tournaments. On the women's side, Ellen Perez advanced to the final 16 in singles, while the duo of Elena Christofi and Kennedy Shaffer accomplished the same feat in doubles. For the men, all singles competitors have been eliminated, but the top-seeded pairing of Robert Loeb and Jan Zielinski moved on to the round of 16.
🔥 Sweet Sixteen Bound!#GoDawgs pic.twitter.com/Nic4IprvjM

— Georgia W Tennis (@UGAWomensTennis) May 26, 2017
#1 Robert Loeb and Jan Zielinski are Round of 16 bound! #RingTheBell pic.twitter.com/FXeutLnFTZ

— Georgia Tennis (@UGAtennis) May 25, 2017
And now your feel-good moment of the day …
Devon Gales is up and walking again.
Im on the way!! pic.twitter.com/4Kz77luWdT

— devongales (@devongales) May 25, 2017
ICYMI
Good dog
I hope you all have as good a time this weekend as this dog is having.
Oh my god look how happy this dog is😋 pic.twitter.com/StyVP7cEZ2

— 💕Precious Animals💕 (@CutieOverIoad) May 24, 2017