Stegeman superlatives: Pistol Pete, a perfect '40′ and Elton John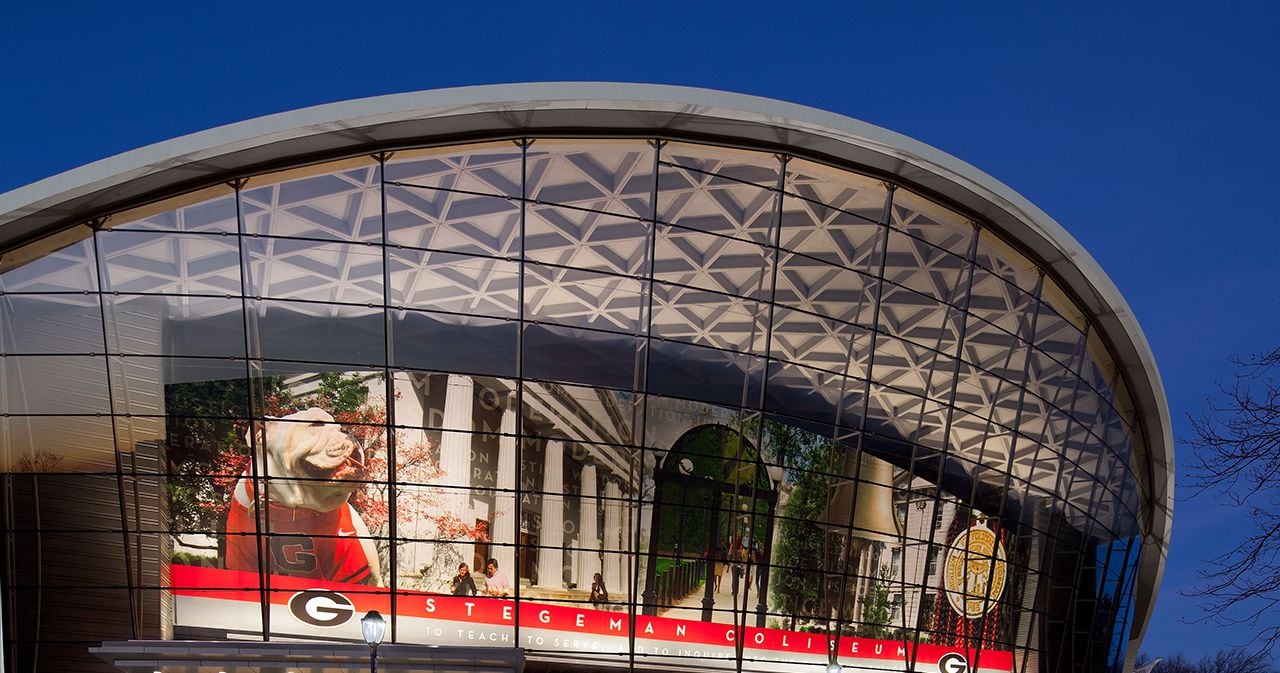 Stegeman Coliseum had a birthday this week, with fans savoring 59 years of memories.
It was on Feb. 22,1964, that the Steg opened, with its first game, carried live on television statewide.
The distinctive structure has dominated UGA's Ag Hill since my days at David C. Barrow Elementary School across the street. (The Coliseum has a unique design — it's actually two structures, the striking parabolic roof and the separate arena itself.)
As the arena was built, many thought it looked like a flying saucer, while others said it favored some sort of prehistoric bird.
Erected at a cost of $4.2 million, primarily to play host to cattle shows, rodeos and basketball games (the agricultural purpose finally was abandoned in 2003), what originally was called the Georgia Coliseum has been an intrinsic part of my life.
I won a second-place ribbon on the floor of the Coliseum as part of the Georgia State Science Fair. I had my first real date with a girl there (back when my Dad still had to drive us, because I didn't yet have a license).
A lot of Athens kids, including me, ended up taking driver's education lessons in the Coliseum parking lot. Helen Barrett Penter remembers "my instructor was the Jake Scott. … I was starstruck, for sure."
All three King brothers graduated from high school on the stage that used to be where student seating and the video board are now. (My brother Tim thinks "there should be a plaque.")
For many years, those of us attending UGA had to stand in long lines on the Coliseum floor to register for classes, or go through drop/add. (Mahla Edwards Swinford remembers that the university first tried computerizing registration around 1966. "What a disaster! Students had to run around on the Coliseum floor to each school's tables to get computer punch cards for every class they wanted to take.")
My family's connections with the Steg continued over the decades. My son got a master's degree in the grad school commencement there, and when the arena was renamed for UGA athletics legend Herman J. Stegeman in 1996, one of his family members on hand for the ceremony also happened to be the wife of the obstetrician who delivered me.
Actually, most people who grew up in Athens or attended UGA have ties to, or memories of, the Steg.
I remember me and some friends climbing up on the roof via one of those soaring arches, which was actually a pretty common practice among Athens kids at the time.
Some locals went even further. Before the walls went up, local insurance broker Herschel Carithers, father of my classmate Bucky, flew a plane under the arches!
And, of course, the legend of the aforementioned Jake Scott was burnished considerably when he rode his BSA motorcycle across the top of the Coliseum in his pre-UGA days, when he was a summer counselor at the Athens YMCA. Scott, who died in 2020, confirmed the tale to my friend Bill Bryant in one of his last interviews. "I just kept going," he said. "Going down was a lot harder than going up. There was a bit of a pucker factor going down."
UGA later put iron grates in place to stop that. (Doc Eldridge remembers them being nicknamed "Jake's Gates.")
Despite that, Tom Youngblood, a member of the swim team in 1970-71, remembers "we used climb over/around the iron grates to get on the roof late at night. We would run and throw Frisbees. Can't believe we never ran off the edge and never got caught!"
The first time I ever was inside the Coliseum was when sixth-graders from Barrow Elementary trooped over to hear a speech by Sargent Shriver, the head of JFK's new Peace Corps, in May '64.
However, some of my friends, including Carlton Powell and Dan Pelletier, were there on opening night, when Coach Red Lawson's UGA basketball team upset Georgia Tech, 81-68. (Actually, that was the second game played in the arena, because the two schools' freshman teams, the Bullpups and Baby Jackets, played earlier that night.)
Carl remembers the seats hadn't even been numbered yet, and he and his father wound up on the front row.
As Dan recalls, Lawson went "iron man five" starting lineup that night, playing no substitutes.
That first night set an all-time attendance record, because they let 13,200 people in, even though the original seating capacity was 11,400 (it's now 10,523).
One of the design features of the new arena had male fans puzzled at that first game, too, when they visited the men's room and discovered large, circular basins with water flowing from the middle, like a fountain. As Bill Bryant put it: "The building's architects had envisioned — we later learned — that men would use these fountains to wash their hands. Being the rubes that most of us were, however, we decided the basin was actually a communal urinal."
Lawson retired as coach after the next season. This was before Dean Smith's University of North Carolina program really had taken off (he was hung in effigy in Chapel Hill after a loss to Wake Forest that year), prompting UGA Athletic Director Joel Eaves to make inquiries about whether he might come to Athens. Georgia ended up settling instead for Ken Rosemond, an assistant on Smith's staff.
Although the Bulldogs had a pretty dismal roundball history up to that point (and fans still are waiting for the program to become truly elite, decades later), the popularity of basketball games for Athens families with kids really took off in the late '60s, when Rosemond and the Dawgs had their first "big" man, 6-foot-11 Bronx native Bob Lienhard. After 17 losing seasons, the Lienhard years saw the Dawgs notch three consecutive winning campaigns.
As a teenager working part-time sports rewrite at the old Athens Daily News, I used to get free passes to sit at the courtside press table at games during that era — a major thrill.
Ironically, one of the greatest moments in Stegeman history, which came during that time, involved a Georgia loss. On March 8, 1969, the Coliseum was packed for a sold-out game between Georgia and LSU. The Tigers were led by "Pistol Pete" Maravich, who had one of his most impressive games, scoring 58 points.
The Bulldogs led by 15 at one point in the second half, but LSU roared back, and the future Atlanta Hawks star scored 11 of the Tigers' 12 points in the final overtime, as LSU won 90-80.
But, what folks who were there never will forget was the way it ended, as Maravich conducted a virtuoso dribbling demonstration, putting the ball behind his back and between his legs as he kept it away from the Bulldogs' defenders in the final minute. Then, finally, the superstar in floppy socks let go a ridiculous 35-foot hook shot that swished through the net as time expired. He then shook a visibly angry Rosemond's hand.
The Georgia crowd, appreciating what might have been the single greatest individual performance in an SEC game ever, swarmed onto the floor to congratulate Maravich.
A year later, the Pistol, who had scored a career-high 69 points against Alabama a few weeks earlier, was "held" to a mere 41 by Georgia. That was below his 44.5-point average that year, remembers Larry Pope, then with the Daily News. LSU again beat the Bulldogs, though, and Joel Provano, who attended the game as a freshman, recalls it as "the only time I can remember a Georgia crowd cheering more for the opponent than the home team."
As my high school classmate Terry Smart recalls: "I started wearing floppy socks, like he did."
Georgia basketball went through some more lean years, including during my time at UGA in the early 1970s. Sam Heys, also at the university during that time, remembers the only high point being "I saw an African American represent UGA athletically for the first time — the silky Ronnie Hogue, Georgia's first Black athlete on full scholarship."
Eventually, Hugh Durham made the program respectable in the early 1980s, culminating in Georgia's only Final Four appearance in 1983.
That tournament success ironically came without the era's dominant Georgia player, Dominique Wilkins, who left school early to become an NBA legend.
A few years after that, Steve Short fondly remembers the victory over LSU in 1990, "when Neville Austin made a free throw to break a tie and help us win 86-85. What a wild game. LSU led 47-36 at halftime and the lead grew in the second half before the Dogs came back. When we held on to win, the crowd went nuts!"
UGA won the SEC regular-season title for the first time ever that year.
Bill Rosich was one of the UGA students who rushed the floor after that win over LSU, and it's one of his "fondest memories of the Steg," along with playing racquetball in the arena's basement, where "there was no AC, so you'd break a sweat before you even got on the court."
Another of Steve's cherished Stegeman moments is a 78-51 win by Andy Landers' Lady Dogs over Pat Summitt's Lady Vols in a sold-out, nationally televised MLK holiday game on Jan. 17, 2000. Georgia, led by Deanna Nolan and featuring twin stars Coco and Kelly Miller, jumped on Tennessee early and never let up.
To bring it into the next generation, my son Bill, then a UGA freshman, was one of the hundreds of students who rushed the court three times in early 2004 as Dennis Felton's Dawgs staged three major upsets, beating third-ranked and previously undefeated Georgia Tech in overtime, defeating Kentucky, and topping Florida "in a rowdy Tuesday night game with a large student crowd, due to the late start time on a weeknight."
The Gators felt so threatened by the flood of red and black onto the floor that the SEC subsequently outlawed fans taking the court after a game.
Another of Felton's seasons at the helm, 2007-2008, is a particular favorite of season ticket holder Roy Bell, who decided he also wanted to go to all the road games that year. Felton heard of his desire and offered to leave a front-row ticket for Roy at every away game. That was the year Georgia won a storm-plagued SEC tournament in Atlanta. And, Roy said, he again had "first-row tickets, right behind the bench."
(Roy is such a dedicated fan that he passed a kidney stone during a Georgia basketball game a few years earlier, because he didn't want to miss seeing the Dawgs against Shaquille O'Neal and LSU.)
My son also has fond memories of seeing Georgia's gymnastics team win a bunch of meets at the Coliseum during Suzanne Yoculan's time as head coach, "including beating Florida in front of a packed house in 2009 in an example of a team that always showed up for a big meet."
The Gym Dogs also provided my brother Jon with one of his two favorite Stegeman Coliseum memories: a meet against Kentucky in 1996, in which Georgia's Karin Lichey scored a perfect 40 — a 10.0 score on all four events — in the only time that's ever happened in NCAA history. In a bracket-style series of fan polls conducted by UGA 10 years ago, Lichey's achievement was selected as the single greatest moment in Stegeman Coliseum history.
Jon also fondly recalls Yoculan's 2008 team taking the fourth of its five consecutive NCAA national championships — this one particularly sweet, because it was won on the Gym Dogs' home floor.
The Steg also was an Olympic venue in 1996, but folks who grew up in Athens or attended UGA also have a lot of fond memories of Stegeman Coliseum that have nothing to do with sports. Brother Tim's first memory of the Coliseum is going to a circus there, and other friends remember the Clydesdales and the famed Lipizzaner Stallions appearing under those arches.
Helen Castronis remembers going there to see her father, the football team's beloved Coach Mike, since all the coaches' offices were located in the arena before Butts-Mehre was built. The sports information office was there, too, in 1973, when future sportscaster Bill Hartman worked on the third floor. He remembers "smelling the cows outside my window." The cow pens were removed when the practice annex was built.
Some folks, like my high school classmates Saye Sutton and Charlotte Larocca, even slept at the Coliseum — participating in those civil defense fallout-shelter drills that were part of the Cold War era, with several hundred folks locked up in the bowels of the arena for the weekend to see if they could survive together. Saye remembers spending most of her time riding the stationary bike that powered a fan to circulate air. (The Coliseum wasn't air-conditioned in its early years.)
And, Chris Jones, who did color commentary on WRFC's radio broadcasts of Georgia basketball in the first half of the 1970s, remembers when UGA had its record-setting "streak week" in 1974 (with thousands of students running around naked), and there were "multiple streakers down center court at halftime … it definitely brought the crowd to its feet."
There also were lots of big names that performed at UGA's arena, including comedy king Bob Hope, which prompts another story from Bill Bryant: Old Ski Nose had checked into the Executive Suite on the second floor of the Georgia Center the afternoon prior to his performance. Bill worked as a bellhop and delivered a slice of apple pie that Hope had ordered from room service.
Recalled Bill: "He was alone in the suite, preparing for his performance, and asked me for the name of a nearby town that he could work into a joke. I suggested Bogart."
Sure enough, Hope amazed the Coliseum crowd that evening with a Bogart joke.
Still, the most prevalent nonsports Coliseum memories are of the many big-name musical acts who have appeared there.
Among them: Louis Armstrong, Dionne Warwick, Glen Campbell, Ray Charles, James Brown, Badfinger, Elton John, the Beach Boys, Sly and the Family Stone, Iron Butterfly, the Allman Brothers Band, Bob Dylan, hometown favorites the B-52′s, OutKast and the Black Crowes. You can read more about the Steg's concert history, including some backstage tales, by clicking here.
Over the past 25 years, as talent prices zoomed, there have been fewer concerts at the Steg, but the occasional show still is held there, including brief performances by rappers Ayo and Teo, Blanco Brown and Quavo at the Stegmania basketball preseason events.
The Steg continues to update, too. It now has a center-court scoreboard, LED ribbon boards and lighting, and a new sound system. Alcohol sales were rolled out a couple of years ago, and the seating plan is being reworked for next season, moving students closer to the court, to make the venue more intimidating.
While the Steg isn't the flashiest arena, I still love it, and I take offense when I hear clueless fans claim that UGA never will have a top-notch basketball program as long as they're playing in "the Stegesaurus."
Frankly, I think many of those people probably haven't visited Stegeman in years — certainly not since UGA spent millions of dollars refurbishing it and building a beautiful adjoining basketball-gymnastics training facility.
Besides, the size and age of the arena don't determine a program's success. Duke University's Cameron Indoor Stadium is 24 years older than the Steg, and has 1,200 fewer seats. That certainly hasn't kept the Blue Devils from remaining a perennial basketball power.
So, here's to the Steg. Long may she perch on Ag Hill — until it's time for her to take off for some galaxy far, far away.
UGA News
Next
Dawgs and fans must adapt to college football's changing times