This time it was UGA's Sony Michel who let his legs do talking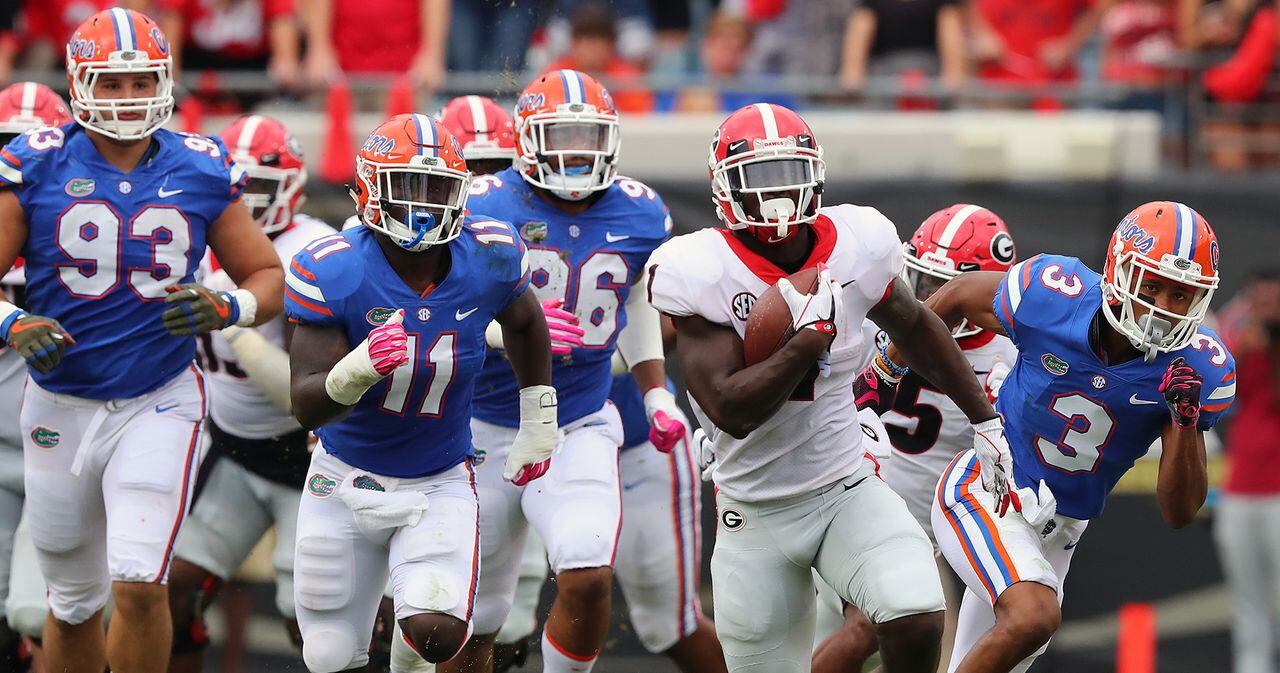 JACKSONVILLE, Fla. — In the age of early exits to the NFL and carry-sharing in college football, what Georgia has going on its offensive backfield is special.
With 137 yards rushing in the 42-7 win over Florida on Saturday, senior tailback Sony Michel has 3,039 yards in his career. That's even more impressive considering he has shared time his entire career with fellow senior Nick Chubb, who has 4,189 yards himself.
So when it's all over this season, there's a good chance the Bulldogs have an 8,000-yard backfield.
"That's tough in the SEC," Georgia coach Kirby Smart said. "Y'all would know the stats better than me but to do that in the SEC – the SEC is a non-rushing league. It is hard to run the ball in the SEC. For those two young men to do that, it speaks volumes to them and their careers, and the previous staff here, and our staff. Those guys have worked hard to get that. Those things aren't easy."
Michel was the star on this day in particular. He has always played second fiddle to Chubb, who generally gets all the starts at Georgia's marquee position. But Saturday he had 137 yards and got it on only 6 carries. It helps that two of them ended in 74- and 45-yard touchdowns.
Chubb was more of the workhorse. He had 77 yards on 13 carries and scored the game's first TD on a 6-yard run.
Each could have had more carries on Saturday in a game the Bulldogs rushed 292 yards as a team. But D'Andre Swift (4), Elijah Holyfield (4) and Brian Herrien (6) also had attempts.
Even though Michel averaged 22.8 yards a carry on Saturday, the play distribution didn't bother him in the least.
"No, not at all," Michel said when asked if he felt he should have gotten a few more carries. "I'm good with getting the ball however many times I need for us to win the game. Whether I didn't score 2 touchdowns or I did, as long as we won this game, I was fine."
Such an attitude will go far for Michel when he gets around to playing in the NFL. That was an option for him after his junior season last year, and he has only enhanced his stock with this year's performance. He has 542 yards and 6 touchdowns on the season.
Michel has 3,637 all-purpose yards for his career. That's seventh all-time in UGA history, which has fielded a few good tailbacks over the years.
Michel had a feeling it was going to be a big day for Georgia running the football, whether it was him or somebody else reaping the dividends.
"I wasn't surprised," he said of the gaping holes he ran through Saturday. "I knew those big runs were coming because of how hard our offensive line worked. They were demanding those yards. Whenever we had a three-and-out, they came off the field pissed off, because they wanted more yards."
Michel and Chubb and their young backfield mates are more than happy to help out.