Why Greyson Lambert was (again) the safe choice for Georgia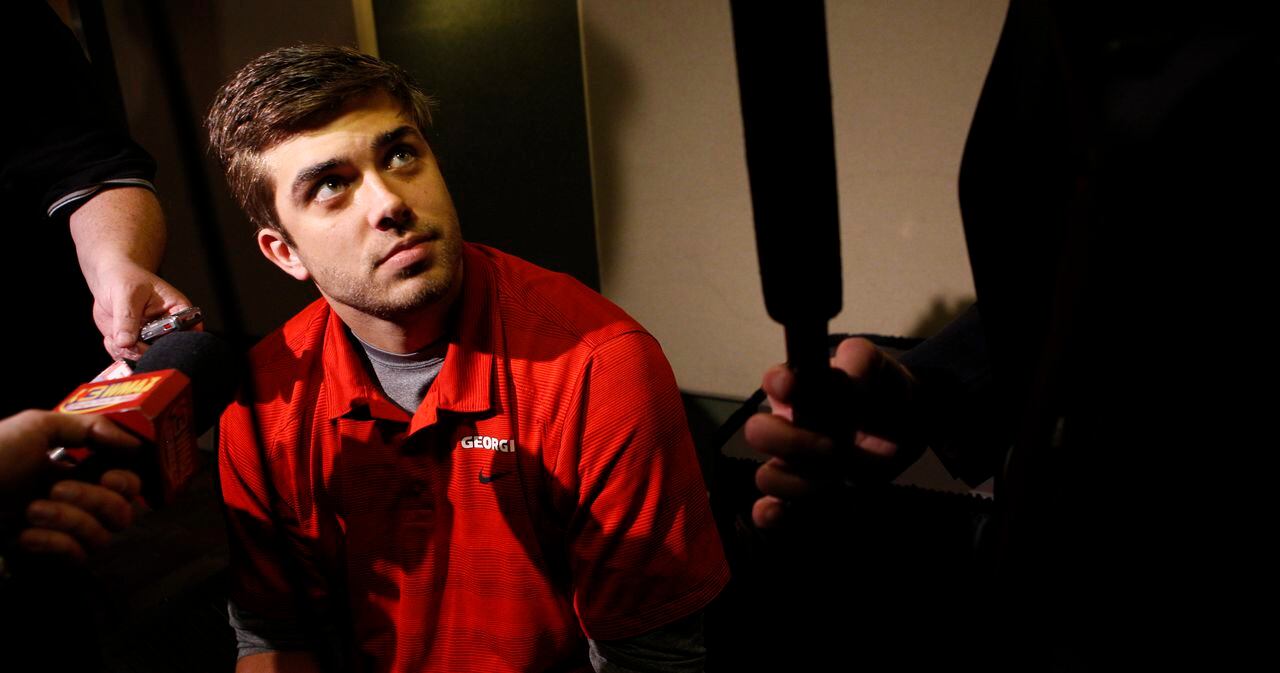 "Yeah, I've got (Georgia's) playbook. I'm looking at it." – Greyson Lambert, June 8, 2015, two months before joining Georgia's football team.
ATHENS – The decision to start Greyson Lambert may not excite fans. There may be a shrug in the Georgia Dome when he's announced, and if and when Jacob Eason enters the game, there will be a resounding cheer.
But within the team, according to many who speak off the record – because talking about quarterbacks publicly is verboten – Lambert's leadership and smarts have always been a source of respect. That's why he's going to start. Again.
Two separate sets of coaches, it should be pointed out, have now reached the same conclusion on Lambert. Last year, Mark Richt and Brian Schottenheimer made the surprising choice of Lambert over Brice Ramsey, then stuck with Lambert for all but one game – the ill-fated Faton Bauta decision against Florida.
Smart and Chaney then arrived, and at least when it came to Lambert and Ramsey, reached the same conclusion. Ramsey was the one eliminated when the competition was cut down to two, and Lambert was good enough that he'll at least start the first game over Eason.
There will be those who worry this says something worrisome about Eason. Those close to the program say that's not the case, and there's every reason to believe them.
From the minute he arrived on campus, Eason began winning over people. Any of his new teammates who may have been skeptical about the much-hyped freshman realized quickly that it was deserved. His work ethic and smarts were good enough to make them comfortable with the idea of him starting.
Remember, back in the spring the prevailing feeling was that Lambert would start the season while Eason would eventually play. The fact Eason made this so close a competition, that a week ago the thinking was he would start, should perhaps be the big-picture takeaway.
Eason did not necessarily fail to win the job, according to those close to the program. It may seem that way, not only given his hype but also the fact he ran first-team much of the previous two weeks. He also did so in last Saturday's scrimmage in the Georgia Dome, and from all accounts did well.
But the subtle things may still need work. Playing quarterback isn't just about making throws and handing off. You have to get the other 10 guys into the right spots. You have to get in and out of the right plays. If Eason wasn't 100 percent on that quite yet, it's perfectly understandable for a true freshman.
Lambert, however, has always had the smarts and the experience to do that. Whether you feel coaches are overrating that part of it when they evaluate who should start, that's a major part of their decision-making.
There was a reason Lambert, who graduated from the University of Virginia in just over three years, was able to parachute into Athens less than three weeks before practice began last year, and vault past a fourth-year junior and a third-year sophomore. Yes he's smart. He also works hard and is prepared. While he was still taking classes at Virginia, he was studying Georgia's playbook … literally during the classes.
"I bought a small whiteboard that I had in my books," Lambert said last year. "Don't tell the professors."
After last year's win over Auburn, when the defense and special teams did the heavy lifting, this reporter started a question to Lambert by pointing out that he surely would like to throw for 300 yards. Lambert interrupted, smiled, and held up both hands, putting the thumbs and index fingers together to form a letter: W.
"I just wanna win," Lambert said. ""I mean honestly. Like you said, I've only thrown for 300 yards once in my career. And that's counting high school. I got up to 297 I think one time in high school. At the end of the day some of our coaches say it's a bottom-line business. I just want to win football games. I'll do what I can to help us win, whether that's against South Carolina throwing for 300 or if it's like today throwing for 90-something."
It may not be the exciting choice. But Smart and Chaney have opted to start with the guy who in 12 starts last year had the same amount of losses as interceptions: Two.
Lambert is the safe choice. Eason's time is coming, make no mistake. But Lambert held him off this summer, and will be given every chance to keep doing so.
Next
Bulldogs choose Greyson Lambert to start vs. UNC