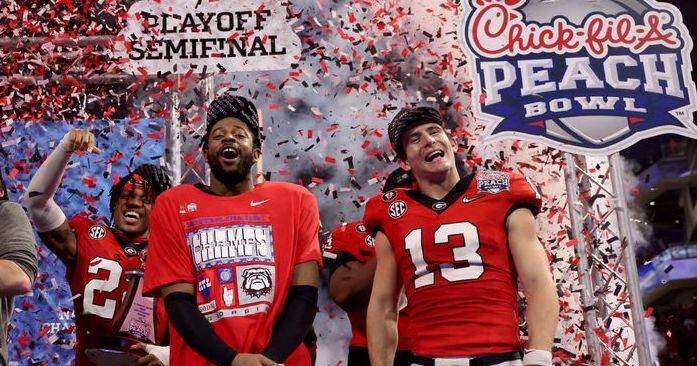 Georgia football podcast: Stetson Bennett puts his haters in the rearview mirror
Georgia football is the No. 1 topic every day on DawgNation Daily — the daily podcast for fans of the national champion Georgia Bulldogs. Catch up on everything happening with UGA athletics with host Brandon Adams and the DawgNation experts as they break down the latest Georgia football recruiting news and discuss coach Kirby Smart's quest to keep the Bulldogs on top of the college football world. On episode No. 1,857 (Jan. 4, 2023) of the podcast, Georgia fans can hear a discussion about what the latest critic of Georgia quarterback Stetson Bennett said, and how Bennett continues to thrive despite the haters.
Georgia football podcast: Stetson Bennett puts his haters in the rearview mirror
Beginning of the show: There have been plenty of loudmouths who've spewed hot takes about Georgia quarterback Stetson Bennett over the last two years. Yet no matter how much his critics have come after him, Bennett has thrived. I'll discuss more about why that is on today's show as Bennett prepares to play his final game for UGA on Monday night.
15-minute mark: I share Coach Kirby Smart's comparison of how UGA and TCU have constructed their rosters, and what that might mean for the outcome of the national championship game.
20-minute mark: DawgNation's Mike Griffith joins the show.
40-minute mark: I take a look at other headlines including a five-star quarterback seen sporting UGA gear.
50-minute mark: I share Smart's thoughts on his celebrated timeout call prior to an Ohio State fake punt attempt on Saturday night in the Peach Bowl.
End of show: I award a Golden Shoe winner and share the Gator Hater Countdown.
After the show: I take questions and comments as part of the Podcast Cool Down.
NOTE: To be part of the Cool Down, please share your thoughts in the comment section at the bottom of the page.
Next
Georgia football podcast: Kirby Smart gets laughs after 'inside joke' …